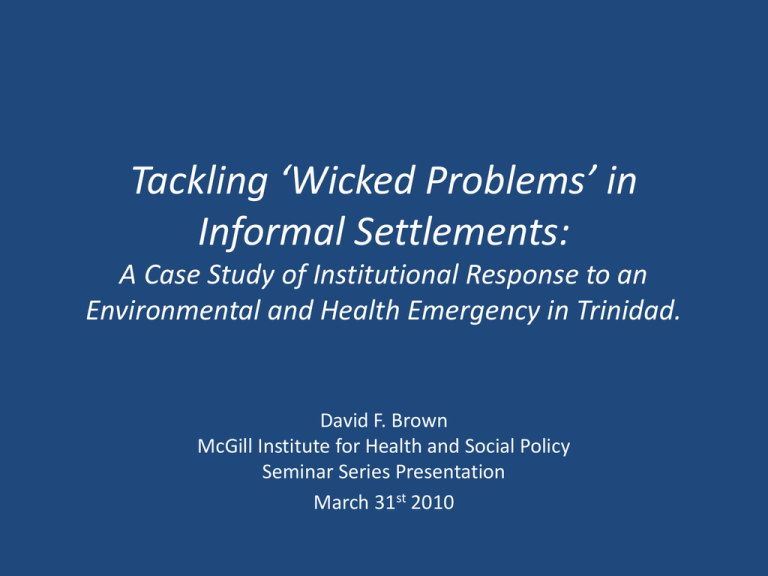 Tackling 'Wicked Problems' in
Informal Settlements:
A Case Study of Institutional Response to an
Environmental and Health Emergency in Trinidad.
David F. Brown
McGill Institute for Health and Social Policy
Seminar Series Presentation
March 31st 2010
Outline
Nature of planning problems.
Overview of informal settlements in Trinidad.
The Demerara Road Incident.
Lessons.
Garden City Movement
Source: see Howard, "To-morrow: a Peaceful Path to Real Reform", 1898
Nature of Planning Problems
• Tame Problems
– Sewers, paved roads,
hospitals, clean drinking
water…
– Natural Science
•
•
•
•
Definable
Separable
Possible to demonstrate
Solution verifiable
• Wicked Problems
– Crime, housing
– Social Science
• Ill defined, definition
depends on solution
• Every problem unique, new
combinations always
possible
• Solutions not true or false
but good or bad
• Questions of equity cloud
tests of efficiency
• Any discrepancy can be
explained in many ways:
crime – police, poverty,
culture, guns…
Source: based on Rittel and Webber , "Dilemmas in a General Theory of Planning",
Policy Sciences, 1973
Overview of informal settlements in
Trinidad
Macro Economic Performance 1966-94
Trinidad & Tobago
25000
180
GDP 1985 Prices
Consumer Prices (1985)
120
100
80
10000
60
40
5000
20
0
Year
1994
1992
1990
1988
1986
1984
1982
1980
1978
1976
1974
1972
1970
1968
0
Consumer Prices (1985)
140
15000
1966
$TT Millions (1985)
20000
160
Year
19
19
19
19
19
19
19
19
19
19
19
19
19
19
19
19
19
19
19
91
90
89
88
87
86
85
84
83
82
81
80
79
78
77
76
75
74
73
Employment / Population (1979=100)
Employment Index
105
100
95
90
85
80
75
Selected Indicators 1983-92
Trinidad & Tobago
3500
45000
Building Approvals
35000
2500
30000
2000
25000
1500
20000
15000
1000
10000
500
5000
0
0
1983
1984
1985
1986
1987
1988
1989
1990
1991
Year
Approved New Building Plans
Crimes Reported
1992
Number of Crimes Reported
40000
3000
Estimated Number of Dwellings
in Informal Settlements
300000
250000
200000
150000
100000
50000
0
1964
1978
1979
1985
1988
1990
1991
1993
1993
Agency Responsibility for Planning
in Trinidad
Formal < - - - - - - - - - - - - - - - - - - - - - - - - - - - - - - - - - - - -- - > Informal
Bureaucratic Practice
Planning
Allocative Planning
Innovative Planning
TCPD
WASA
T&TEC
PEU
Radical Planning & Practice
Revolutionary Practice
SRU Sou Sou Squatting
Adapted from Friedmann, 1987: Planning in the Public Domain
Community Development Processes in Formal and Informal Settlements
Formal
Informal
Balanced
State of the
Environment
1.homogenous
2.normative
standards
1.heterogeneous
2.variable standards
1.topological
2.performance standards
Development
Process
1.formal, top-down
2.centralized
3.phased
4.professional
5.regulated
6.institutional
1.informal, bottom-up
2.decentralized
3.iterative
4.lay initiated
5.responsive
6.individual, family
centered
1.mixed
2.community based
3.strategic
4.partnership
5.progressive
6.individual, community
Citizen
Involvement
1.verbal
2.procedure oriented
1.verbal and action
2.product oriented
1.verbal and action
2.process oriented
Role of State
1.responsible
2.regulatory
1.laissez-faire
1.enabling
Source: Brown, David and Peter Jacobs, "Adapting Environmental Impact Assessment to Sustain
the Community Development Process" Habitat International, vol 20, no. 3 pp 493-507, 1996
The Demerara Road Incident.
The Story
On April 29 1993 a 9 year old child living in a squatter settlement
known as Demerara Road in Trinidad, was diagnosed with lead
poisoning. Over the next month, another 50 children, all from the
same squatter settlement, were admitted to hospital.
The direct cause of the problem was easy to discern. The squatters,
who had appropriated a low-lying, poorly drained site on the
outskirts of Arima, had for some time been encouraging truck
drivers removing toxic waste from a nearby industrial estate to
dump 'fill' along their access road. Over the years, hundreds of
tons of toxic waste had been dumped up to 6 feet in depth.
Soil samples indicated that the lead concentration in this waste
ranged from 0.1 to 42%, far above the standard of 0.025% set by
the United States. Beyond the immediate health problems were
concerns that the waste would contaminate the ground water
system and threaten a nearby water treatment plant that produces
some 40% of Trinidad's drinking water.
Chronology of Events
• Development of the Demerara Road Settlement: 1983-
• Crisis: April-June 1993
• Emergency Planning, Preliminary Resettlement Plan, July-August,
1993
• Preparing Submission for Financial Resources and Approvals,
September-December, 1993
• Awaiting Word, December 1993-March, 1994
• Negotiations for Approvals, March-October, 1994
• Political Revision, November, 1994
• General Confusion, December 1994-May, 1995
Government Agencies
* 1993
1994
1995
A MJ J A S O N D J F MA MJ J A S O N D J F MA M
Attorney General & Legal Affairs
Attorney General's Dept
Community Development
National Commission for Self Help
Finance
Health
Chemistry, Food & Drugs Division
County Medical Officers of Health
Hospitals
Housing & Settlements
National Housing Authority
Squatter Regularisation Unit
Squatter Containment Unit
Local Government
Tunapuna / Piarco Corporation
National Security
Fire Service
Immigration
National Emergency Management
Police Service
Parliament
Cabinet
Finance & General Purposes
Planning & Development
Town and Country Planning Division
Environment Division
Lands & Surveys Division
Public Utilities
Trinidad & Tobago Electricity
Water & Sewerage Authority
Trade & Industry
Industrial Development Corporation
Works & Transport
Drainage Division
Mechanical Services Division
Traffic Management Branch
Other
University of the West Indies
Chemical Engineering
Chemistry
PetroTrin
Solid Waste Management Company
Source: Brown, David and Timothy Mooleedhar, "The response of public authorities to a local emergency:
the Demerara Road incident", Human Systems Management 17 (1998) 49-62
Institutional Issues
• Interrelationship between public health,
environment and settlement issues.
• Administrative structures and operational
mentalities
– Central vs local governing structures (vertical
relationships)
– Collaboration between sectorial agencies
(horizontal relationships)
– Conflicting perspectives of professionals trained in
different disciplines.
Issue Perception
Issue
Strategies
Responsible Agency
Basic health of residents
at risk.
Residents are unaware of
risks posed by presence
of lead
Unlawful occupation of
land
Diagnose individual residents
Treatment
Distribute pamphlets door to door
Community information meeting
Ministry of Health
Forced Eviction
Surveillance to ensure site is not reoccupied
Enact legislation governing the
disposal of toxic waste. This
legislation should include provision
for: fines against company
producing waste, fines against truck
drivers depositing waste, and
remedial costs
Removal of waste to an acceptable
site
In-situ remedial measures
Provision of temporary relocation
facility
Subsidies
Resettlement
Re-mediation of site
Ministry of National Security
SRU Demolition unit
Inappropriate dumping
of toxic waste
Decontamination of site
Residents are exposed to
an unhealthy
environment and cannot
afford to move
Community workers attached to SRU
Health Officials
Environmental Management Agency
Town and Country Planning Division
Solid Waste Management Company
Environmental Management
Authority
Ministry of Works and Transport
Solid Waste Management Company
SRU
TCPD
Min of Health
Min of National Security
Source: Brown, David and Timothy Mooleedhar, "The response of public authorities to a local emergency:
the Demerara Road incident", Human Systems Management 17 (1998) 49-62
Name
National
Housing
Authority /
Squatter
Regularisation
Unit
Mandate
To
Methodologies
provide all T&T
residents with housing
accommodation through
Research
Development of housing
policy
Direct Action in site
selection, planning and
development, construction
and operation of housing
units
Special attention to be
given to lower income groups
To ensure that new
development meets prescribed
standards pertaining to
location
environment
urban form
servicing
social acceptability
Special attention is given to
the need to project T&T as a
well developed country and
an attractive place to live,
work and play.
Consistency in following
all legal requirements
Analysis
To provide potable water and
sewerage treatment the
residential, commercial and
industrial clients.
To monitor water quality and
take corrective action as need
be.
To ensure that new projects
meet prescribed standards
pertaining to:
engineering principles
health considerations
financial feasibility
compatibility with existing
infrastructure and
services.
Maintenance
of census data
and other indicators of
housing conditions
Social surveys
Engineering analysis
Planning analysis
Community Meetings
Resources
Engineer
Legal Advisor
Planning consultant
Community workers
Technical support
Strategies
Build
and operate public
Values
Lower
income households need
help securing accommodation.
They are not served by the private
market.
Individuals and community
groups can act to make a material
difference in their residential
environment if appropriately
supported
Housing and community
development is a process.
Standards improve over time.
Alternative Perspectives on Settlement
Policies
Town and
Country
Planning
Division
Water And
Sewerage
Authority
Analysis
of
development potential of
land
Analysis of population
and household trends
Projection of
requirements for all land
use activities
and
monitoring of overall
system.
Billing.
Analysis of service
requirement of proposed
development projects.
Projection of overall
future requirements and
consideration of the
feasibility of alternative
sources of water and
treatment facilities.
staff
Microcomputer
facilities
Regular annual
budget from
government
Revenue from
properties
Planners
Legal Advisors
Analysts
Technical support
staff
Micro and
minicomputer facilities
including GIS
capability
Regular annual
budget from
government
Engineers
Legal Advisors
Technical support
staff
Microcomputer
facilities with some GIS
capability
Revenue from direct
billings.
Subsidies from
government.
housing
Regularise existing squatter
settlements Develop sites and service
projects.
Promote incremental
approach to development with
the full participation of the
community
Mobilise and assist
communities in accessing aid
from government agencies
Administer development
control to ensure that all new
projects are in a suitable
location and meet the
standards set by approving
agencies
Prepare master plans for
new development areas.
Prepare re-development
plans for existing areas
Identify water sources.
Explore new technologies
Maintain existing system.
Ensure all technical
standards are followed.
Offer different levels of
service to ensure the widest
possible access
Source: Brown, David and Timothy Mooleedhar, "The response of public authorities to
a local emergency: the Demerara Road incident", Human Systems Management 17 (1998) 49-62
Public
is best serviced by
ensuring development standards
are met
A well planned image is
essential to support private
investment and economic growth.
Lower income groups will be
accommodated by public housing
projects that meet development
guidelines or filter down
A plan is a product. It should
anticipate events that may occur
in the foreseeable future
Development in contravention
with plans should be denied.
Planning is a technical exercise.
Scientific
analysis and the
application of established
engineering principles provides
the only reliable base for
decisions.
Access to potable water should
be as wide as possible. This
means that different levels of
service should be provided with
appropriate billing.
Incremental development
creates uncertainty. It may prove
to be incompatible with the
existing system at some point in
the future. It is nonetheless
needed and is provided by the
Water Supply Division.
The only way to ensure proper
service is to require all projects to
meet specific standards before
approval.
Public Opinion
• General population
• Demerara Road Residents
– Concern with health issues, trust in government
agencies
– Distrust due to government inaction and lack of
evidence of health problems
– Protests and demonstrations
– Political interventions
– Open hostility
Lessons for Trinidad
• Need for Environmental Management Act
• Proposals for new Planning and Development
of Land Bill
– National Physical Planning Commission
– Delegation of planning authority to local level
and elsewhere ...
• Goverance:
– Central vs local authorities
– Comprehensive vs specialized agencies
– Strategic collaboration to find the right balance between topdown and bottom-up planning and implementation.
• Examples:
–
–
–
–
–
–
New Orleans
Turcot Interchange
Highway 25 Extension
Super hospitals
Climate Change
...
Questions, Comments, Debate?