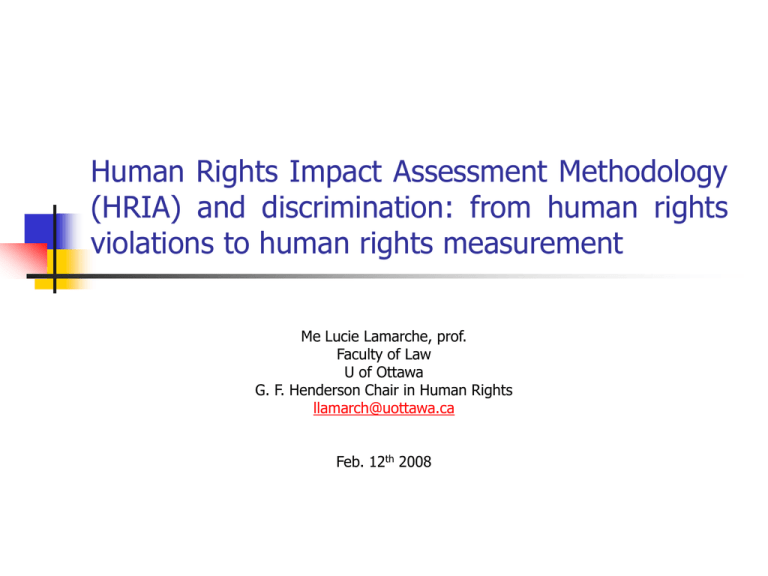 Human Rights Impact Assessment Methodology
(HRIA) and discrimination: from human rights
violations to human rights measurement
Me Lucie Lamarche, prof.
Faculty of Law
U of Ottawa
G. F. Henderson Chair in Human Rights
llamarch@uottawa.ca
Feb. 12th 2008
The Human Rights Framework
(normative)




Immediate respect of civil and political rights
in ALL cases;
Social rights: 3A approach: accessibility;
adaptability; affordability (core and
progressive realisation);
Non discrimination (intersectoral);
Participation and consultation (ex ante – ex
post).
All Human Rights are
Interdependent and indivisible


Projects, Policies and Programs must
respect ALL human rights in a non
discriminatory manner.
All actors are accountable for human
rights' violations.
Discrimination and Human
Rights
Discrimination occurs when a legislation,
a policy, a program or a strategy
directly
or
indirectly
produces
exclusionary or prejudicial effects for a
vulnerable group or for a member of
such group in regard of one or of many
human rights.
Core content of Human Rights






Basic needs;
Human dignity;
Non discrimination;
Immediate claim;
No claw back;
Effective remedies.
Duty Holders and Human
Rights


State: protect; promote; fulfill.
Non state: respect and not to be
complicit.
Human Rights and Social Development:
from Copenhagen to … now



How to assess development ?
Are Human Rights only about violations
?
The Added Value of a Human Rights
framework
What is HRIA ?





A goal ?
A tool ?
An evaluation benchmark ?
An indicator ?
A qualitative or a quantitative creature ?
HRIA and S. Development: not
an obvious encounter
Some contentious issues:
 What do you assess ?
 To whom is the agency accountable ?
 What is accountability ?
The Global Context




UN High Commissioner for Human
Rights - OHCHR;
Millenium Goals;
Global Compact;
Fight against Poverty;
An example: Rights and Democracy Foreign Investments
HRIA methodology: a process for civil society (1)







Preparation (what's the problem or the
anticipated one?);
The Legal Framework (including for the
investment)
What rights are at stake?
Situation Analysis;
Investigation Process;
Data Analysis;
Report, monitoring and follow up
An example: Rights and Democracy Foreign
Investments HRIA methodology: questions (2)




What if the methodology is not used in
a «problem solving environment» ?
Can it be used to assess the respect of
ALL human rights in a specific context ?
Can it be used for ALL human rights'
implementation ?
Does progress equal progressive
implementation ?
HRIA and the Politics of
Human Rights



Are Human Rights a «science exacte» ?
Are we being kept busy monitoring
human rights ?
Are we keeping the experts happy ?
Why HRIA ?






Because the State actor does not have the last word
…
Because non state actors, including corporations and
NGOs, ARE accountable;
Because the social justice movement is moving
toward human rights' accountability;
Because answering needs is not necessarily
implementing HR;
Because «result based» can be … any result;
Because accountability is a broader concept than HR
violations.
But what is HRIA
A methodology described as:
 An empowering process for
communities;
 A universal benchmark in an era of
globalisation;
 A tool for accountability dialogues.