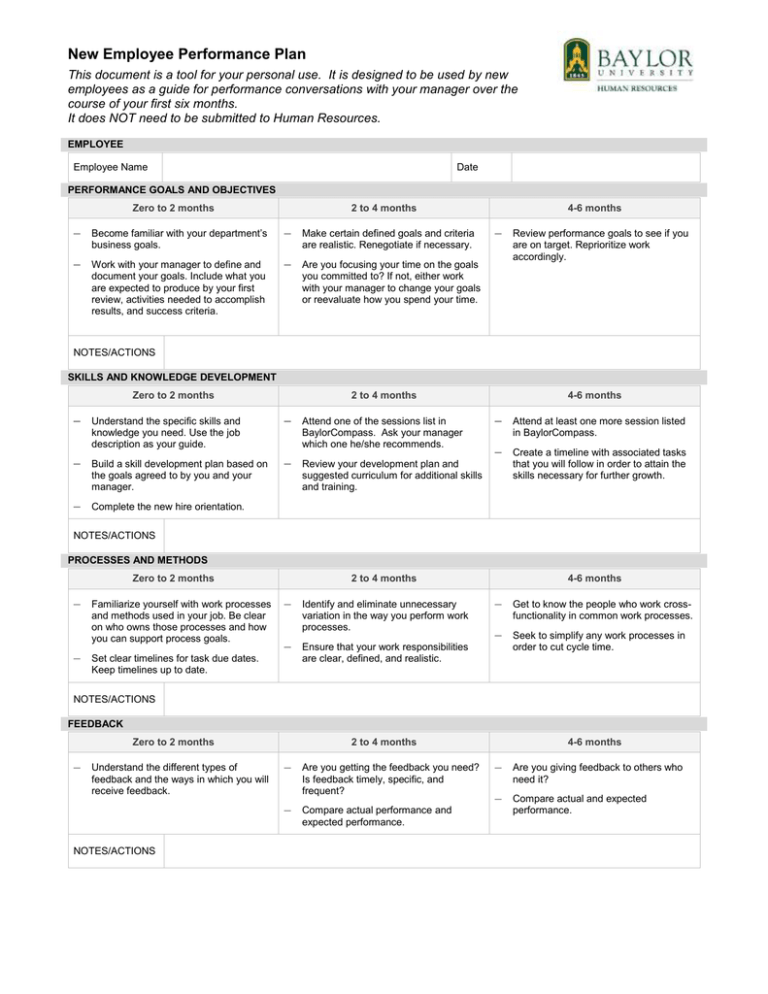 New Employee Performance Plan
This document is a tool for your personal use. It is designed to be used by new
employees as a guide for performance conversations with your manager over the
course of your first six months.
It does NOT need to be submitted to Human Resources.
EMPLOYEE
Employee Name
Date
PERFORMANCE GOALS AND OBJECTIVES
Zero to 2 months
 Become familiar with your department's
business goals.
 Work with your manager to define and
document your goals. Include what you
are expected to produce by your first
review, activities needed to accomplish
results, and success criteria.
2 to 4 months
 Make certain defined goals and criteria
are realistic. Renegotiate if necessary.
 Are you focusing your time on the goals
4-6 months
 Review performance goals to see if you
are on target. Reprioritize work
accordingly.
you committed to? If not, either work
with your manager to change your goals
or reevaluate how you spend your time.
NOTES/ACTIONS
SKILLS AND KNOWLEDGE DEVELOPMENT
Zero to 2 months
 Understand the specific skills and
knowledge you need. Use the job
description as your guide.
 Build a skill development plan based on
the goals agreed to by you and your
manager.
2 to 4 months
 Attend one of the sessions list in
BaylorCompass. Ask your manager
which one he/she recommends.
 Review your development plan and
suggested curriculum for additional skills
and training.
4-6 months
 Attend at least one more session listed
in BaylorCompass.
 Create a timeline with associated tasks
that you will follow in order to attain the
skills necessary for further growth.
 Complete the new hire orientation.
NOTES/ACTIONS
PROCESSES AND METHODS
Zero to 2 months
 Familiarize yourself with work processes
and methods used in your job. Be clear
on who owns those processes and how
you can support process goals.
 Set clear timelines for task due dates.
2 to 4 months
 Identify and eliminate unnecessary
variation in the way you perform work
processes.
 Ensure that your work responsibilities
4-6 months
 Get to know the people who work crossfunctionality in common work processes.
 Seek to simplify any work processes in
order to cut cycle time.
are clear, defined, and realistic.
Keep timelines up to date.
NOTES/ACTIONS
FEEDBACK
Zero to 2 months
 Understand the different types of
feedback and the ways in which you will
receive feedback.
2 to 4 months
 Are you getting the feedback you need?
Is feedback timely, specific, and
frequent?
 Compare actual performance and
expected performance.
NOTES/ACTIONS
4-6 months
 Are you giving feedback to others who
need it?
 Compare actual and expected
performance.