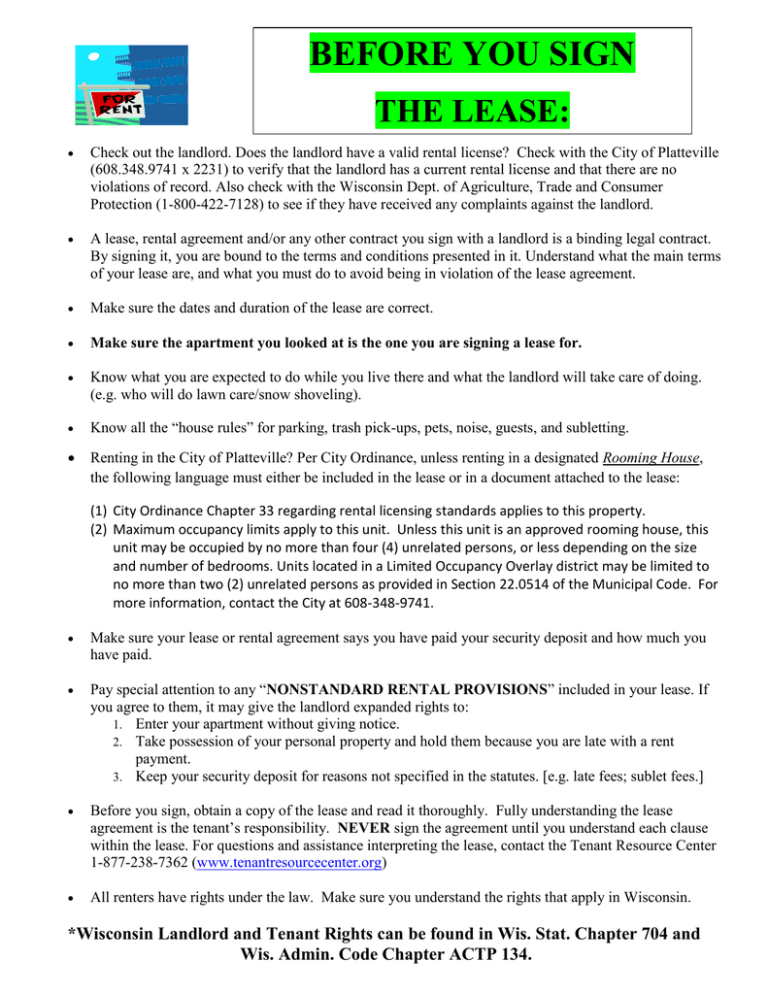 BEFORE YOU SIGN
THE LEASE:

Check out the landlord. Does the landlord have a valid rental license? Check with the City of Platteville
(608.348.9741 x 2231) to verify that the landlord has a current rental license and that there are no
violations of record. Also check with the Wisconsin Dept. of Agriculture, Trade and Consumer
Protection (1-800-422-7128) to see if they have received any complaints against the landlord.

A lease, rental agreement and/or any other contract you sign with a landlord is a binding legal contract.
By signing it, you are bound to the terms and conditions presented in it. Understand what the main terms
of your lease are, and what you must do to avoid being in violation of the lease agreement.

Make sure the dates and duration of the lease are correct.

Make sure the apartment you looked at is the one you are signing a lease for.

Know what you are expected to do while you live there and what the landlord will take care of doing.
(e.g. who will do lawn care/snow shoveling).

Know all the "house rules" for parking, trash pick-ups, pets, noise, guests, and subletting.

Renting in the City of Platteville? Per City Ordinance, unless renting in a designated Rooming House,
the following language must either be included in the lease or in a document attached to the lease:
(1) City Ordinance Chapter 33 regarding rental licensing standards applies to this property.
(2) Maximum occupancy limits apply to this unit. Unless this unit is an approved rooming house, this
unit may be occupied by no more than four (4) unrelated persons, or less depending on the size
and number of bedrooms. Units located in a Limited Occupancy Overlay district may be limited to
no more than two (2) unrelated persons as provided in Section 22.0514 of the Municipal Code. For
more information, contact the City at 608-348-9741.

Make sure your lease or rental agreement says you have paid your security deposit and how much you
have paid.

Pay special attention to any "NONSTANDARD RENTAL PROVISIONS" included in your lease. If
you agree to them, it may give the landlord expanded rights to:
1. Enter your apartment without giving notice.
2. Take possession of your personal property and hold them because you are late with a rent
payment.
3. Keep your security deposit for reasons not specified in the statutes. [e.g. late fees; sublet fees.]

Before you sign, obtain a copy of the lease and read it thoroughly. Fully understanding the lease
agreement is the tenant's responsibility. NEVER sign the agreement until you understand each clause
within the lease. For questions and assistance interpreting the lease, contact the Tenant Resource Center
1-877-238-7362 (www.tenantresourcecenter.org)

All renters have rights under the law. Make sure you understand the rights that apply in Wisconsin.
*Wisconsin Landlord and Tenant Rights can be found in Wis. Stat. Chapter 704 and
Wis. Admin. Code Chapter ACTP 134.