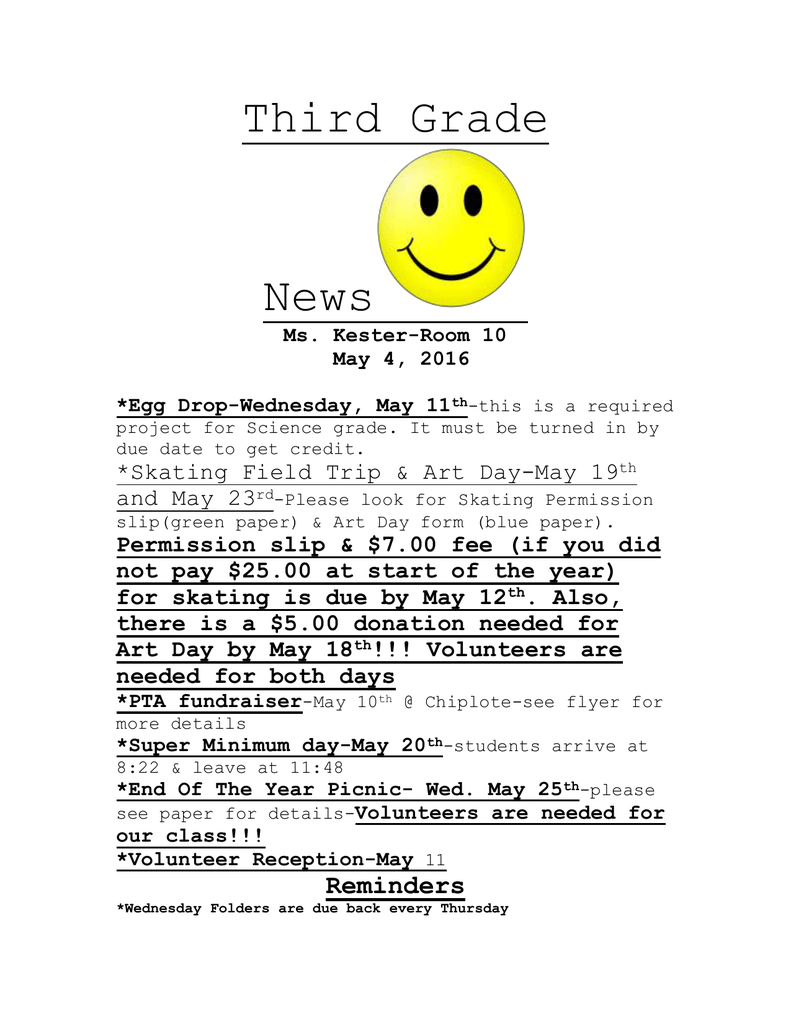 Third Grade
News
Ms. Kester-Room 10
May 4, 2016
*Egg Drop-Wednesday, May 11th-this is a required
project for Science grade. It must be turned in by
due date to get credit.
*Skating Field Trip & Art Day-May 19th
and May 23rd-Please look for Skating Permission
slip(green paper) & Art Day form (blue paper).
Permission slip & $7.00 fee (if you did
not pay $25.00 at start of the year)
for skating is due by May 12th. Also,
there is a $5.00 donation needed for
Art Day by May 18th!!! Volunteers are
needed for both days
*PTA fundraiser-May 10th @ Chiplote-see flyer for
more details
*Super Minimum day-May 20th-students arrive at
8:22 & leave at 11:48
*End Of The Year Picnic- Wed. May 25th-please
see paper for details-Volunteers are needed for
our class!!!
*Volunteer Reception-May 11
Reminders
*Wednesday Folders are due back every Thursday
*Homework-please return math page & reading page DAILY! Spelling
page is due on Friday! (Also, book log daily)
*PE days are Monday & Wednesday (wear appropriate shoes &
clothing)
*Tasty Tuesday-ice cream for sale, every Tuesday after school.
Each ice cream is $1.00
Have A Great
Week!!!