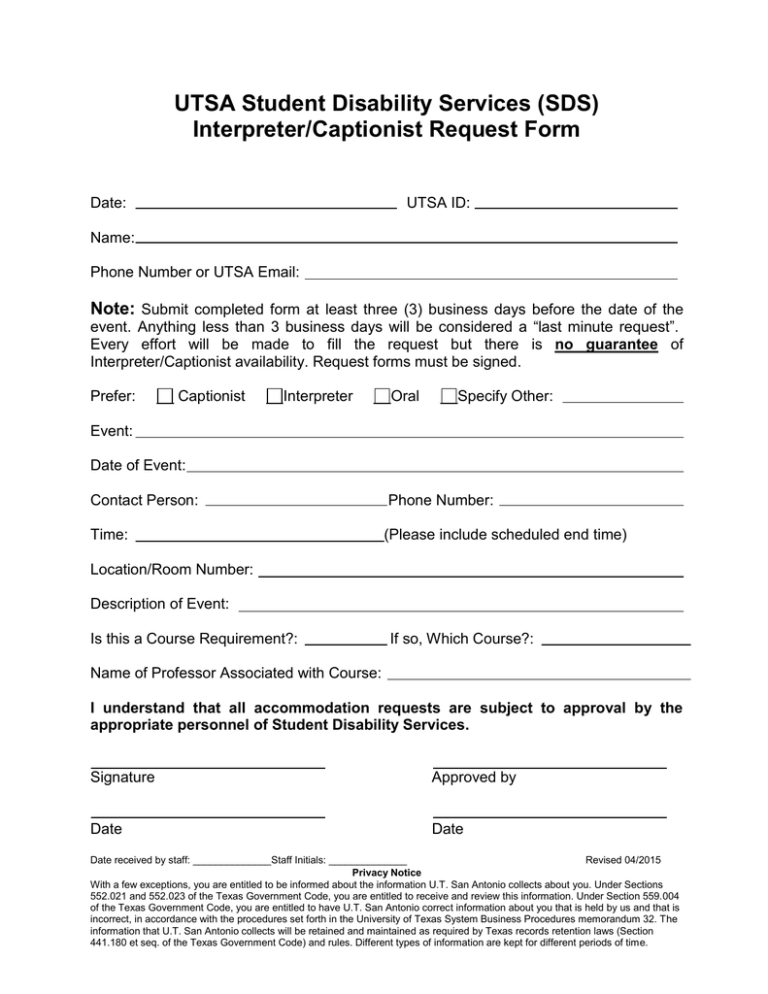 UTSA Student Disability Services (SDS)
Interpreter/Captionist Request Form
Date:
UTSA ID:
Name:
Phone Number or UTSA Email:
Note: Submit completed form at least three (3) business days before the date of the
event. Anything less than 3 business days will be considered a "last minute request".
Every effort will be made to fill the request but there is no guarantee of
Interpreter/Captionist availability. Request forms must be signed.
Prefer:
Captionist
Interpreter
Oral
Specify Other:
Event:
Date of Event:
Contact Person:
Phone Number:
Time:
(Please include scheduled end time)
Location/Room Number:
Description of Event:
Is this a Course Requirement?:
If so, Which Course?:
Name of Professor Associated with Course:
I understand that all accommodation requests are subject to approval by the
appropriate personnel of Student Disability Services.
Signature
Approved by
Date
Date
Date received by staff: ______________Staff Initials: ______________
Revised 04/2015
Privacy Notice
With a few exceptions, you are entitled to be informed about the information U.T. San Antonio collects about you. Under Sections
552.021 and 552.023 of the Texas Government Code, you are entitled to receive and review this information. Under Section 559.004
of the Texas Government Code, you are entitled to have U.T. San Antonio correct information about you that is held by us and that is
incorrect, in accordance with the procedures set forth in the University of Texas System Business Procedures memorandum 32. The
information that U.T. San Antonio collects will be retained and maintained as required by Texas records retention laws (Section
441.180 et seq. of the Texas Government Code) and rules. Different types of information are kept for different periods of time.