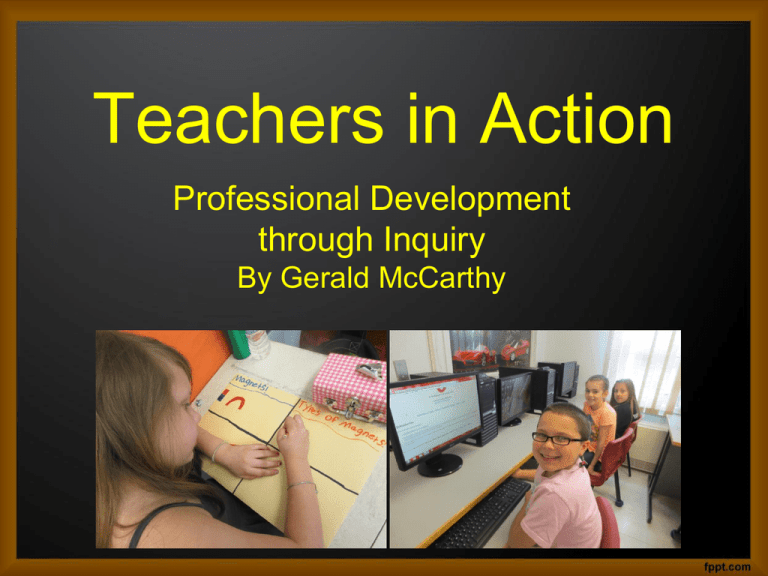 Teachers in Action
Professional Development
through Inquiry
By Gerald McCarthy
Broad Research Question:
Will Inquiry-based learning improve student
achievement in science?
Specific Research Question
Will WebQuests help improve student
achievement when learning about Magnets
(Invisible Power)?
What is a WebQuest?
A WebQuest is an inquiry-oriented lesson
format in which most or all the information
that learners work with comes from the
web.
WebQuest.org. Department of Educational
Technology, San Diego State University.
2008. Retrieved 2013-03-12.
Magnetism Website Overview
A Webquest is broken into 6 parts, as listed above.
Introduction
Task
Process
Evaluation
Credits
Teacher's Notes
Classroom Context
• I teach 3 classes of multiage grade ¾
science.
• Conducted WebQuest with all 3 classes. All
three classes were observed but data were
collected only from my class
• Class size for 3 classes was 18, 19 and 19
students.
Detailed Timeline
•
•
•
•
•
•
Research WebQuests (Google/scholarly articles);
Send home permission slips;
Give students survey about their learning style in
science;
Show students some already created science
Webquests to get them use to the routine;
Buy resources I needed for magnets;
Do pre-test on Magnetism.
Detailed Timeline
•
•
•
•
•
Create and upload WebQuest online:
http://www.k12.nf.ca/woodlandelem/WebQuest/
Action%20Research/Magnets/Magnets.html
Have students do the WebQuest on Magnetism
that I designed, take video clips and pictures;
Evaluate students' assessments (worksheet,
poster);
Do post-test on Magnetism;
Compare Data.
Science Learning Survey
I had students do a pre and post learning
survey to see how they liked to learn
science, determine if their feelings
changed about the way they learn science
and also to get a better understanding of
my students.
The first percentage is the pre-survey and
the second percentage is the post-survey.
Learning Survey
1. I like to figure out things?
Agree
74%/79%
Somewhat Agree
21%/21%
Somewhat Disagree
5%/0%
Disagree
0%/0%
Most students liked to figure out things both before and after
the webquest. During survey I explained what "figure out
things" meant.
Learning Survey
2. I work better on my own?
Agree
21%/21%
Somewhat Agree
16%/5%
Somewhat Disagree
42%/53%
Disagree
21%/21%
More students, after the WebQuest, did not want to work on their
own.
Learning Survey
3. I work well with others?
Agree
32%/47%
Somewhat Agree
32%/42%
Somewhat Disagree
16%/11%
Disagree
21%/0%
After doing the Webquest, more students enjoyed doing
group work than before.
Learning Survey
4. I do better when I work at my own pace?
Agree
95%/95%
Somewhat Agree
5%/5%
Somewhat Disagree
0%/0%
Disagree
0%/0%
There is no change.
Learning Survey
5. I am comfortable using the computer/internet?
Agree
58%/68%
Somewhat Agree
21%/21%
Somewhat Disagree
21%/11%
Disagree
0%/0%
More students are more comfortable using the computer, the
internet and sending documents to the printer, than
before the WebQuest.
Learning Survey
6. Choose in order from 1 (most important), 2
(important), 3 (least important) how you like to learn
science:
Computer
37%/42%
Textbook/Notes
0%/0%
Experiments/Hands-on
63%/58%
There is marginal change before and after the Webquest,
students continue to enjoy doing hands-on activities the
most, with computers the second preference.
Nobody liked reading or taking notes.
Student Evaluation
Students enjoyed creating the posters. I used a rubric to
score, which was also on the Webquest website.
Student Evaluation
Magnetism Pre and Post Quiz
Magnetism Pre and Post Quiz
The class average of the pre-quiz was 63%.
The class average of the post-quiz was 88%.
The conclusion is that students learned from the
Webquest.
How Students Felt
Jack & Michael
Sholanda & Madison
How Students Felt
Kaitlyn & Kyla
Lydia, Hannah & Amy
How Students Felt
Cole, Steven & Jules
Jamianna & Amelia
Teacher Observations
• I found creating the website a lot of work;
however, once done it can be used again.
• Most students enjoyed doing the
Webquest. However, LD students had
difficulty reading instructions from
Webquest.
• Students interest in using computers for
science increased. As well, students still
enjoyed doing hands-on experiments.
Conclusion
In conclusion, based on the data, student
observations and interviews, students did
achieve more in science using webquests.