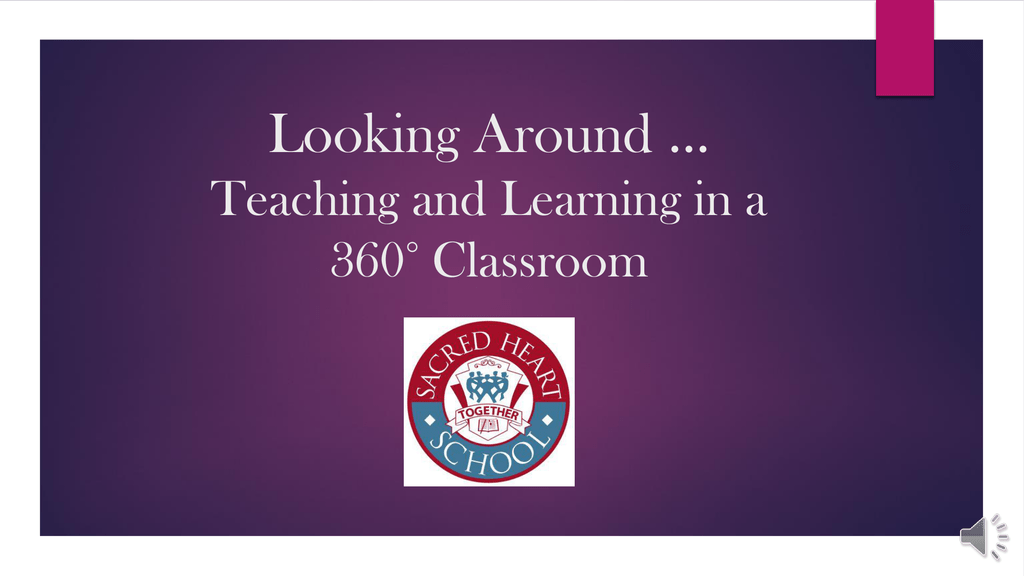 Looking Around …
Teaching and Learning in a
360° Classroom
Grade 3 Teachers:
Barb Butler, Chrissy Payne, Joanne Humber (IRT)
Grade 6 Teachers:
Gilles Park, Marie Louise Willett, Kara Pye (IRT)
SACRED HEART ELEMENTARY
Students:
Grade 3 – 26 students (14 girls, 12 boys)
Grade 6 – 31 students (17 girls, 14 boys)
WHY A 360° CLASSROOM?
Research Questions
How will the integration of a 360° classroom affect student
engagement in mathematics?
How will the integration of a 360° classroom affect the way
teachers approach the teaching and learning of mathematics?
FOCUS AREA
THE 360˚ CLASSROOM
Sean Kavanaugh, principal at Hill Campus for Arts and Sciences in Denver, CO, developed 360° Math as an
alternative way to teach mathematics.
"360 Degree Math is a highly structured approach to teaching
math that is unlike any other teaching approach currently
used in American classrooms. […] From the moment
students enter the classroom, they become the performers
[…] while the teacher shifts into the audience".
www.360degreemath.com
PREPARATION FOR THE
PROJECT
Parental consent
Surveys
IN THE BEGINNING
TAKING OWNERSHIP
VOILÀ!
THE END PRODUCT
UNPACKING
Out of the Gate
The
First Day
Show what you know!
Grade 6
Introduction to Grade 3s
Grade 3
THE "SUGAR" MODEL
S – Solve the Question
U– Use some Pictures
G – Give an Explanation
A – Add Some Math Words
R – Review Your Answer
Created by Kimberly Pardy
Sacred Heart Elementary
Grade 3s in action!
Grade 3
Feedback
Grade 3
PHILOSOPHY BEHIND THE
360˚ CLASSROOM
Learning is in the hands of the students
Collaboration
Student engagement
Teacher as observer
TALKING IS THE NORM
COLLABORATION IS
ENCOURAGED
Owning What They Learn
Grade 6
Students' Comments about the 360° room
"I felt like I was the teacher" "You don't just sit there"
"Teamwork"
"Not independent"
"I can see the spelling"
"Free to do anything"
"I went outside the box today"
"You can ask people"
"Lots of Space"
"Just do math and it's FUN"
"We get to use the whiteboards
"If I need help, I can
not just the teacher"
go to Abigail"
SURVEY RESULTS
Grade 3
I like learning math
Grade 3
I like to come up with new ways to solve math problems
I like working with others
Grade 3
Learning new things in math is fun for me.
Grade 6
I like learning math
Grade 6
I like to come up with new ways to solve math problems
Grade 6
I like working with others
Grade 6
Learning new things in math is fun for me.
WHAT DID WE SEE AS TEACHERS?
Increased use of math vocabulary both orally and on paper.
Increased confidence in mathematical abilities.
Marked improvement in internal data.
Safe environment promoted peer discussion for problem-solving.
More students asking to go to the 360° classroom.
SUCCESS STORY
INCLUSION
SUCCESS STORY
Formative
Assessment
SUCCESS STORY
Student Centred
Learning
The "360 Classroom" offers a new,
low-tech way to do math.
Listen
WE WOULD LIKE TO THANK…..
Jennifer Caines
Frank Humber
Kimberly Pardy
Kerry Wells
District Maintenance Staff
STEM Teachers in Action project personnel
and last but not least, our wonderful students at Sacred
Heart Elementary who make teaching rewarding.