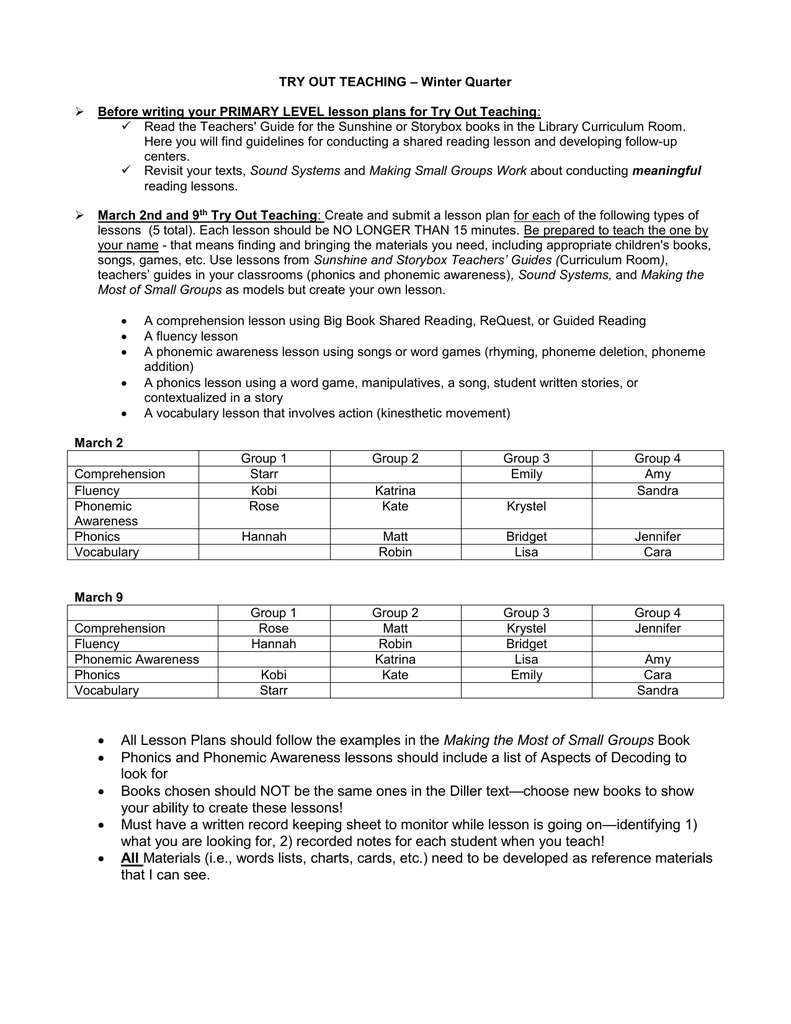 TRY OUT TEACHING – Winter Quarter

Before writing your PRIMARY LEVEL lesson plans for Try Out Teaching:
 Read the Teachers' Guide for the Sunshine or Storybox books in the Library Curriculum Room.
Here you will find guidelines for conducting a shared reading lesson and developing follow-up
centers.
 Revisit your texts, Sound Systems and Making Small Groups Work about conducting meaningful
reading lessons.

March 2nd and 9th Try Out Teaching: Create and submit a lesson plan for each of the following types of
lessons (5 total). Each lesson should be NO LONGER THAN 15 minutes. Be prepared to teach the one by
your name - that means finding and bringing the materials you need, including appropriate children's books,
songs, games, etc. Use lessons from Sunshine and Storybox Teachers' Guides (Curriculum Room),
teachers' guides in your classrooms (phonics and phonemic awareness), Sound Systems, and Making the
Most of Small Groups as models but create your own lesson.





A comprehension lesson using Big Book Shared Reading, ReQuest, or Guided Reading
A fluency lesson
A phonemic awareness lesson using songs or word games (rhyming, phoneme deletion, phoneme
addition)
A phonics lesson using a word game, manipulatives, a song, student written stories, or
contextualized in a story
A vocabulary lesson that involves action (kinesthetic movement)
March 2
Comprehension
Fluency
Phonemic
Awareness
Phonics
Vocabulary
Group 1
Starr
Kobi
Rose
Group 2
Group 3
Emily
Group 4
Amy
Sandra
Katrina
Kate
Krystel
Hannah
Matt
Robin
Bridget
Lisa
Jennifer
Cara
Group 2
Matt
Robin
Katrina
Kate
Group 3
Krystel
Bridget
Lisa
Emily
Group 4
Jennifer
March 9
Comprehension
Fluency
Phonemic Awareness
Phonics
Vocabulary





Group 1
Rose
Hannah
Kobi
Starr
Amy
Cara
Sandra
All Lesson Plans should follow the examples in the Making the Most of Small Groups Book
Phonics and Phonemic Awareness lessons should include a list of Aspects of Decoding to
look for
Books chosen should NOT be the same ones in the Diller text—choose new books to show
your ability to create these lessons!
Must have a written record keeping sheet to monitor while lesson is going on—identifying 1)
what you are looking for, 2) recorded notes for each student when you teach!
All Materials (i.e., words lists, charts, cards, etc.) need to be developed as reference materials
that I can see.