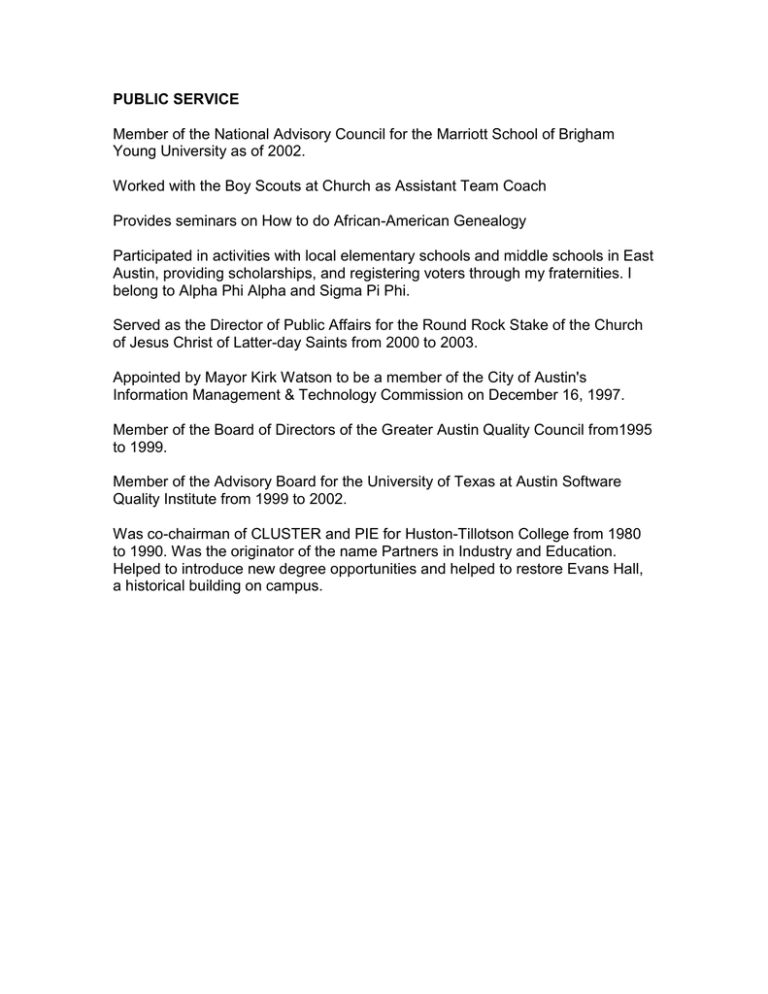 PUBLIC SERVICE
Member of the National Advisory Council for the Marriott School of Brigham
Young University as of 2002.
Worked with the Boy Scouts at Church as Assistant Team Coach
Provides seminars on How to do African-American Genealogy
Participated in activities with local elementary schools and middle schools in East
Austin, providing scholarships, and registering voters through my fraternities. I
belong to Alpha Phi Alpha and Sigma Pi Phi.
Served as the Director of Public Affairs for the Round Rock Stake of the Church
of Jesus Christ of Latter-day Saints from 2000 to 2003.
Appointed by Mayor Kirk Watson to be a member of the City of Austin's
Information Management & Technology Commission on December 16, 1997.
Member of the Board of Directors of the Greater Austin Quality Council from1995
to 1999.
Member of the Advisory Board for the University of Texas at Austin Software
Quality Institute from 1999 to 2002.
Was co-chairman of CLUSTER and PIE for Huston-Tillotson College from 1980
to 1990. Was the originator of the name Partners in Industry and Education.
Helped to introduce new degree opportunities and helped to restore Evans Hall,
a historical building on campus.