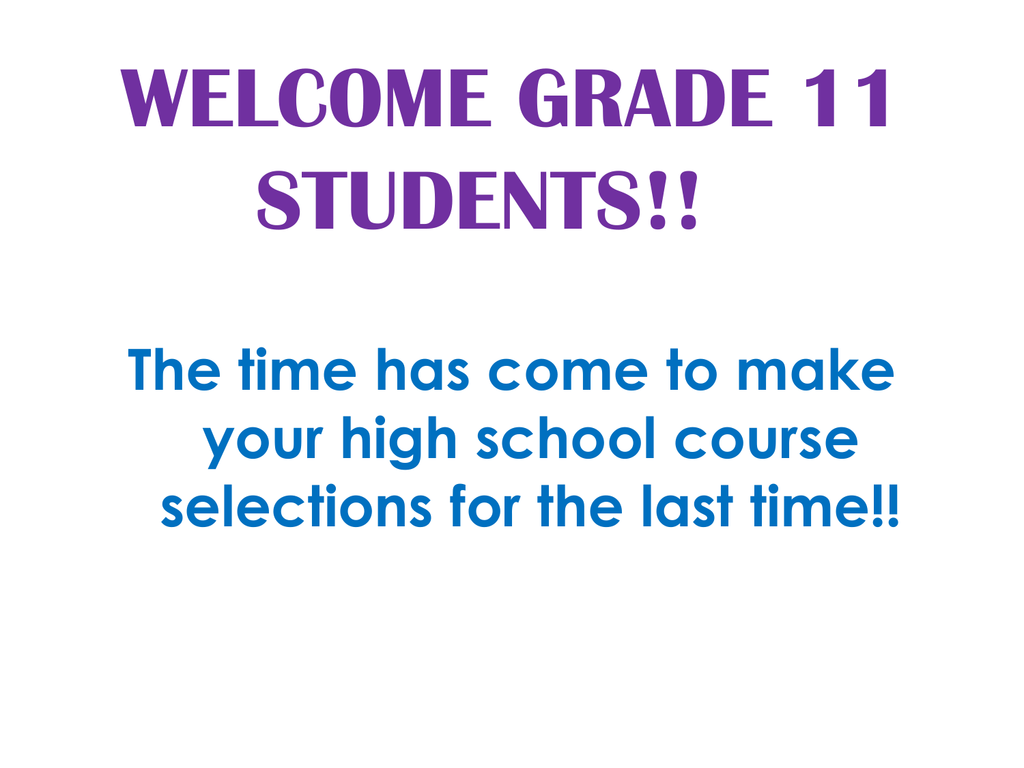 WELCOME GRADE 11
STUDENTS!!
The time has come to make
your high school course
selections for the last time!!
Things to Consider
• There are 2 specific things to consider
when making course selections:
1. Graduation Requirements
18 compulsory credits
12 electives
 Literacy Test
40 hours of community service
2. Post Secondary Requirements.
(Do your research for prerequisites )
Things to Think About
• Similar to last year all course selections
will be done on line only this year it is
through myBlueprint.
• You must take 6 courses however we
recommend you start with 8.
• It is key to select the appropriate
level/skill set for each subject – it will
determine your success.
• Look at www.dpcdsb.org/carms
COMPULSORY COURSES
• ENG (C, U or E)
• HRE (C, U or O) Or HZT
• The Religion course must match the English
level you are studying at!
o ENG4C1 must select HRE4MC
o ENG4U1 must select HRE4MU
o ENG4E1 must select HRE4O1
o ENG 3U1 is the prerequisite for HZT(philosophy)
DO YOUR RESEARCH!
• The courses you choose must reflect the
program you are planning to apply to after
grade 12.
• Research can be done through:
www.myblueprint.ca (access code: mtcarmelss)
www.einfo.ca
www.ontariocolleges.ca
www.ouac.on.ca
What do you
need to apply
to College or
University ?
University Applicants
• Students applying to University must have
ENG4U and a remaining 5 grade 12 U or M
courses to apply.
• You are accepted on your top 6 grade 12U or M
courses and must include the prerequisites.
• Some universities will only take the first
attempted mark and check prerequisites for
the maximum number of M courses you are
allowed to take.
College Applicants
• College applicants must have their
Diploma and the necessary courses to
apply to their program.
• Grade 11 marks are also used by the
colleges for consideration for
acceptance.
SOME EXAMPLES…
UNIVERISTY OF WATERLOO
KINESIOLOGY PREREQUISITES:
HUMBER COLLEGE BUSINESS
PREREQUISITES
• Advanced Functions-MHF
4U
• Chemistry-SCH 4U
• 1 of SBI4U or SPH4U
• ENG4U
• 2 other U of M
prerequisites to give you
the highest average to
be admitted.
• Admission average
changes yearly.
• ENG4C or ENG 4U
• Grade 12 Math 4C or 4U
• 2 Grade 11 or Grade 12
C, U, or M courses in
addition to the above
• High school Diploma
Apprenticeship Programs
• Apprenticeship programs have
specific requirements that must be
met.
• Check www.tradeability.ca
• Consider CO-OP as an opportunity to
explore some of the trades. (either a 2
or 4 credit option)
So how will this unfold?
• On January 4th you will receive your course
selection packages. All course selections will
be done through myBlueprint
• There is a new process this year.
• You will access myBlueprint through the
board website. www.dpcdsb.org
• You will need your OEN, your DOB
month/day/year.
• Please follow the steps outlined in the
package.
myBlueprint
• Prior to selecting your courses on
myBlueprint.ca, take the Christmas
holidays to work through the Individual
Pathway Plan (IPP)
• This will assist you in making course
selections for your entire high school
career.
• This will also assist you in preparing for
your post-secondary exit plan.
So when do we start?
• Course selection will occur on:
Tuesday, January
th
5 at 4:00 P.M.
• (WARNING: IT IS FIRST COME FIRST
SERVED)
• The portal will close January 11 at 3:00pm
SHARP
So what happens in January?
• Once you have submitted your course
request you will print a Course Request
Verification Report that will in turn be
signed by a parent/guardian
• The Report, coupled with your $60.00
activity fee, forms a completed
registration package that will be
submitted to your homeroom teacher
January 7, 8, 11 & 12
ANY QUESTIONS?