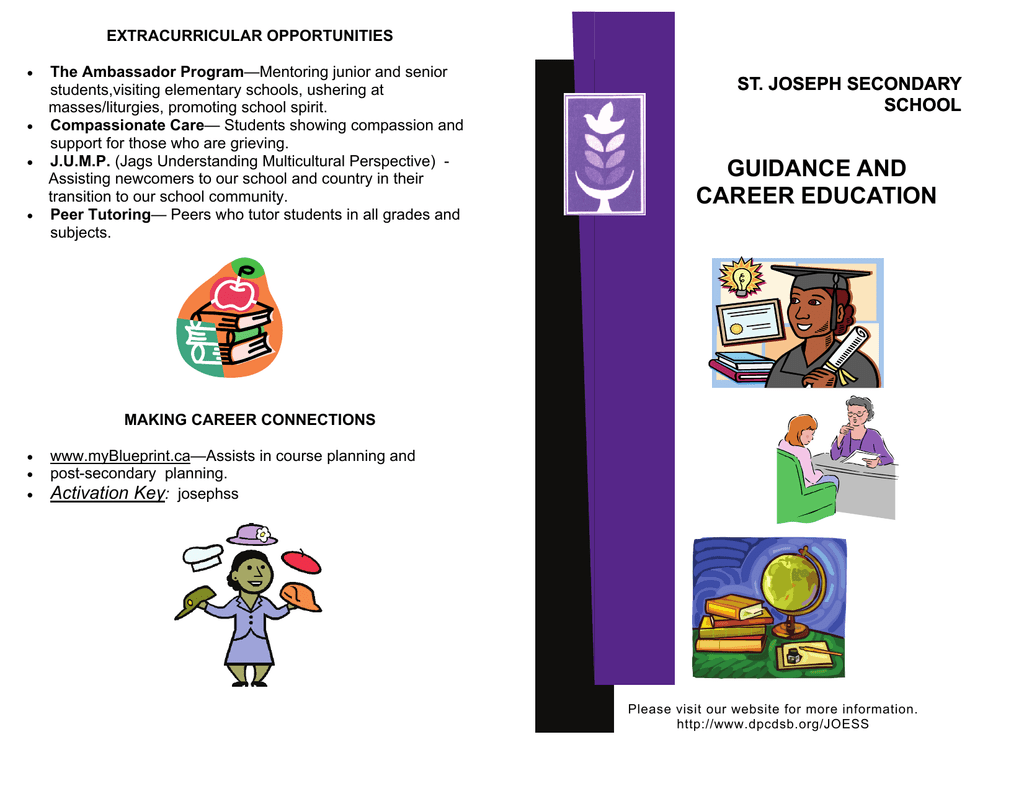 EXTRACURRICULAR OPPORTUNITIES
•
•
•
•
The Ambassador Program—Mentoring junior and senior
students,visiting elementary schools, ushering at
masses/liturgies, promoting school spirit.
Compassionate Care— Students showing compassion and
support for those who are grieving.
J.U.M.P. (Jags Understanding Multicultural Perspective) Assisting newcomers to our school and country in their
transition to our school community.
Peer Tutoring— Peers who tutor students in all grades and
subjects.
ST. JOSEPH SECONDARY
SCHOOL
GUIDANCE AND
CAREER EDUCATION
MAKING CAREER CONNECTIONS
•
•
•
www.myBlueprint.ca—Assists in course planning and
post-secondary planning.
Activation Key: josephss
Please visit our website for more information.
http://www.dpcdsb.org/JOESS
GUIDANCE AND CAREER EDUCATION
The Guidance and Career Education program will help
students relate what they learn in school to the community,
understand and value education, recognize learning opportunities, and adapt to changing circumstances. It will help
them make transitions throughout their lives from family to
school, from school to post-secondary institutions, from
school to work, and from school to lifelong learning.
Goals:
The goals of the Guidance and Career Education program
are that students:
• Understand of the concepts related to lifelong learning,
interpersonal relationships, and career planning;
• Develop learning skills, social skills, a sense of social responsibility, and their ability to formulate and pursue educational and career goals;
• Apply this learning to their lives and work in the school
and the community.
COMPULSORY GUIDANCE COURSE
Career Studies, Grade 10 Open
Students will:
Identify their interests, skills, characteristics, and accomplishments.
• Identify a broad range of options for
present and future learning, work, and
community involvement .
• Demonstrate the ability to research career information.
• Learn tools for job search, such as
exploration of numerous websites, including:
myBlueprint.ca,
Mazemaster.ca,
CareerCruising.com
GUIDANCE PROGRAMS AT A GLANCE
ACE (Alternative Cooperative Experiential) Program
This program provides at-risk senior students with the opportunity to succeed academically and personally in this unique
full year grade 12 program.
Credit Recovery
The Credit Recovery Program at St. Joseph S.S. is an initiative to allow students an opportunity to 'recover' a course
credit for which a student received a mark between 38%49%.
High Performance Athletes Program
This is an enriched program that provides
a flexible learning environment which will
empowers the elite provincial/ national
level athlete to strive for both athletic and
academic excellence.
The I.D.E.A.L. Program- Individualized, Differentiated,
Educationally Assisted Program
The IDEAL program provides students the opportunity to gain
one credit by independently completing course booklets created by the Independent Learning Centre. Students gain entry
into the program by Guidance Counsellor or Administrative
referral.
•
PATH (Peers as Teacher Helpers) Program
Students are selected by staff to assist teachers
in Grades 9 and 10 classrooms throughout the
semester. This is a one-credit Cooperative Education opportunity.