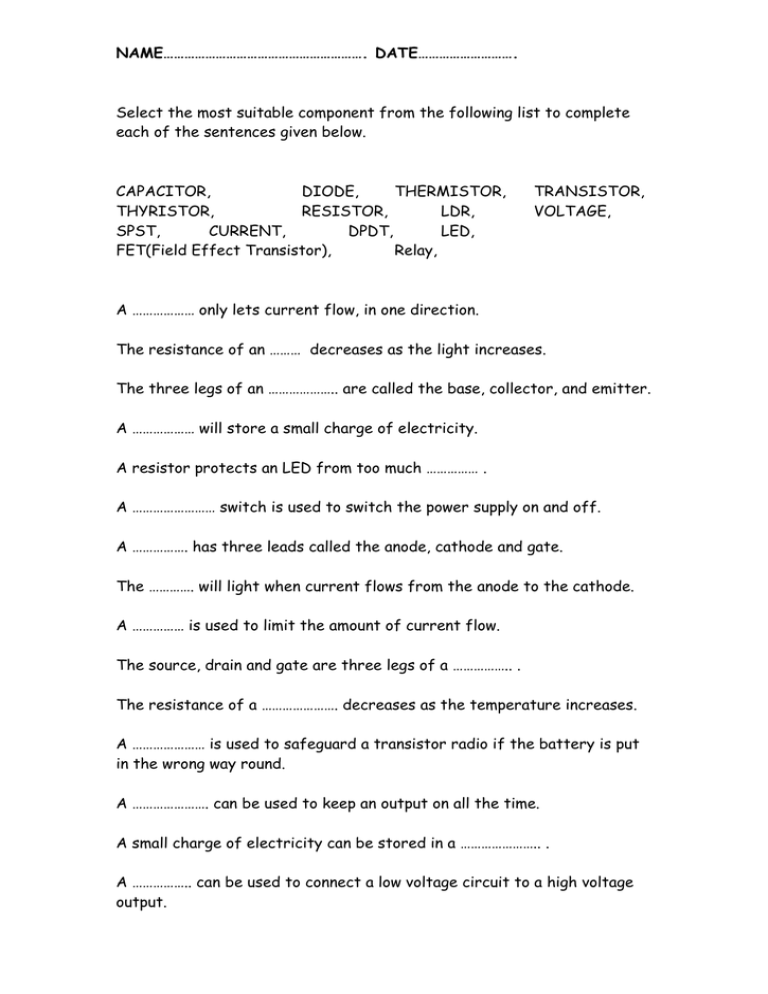 NAME…………………………………………………. DATE……………………….
Select the most suitable component from the following list to complete
each of the sentences given below.
CAPACITOR,
DIODE,
THERMISTOR,
THYRISTOR,
RESISTOR,
LDR,
SPST,
CURRENT,
DPDT,
LED,
FET(Field Effect Transistor),
Relay,
TRANSISTOR,
VOLTAGE,
A ……………… only lets current flow, in one direction.
The resistance of an ……… decreases as the light increases.
The three legs of an ……………….. are called the base, collector, and emitter.
A ……………… will store a small charge of electricity.
A resistor protects an LED from too much …………… .
A …………………… switch is used to switch the power supply on and off.
A ……………. has three leads called the anode, cathode and gate.
The …………. will light when current flows from the anode to the cathode.
A …………… is used to limit the amount of current flow.
The source, drain and gate are three legs of a …………….. .
The resistance of a …………………. decreases as the temperature increases.
A ………………… is used to safeguard a transistor radio if the battery is put
in the wrong way round.
A …………………. can be used to keep an output on all the time.
A small charge of electricity can be stored in a ………………….. .
A …………….. can be used to connect a low voltage circuit to a high voltage
output.