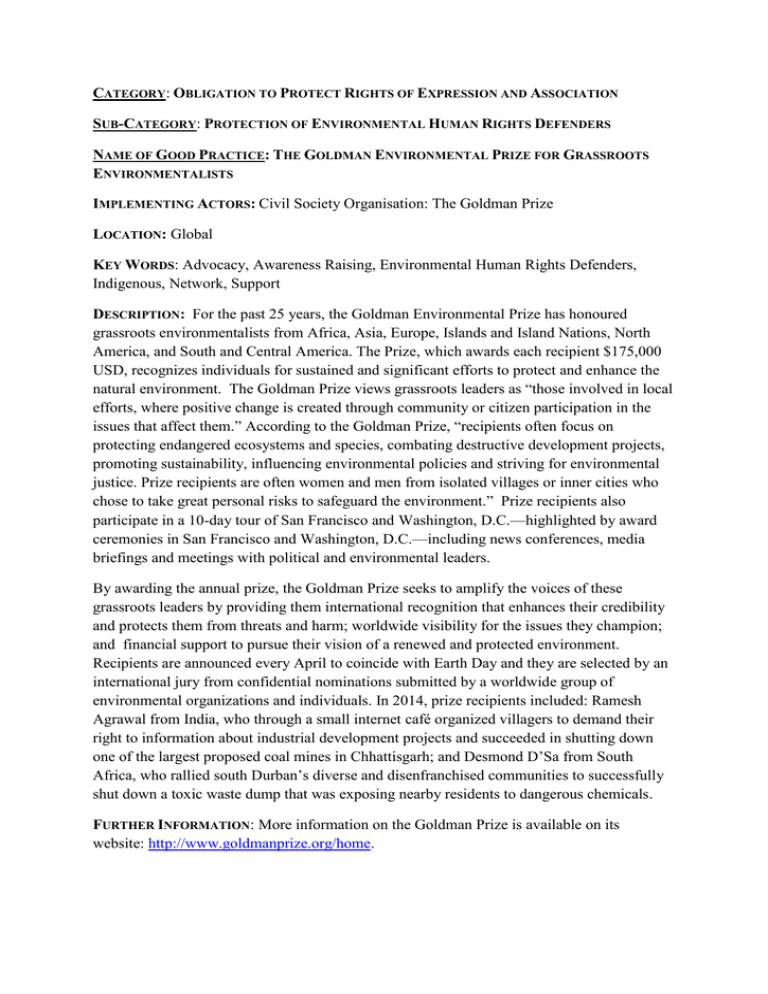 CATEGORY: OBLIGATION TO PROTECT RIGHTS OF EXPRESSION AND ASSOCIATION
SUB-CATEGORY: PROTECTION OF ENVIRONMENTAL HUMAN RIGHTS DEFENDERS
NAME OF GOOD PRACTICE: THE GOLDMAN ENVIRONMENTAL PRIZE FOR GRASSROOTS
ENVIRONMENTALISTS
IMPLEMENTING ACTORS: Civil Society Organisation: The Goldman Prize
LOCATION: Global
KEY WORDS: Advocacy, Awareness Raising, Environmental Human Rights Defenders,
Indigenous, Network, Support
DESCRIPTION: For the past 25 years, the Goldman Environmental Prize has honoured
grassroots environmentalists from Africa, Asia, Europe, Islands and Island Nations, North
America, and South and Central America. The Prize, which awards each recipient $175,000
USD, recognizes individuals for sustained and significant efforts to protect and enhance the
natural environment. The Goldman Prize views grassroots leaders as "those involved in local
efforts, where positive change is created through community or citizen participation in the
issues that affect them." According to the Goldman Prize, "recipients often focus on
protecting endangered ecosystems and species, combating destructive development projects,
promoting sustainability, influencing environmental policies and striving for environmental
justice. Prize recipients are often women and men from isolated villages or inner cities who
chose to take great personal risks to safeguard the environment." Prize recipients also
participate in a 10-day tour of San Francisco and Washington, D.C.—highlighted by award
ceremonies in San Francisco and Washington, D.C.—including news conferences, media
briefings and meetings with political and environmental leaders.
By awarding the annual prize, the Goldman Prize seeks to amplify the voices of these
grassroots leaders by providing them international recognition that enhances their credibility
and protects them from threats and harm; worldwide visibility for the issues they champion;
and financial support to pursue their vision of a renewed and protected environment.
Recipients are announced every April to coincide with Earth Day and they are selected by an
international jury from confidential nominations submitted by a worldwide group of
environmental organizations and individuals. In 2014, prize recipients included: Ramesh
Agrawal from India, who through a small internet café organized villagers to demand their
right to information about industrial development projects and succeeded in shutting down
one of the largest proposed coal mines in Chhattisgarh; and Desmond D'Sa from South
Africa, who rallied south Durban's diverse and disenfranchised communities to successfully
shut down a toxic waste dump that was exposing nearby residents to dangerous chemicals.
FURTHER INFORMATION: More information on the Goldman Prize is available on its
website: http://www.goldmanprize.org/home.