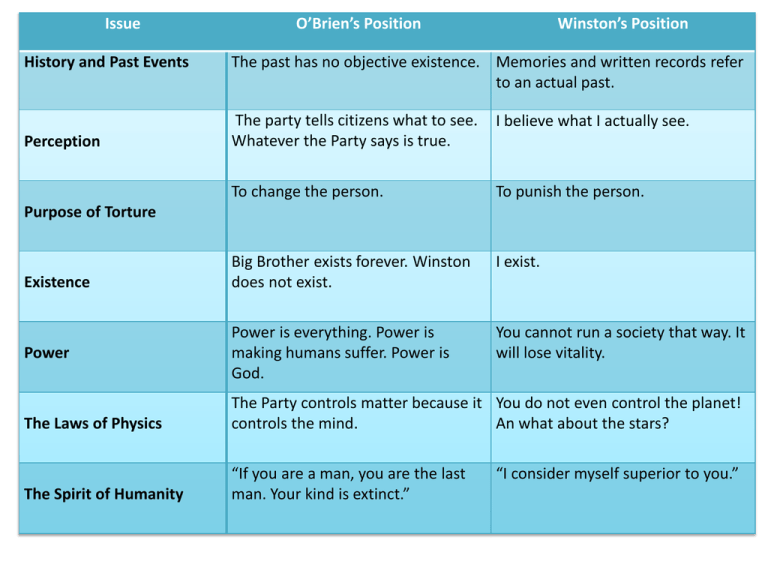 Issue
O'Brien's Position
Winston's Position
1984 Section Two Review
History and Past Events
The past has no objective existence. Memories and written records refer
to an actual past.
Perception
The party tells citizens what to see.
Whatever the Party says is true.
The Spirit of Humanity
man. Your kind is extinct."
I believe what I actually see.
• Winston engages in a dangerous and secretive physical relationship
with Julia, the dark-haired girl.
To change the person.
To punish the person.
•
In
their
discussions
of
the
Party,
Winston
learns
that Julia is not
Purpose of Torture
interested in understanding the Party's motives the way Winston is.
• Winston rents the
room over Charrington's junk shop; this is an
Big Brother exists forever. Winston I exist.
unmonitored space
where Julia and Winston can continue their
Existence
does not exist.
affair.
• O'Brien invites Winston
to his home.
contact
Power is everything.
Power isThis is the
You cannot
run aWinston
society that way. It
has
been
waiting
for.
making humans suffer. Power is
Power
will lose vitality.
God.
• After Winston and
Julia agree not to betray one another, they go to
O'Brien's home to
joining
the
Brotherhood.
Thediscuss
Party controls
matter
because
it You do not even control the planet!
The•Laws
of Physics
controls Emmanuel
the mind.
what about
the stars? of
O'Brien
gives Winston
Goldstein'sAnbook,
a manifesto
the Party, which he eventually reads when he is alone with Julia.
"If you are
man,Thought
you are thePolice,
last
"Iled
consider
myself
superior to you."
• The two are captured
byathe
by Mr.
Charrington.