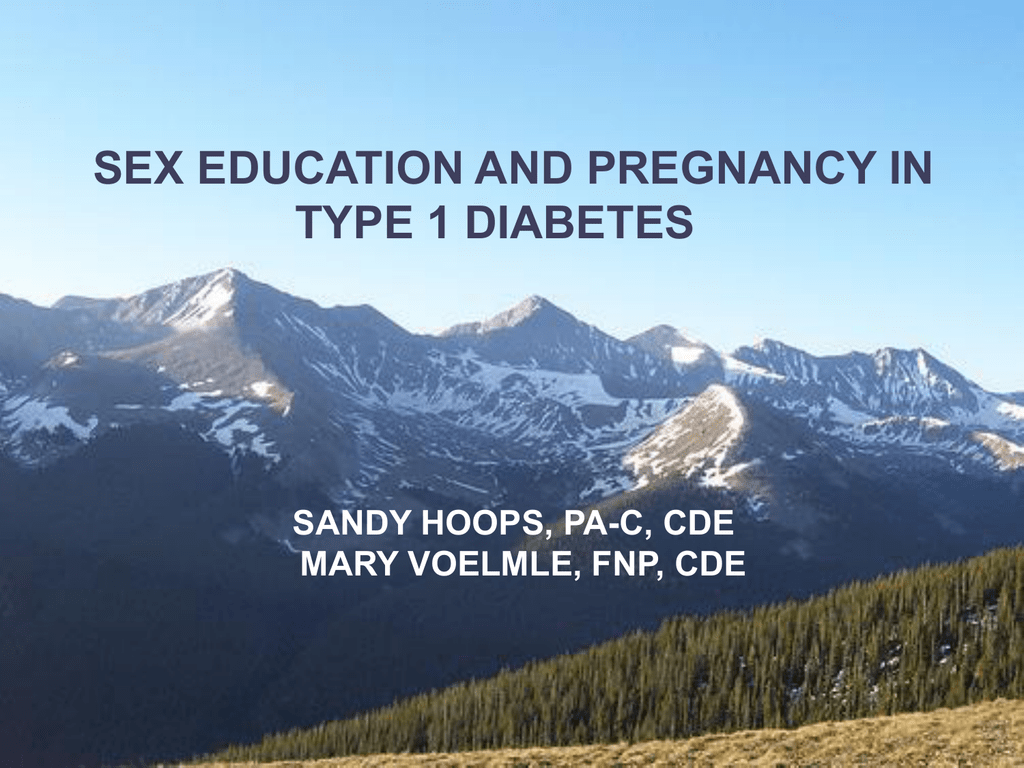 SEX EDUCATION AND PREGNANCY IN
TYPE 1 DIABETES
SANDY HOOPS, PA-C, CDE
MARY VOELMLE, FNP, CDE
OBJECTIVES
• GROUP DISCUSSION OF CONTRACEPTIVE
OPTIONS FOR THE PATIENT WITH TYPE 1
DIABETES
• GROUP DISCUSSION OF MANAGEMENT OF
PREGNANCY IN THE PATIENT WITH TYPE 1
DIABETES
CASE 1
15 YEAR OLD with DM x 8 yrs
• Current A1C 11.8%
• MDI – GLARGINE and LISPRO
• Question for the day: "What should my friend use for
birth control?"
Case 2
21 yr old female with DM x 8 yrs
•
•
•
•
•
•
A:C Ratio 60 (<30 Normal) Tx Lisinopril 10mg QD
Background retinopathy
Smoking less than ½ ppd
LMP May 28, 2008 – 6 weeks gestation
MDI – GLARGINE and LISPRO
HbA1c: 9.2%
WHAT ADVISE DO YOU GIVE?
Case 1
ISSUES TO DISCUSS WITH YOUR
ADOLESCENT PATIENT
(SEXUALLY ACTIVE OR THINKING ABOUT IT)
• TIME = TRUST
• CONFIDENTIALITY
• OPTIONS
-Preconceptual Counseling
• CORRECT RESOURCES
• TROUBLE SHOOTING
Hormonal contraceptive
•
•
•
•
•
•
•
Depo Provera - subQ
Femcon FE
Implanon
Mirena IUS
Plan B
Seasonique
Yaz 24/4
Non Hormonal Contraception
•
•
•
•
•
•
•
IUD
Diaphragm
Cervical Cap
Condom
Vaginal Sponge
Spermicides
Abstinence
What to Recommend?
•
•
•
•
•
•
Preconceptual Counseling
Hormonal vs. Non-Hormonal
Patient specific
Hormonal – Lo dose estrogen
Non-Hormonal – IUD, barrier method
ALWAYS CONDOMS!!
Case 2
IMPROVE CONTROL NOW!
•
•
•
•
•
•
Increase glucose testing to 10 x daily
Consider CGM
Quit smoking
Add PNV
Referral to perinatology
Consider CSII
Results!
Planning Pregnancy
• HbA1c level < 6% provide significantly
better glucose levels than those > 6% *
• Detection rate of hyper- and hypoglycemia
higher in patients testing 10 or more times
daily *
• Established pre-pregnancy DM control key
*Kerssen et al., Diabetologia, 2006, 49: 25-28.
Risk to Mom with Type I
• Hypoglycemia
• Urgent reduction in glucose variability –
strict control initiated within 24-48 hrs of
pos HCG
• Accelerated retinopathy
• PIH
• Preeclampsia
• Diabetic ketoacidosis
Risk Factor for Progression to PDR
1- Baseline retinopathy
2- Elevated HbA1c at conception
3- Rapid normalization of blood glucose
4- Duration of DM greater than 6 years
5- Proteinuria
Phelps et al. Arch Ophthalmol 1986; 104:1806-10.
Effect of Pregnancy on
Microvascular Complications
• Pregnancy in Type I DM induces transient
increase in the risk of retinopathy;
increased ophthalmologic surveillance is
needed during pregnancy and 1st yr
postpartum.
• Long-term risk of progression of early
retinopathy and albumin excretion do not
appear to be increased in pregnancy
DCCT, Diabetes Care, 23 (8), August 2000
Risk to Infant of Diabetic Mothers
• Congenital malformations – occur during organogenesis
– 7 weeks gestation
• Spontaneous abortion due to maternal hyperglycemia,
vascular disease, uteroplacental insufficiency
• Congenital malformations 13% in women with diabetes
vs 2% nondiabetic mothers
Jovanovic. Endocrinlogy Metab Clinic N America 35 92006) 97-97.
Pregnancy Goals
• Hemoglobin A1C Goals: 5.0%-6.0%
Glucose Goals:
Pre-meal/Fasting 60-99 mg/dl
1-hour or peak postprandial <129 mg/dl
Bedtime 100-130 mg/dl
Overall average: 110 mg/dl
•
•
•
•
•
•
Seen in clinic bi-monthly/ monthly for diabetes management.
OB monthly to follow baby – perinatology referral if needed.
Retinal eye exam in each trimester.
24 hr urine for protein excretion and creatinine 1st/3rd trimester.
TSH and Free T4 at first visit. Treat TSH >2.5
Most deliver by induction at 37-39 weeks gestation if lungs are
mature.
Insulin Adjustments During
Pregnancy
• Intensification to insulin regime initially
• 9-12 weeks expect more frequent
hypoglycemia
• 24-28 weeks initial insulin resistance
• Insulin dose 2-3 x starting dose by delivery
• Watch for undetermined hypoglycemia
36+ weeks to increase fetal monitoring
A1c levels during pregnancy
7.20
7.05
7.00
p = 0.41
6.80
6.80
Comparison
RTCGM group
A1c %
6.60
6.46
6.41
6.40
6.26
6.19
6.20
p = 0.09
p < 0.03
6.11
6.00
5.95
p = 0.20
p = 0.13
5.95
p = 0.15
5.89
5.82
5.80
5.73
5.60
Baseline
3M
4M
5M
Gestational Month
6M
7M
Voelmle---Garg:
57, 2008
*p <
0.001 within Diabetes,
groups from
BL
% RTCGM glucose readings at baseline and
3 months with A1c Reduction
Baseline
3 Months after Sensor Start
8%
8%
46%
47%
46%
BTR
WTR
45%
ATR
Voelmle---Garg: Diabetes, 57, 2008
Conclusions


Pregnancy is a motivator in itself to encourage optimal glucose control,
yet tools such as RTCGM allow more patient awareness of continuous
glucose level changes. This addition to SMBG may allow the patient to
make more informed decisions about insulin therapy. A significantly lower
A1c at 7 months of gestation leads us to believe that A1c reduction was
significant at delivery and therefore indicative of superior glucose control.
Severe hypoglycemia is a risk of obtaining and maintaining near normal
A1c's. Women who are pregnant need to have additional tools available at
their disposal to help them detect glucoses values below target range
(<60 mg/dl) and avoid dangerous outcomes.
We conclude the use of RTCGM in pregnancy with diabetes may improve
metabolic control throughout gestation. Pregnancy is clearly a motivating
factor for women to reduce their A1c values, yet as pregnancy progresses
RTCGM has the ability to maintain that reduction in A1c better than SMBG
alone. Severe hypoglycemia can be avoided if patients are given tools to
help detect glucoses in a low range. This pilot study supports the need
for larger, randomized, controlled trial to evaluate the significance and
clinical implications of RTCGM in the management of pregnant women
with type 1 diabetes.
Voelmle---Garg: Diabetes, 57, 2008
THANK YOU!
QUESTIONS/COMMENTS?
References
Masimasi, N., Sivanandy, M., Thacker, H. "Update on Hormonal Contraception", Cleveland Clinic Journal of
Medicine, Vol. 74, No. 3, March 2007
ACOG Education Pamphlet AP159, accessed on 5/26/2008
www.acog.org/publications/patient_education
Non-Hormonal Contraceptive Methods: A Quick Reference Guide for Clinicians, Association of Reproductive Health
Professionals, www.arhp.org
Visser J., Snel M., Van Vliet H , Hormonal versus non-hormonal contraceptives in women with diabetes mellitus type
1 and 2 (Review), Copyright 2008 The Cochrane Collaboration, Published by John Wiley & Sons, Ltd., 2008, issue 2.
Tolaymat, L, Kaunitz A., Long-acting contraceptives in adolescents,
Current Opinion in Obstetrics & Gynecology. 19(5):453-460, October 2007.
Colorado Organization on Adolescent Pregnancy, Parenting and Prevention, The State of Adolescent Sexual Health
in Colorado 2008
Accessed on 7/9/2008, www.coappp.org
Teal S., Ginosar D., Contraception for Women with Chronic Medical Conditions, Obstetric Gynecology Clinic North
America, 34(2007)113-126.
Care of Children and Adolescents with Type 1 Diabetes, A statement of the American Diabetes Association, Diabetes
Care 28:186-212, 2005.
Preconception Care of Women with Diabetes, American Diabetes Association, Diabetes Care26:S91-S93, 2003.
Managing Preexisting Diabetes for Pregnancy, Consensus Statement American Diabetes Association, Diabetes
Care, Vol. 31, No. 5, May 2008.
Charron-Prochownik D., Ferons-Hannan M., Sereika S., Becker D., Randomized Efficacy Trial of Early
Preconception Counseling for Diabetic Teens (READY – Girls), Diabetes Care, Vol. 31, No 7, July 2008.