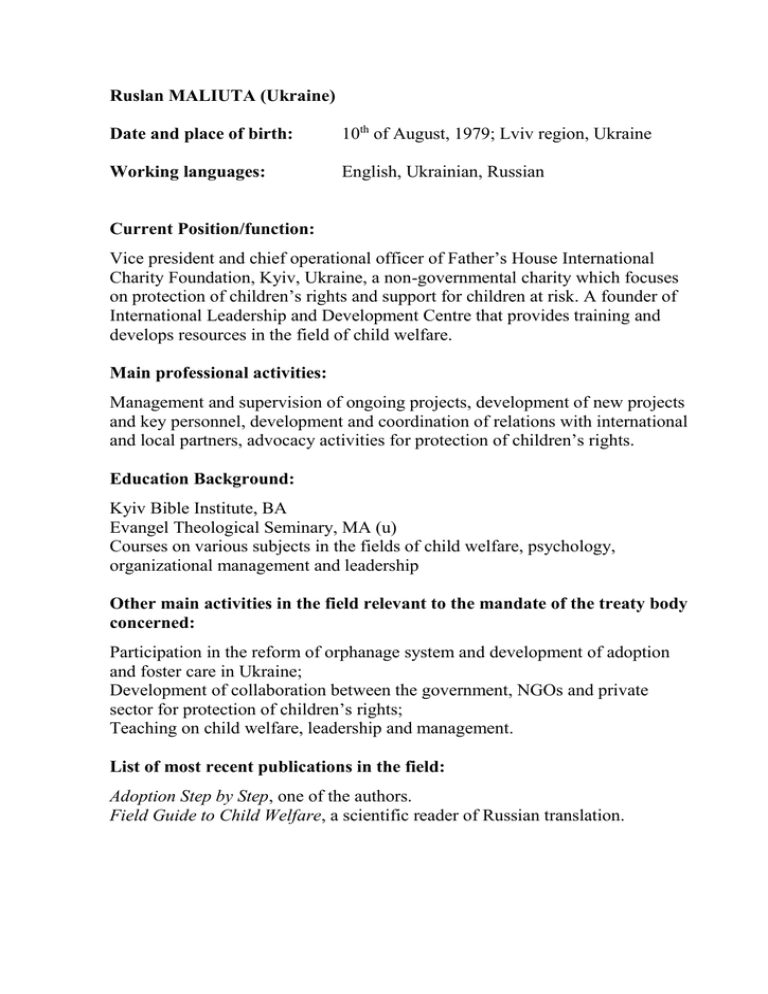 Ruslan MALIUTA (Ukraine)
Date and place of birth:
10th of August, 1979; Lviv region, Ukraine
Working languages:
English, Ukrainian, Russian
Current Position/function:
Vice president and chief operational officer of Father's House International
Charity Foundation, Kyiv, Ukraine, a non-governmental charity which focuses
on protection of children's rights and support for children at risk. A founder of
International Leadership and Development Centre that provides training and
develops resources in the field of child welfare.
Main professional activities:
Management and supervision of ongoing projects, development of new projects
and key personnel, development and coordination of relations with international
and local partners, advocacy activities for protection of children's rights.
Education Background:
Kyiv Bible Institute, BA
Evangel Theological Seminary, MA (u)
Courses on various subjects in the fields of child welfare, psychology,
organizational management and leadership
Other main activities in the field relevant to the mandate of the treaty body
concerned:
Participation in the reform of orphanage system and development of adoption
and foster care in Ukraine;
Development of collaboration between the government, NGOs and private
sector for protection of children's rights;
Teaching on child welfare, leadership and management.
List of most recent publications in the field:
Adoption Step by Step, one of the authors.
Field Guide to Child Welfare, a scientific reader of Russian translation.