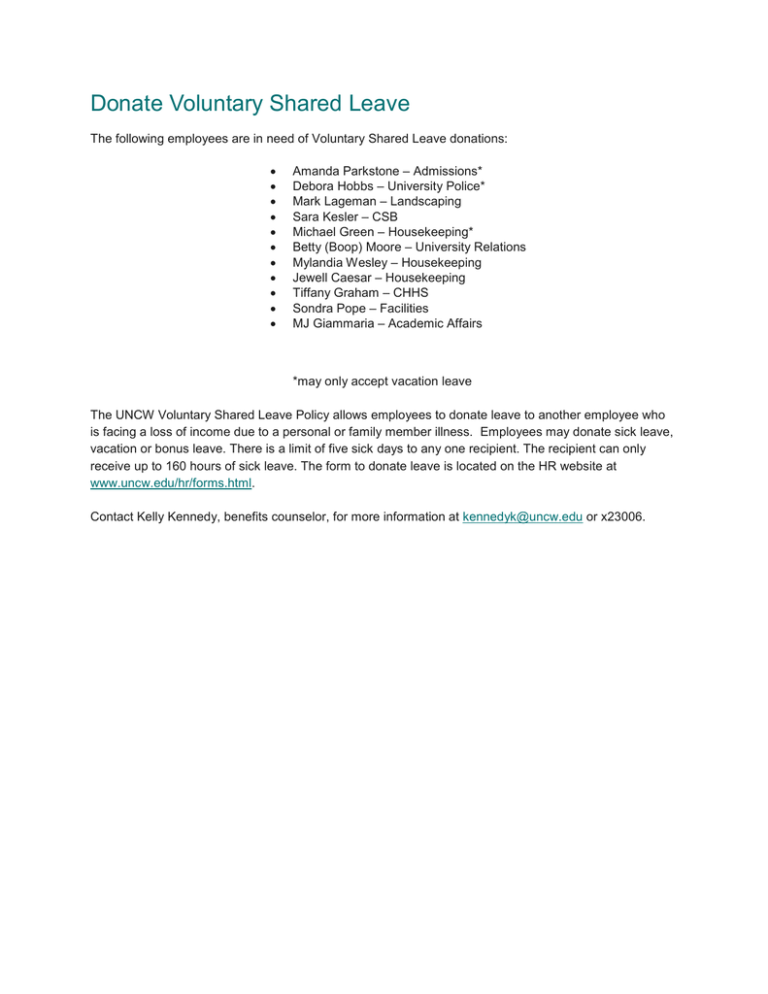 Donate Voluntary Shared Leave
The following employees are in need of Voluntary Shared Leave donations:











Amanda Parkstone – Admissions*
Debora Hobbs – University Police*
Mark Lageman – Landscaping
Sara Kesler – CSB
Michael Green – Housekeeping*
Betty (Boop) Moore – University Relations
Mylandia Wesley – Housekeeping
Jewell Caesar – Housekeeping
Tiffany Graham – CHHS
Sondra Pope – Facilities
MJ Giammaria – Academic Affairs
*may only accept vacation leave
The UNCW Voluntary Shared Leave Policy allows employees to donate leave to another employee who
is facing a loss of income due to a personal or family member illness. Employees may donate sick leave,
vacation or bonus leave. There is a limit of five sick days to any one recipient. The recipient can only
receive up to 160 hours of sick leave. The form to donate leave is located on the HR website at
www.uncw.edu/hr/forms.html.
Contact Kelly Kennedy, benefits counselor, for more information at kennedyk@uncw.edu or x23006.