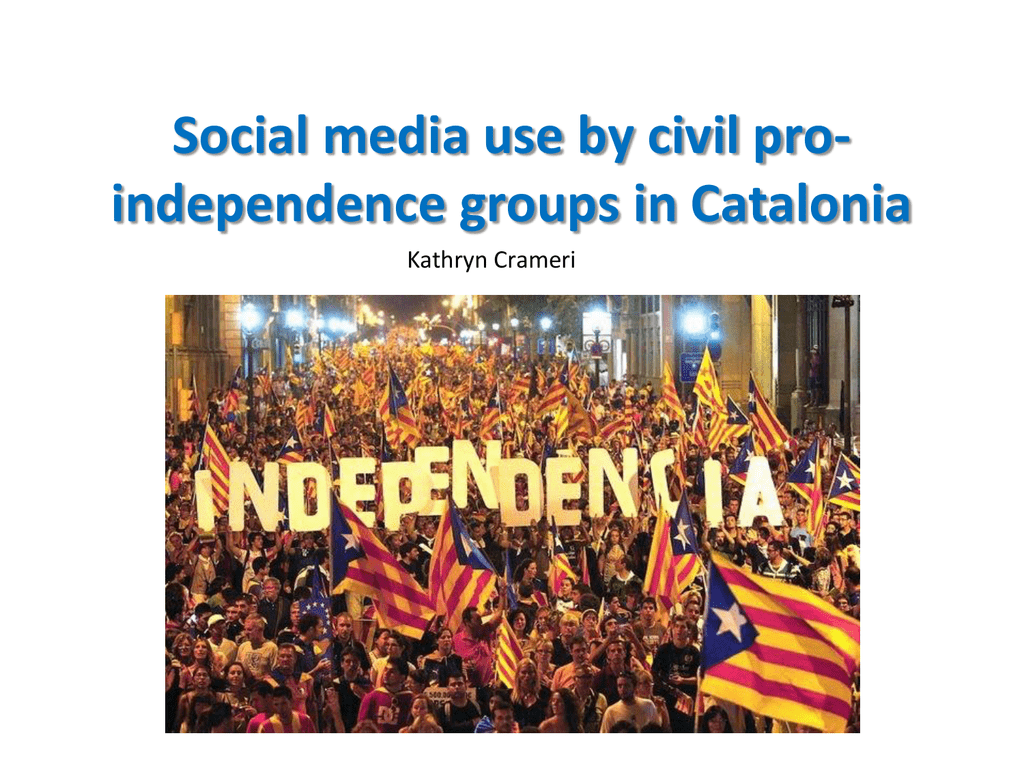 Social media use by civil proindependence groups in Catalonia
Kathryn Crameri
Catalans' preferred relationship
with Spain
60
50
40
Independent State
Federal State
30
Autonomous Community
Region
20
Don't Know
No answer
10
Oct-13
Jun-13
Feb-13
Oct-12
Jun-12
Feb-12
Oct-11
Jun-11
Feb-11
Oct-10
Jun-10
Feb-10
Oct-09
Jun-09
Feb-09
Oct-08
Jun-08
Feb-08
Oct-07
Jun-07
Feb-07
Oct-06
Jun-06
Feb-06
Oct-05
Jun-05
0
Data taken from the Centre d'Estudis d'Opinió, Baròmetre d'opinió política ('Barometer of
Political Opinion'), (Generalitat de Catalunya, 2005-13)
Civil Society
•
•
•
•
Disillusionment with party politics
Desire for voice/agency
Key role of emotion/affect
Growth of civil organisations
– E.g. Assemblea Nacional Catalana which organised 11
Sept demonstrations in 2012 & 13 ('Via catalana')
• Crucial role of internet
activism/social media
Examples
• Barcelona, 10 July 2010: 'The world's first
Demonstration 2.0'
• Twitter: #TotsSomAssembleaNC
• Pro-independence ARA newspaper: innovative
multiplatform environment
A hypothesis and some questions:
• Hypothesis: the Catalan independence
movement would not have captured the huge
numbers of diverse supporters it has in such a
short space of time without social media, even if
the 'drivers' for independence had been exactly
the same.
(Cf. Manuel Castells 'The development of communication
technologies can be understood as the gradual decoupling of
contiguity and time-sharing.' Communication Power (Oxford
University Press, 2009), p. 34.
Questions:
• How has social media aided the following?:
– Organisation of events
– Dissemination of information
– Creation of activist networks/coalitions
– 'Five-minute activism'
– National and international exposure for the cause
– Creation of a sense of community of like-minded
people ('tipping point'/building trust)
– Keeping people passionate about the cause
i.e. how does it reduce the costs of
participation while increasing the benefits?