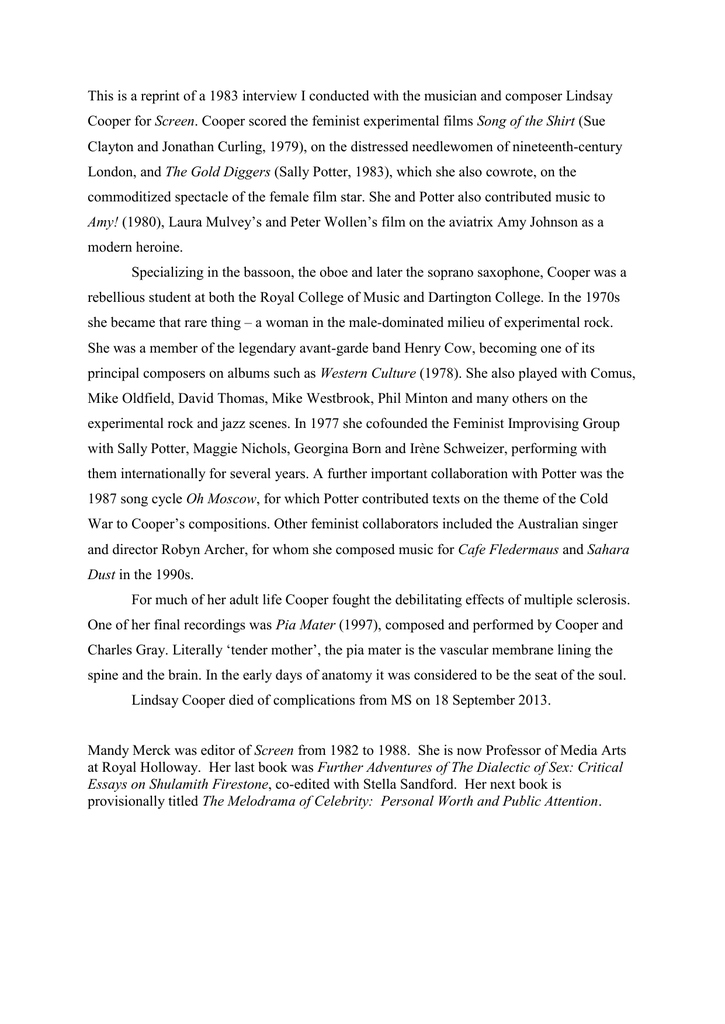 This is a reprint of a 1983 interview I conducted with the musician and composer Lindsay
Cooper for Screen. Cooper scored the feminist experimental films Song of the Shirt (Sue
Clayton and Jonathan Curling, 1979), on the distressed needlewomen of nineteenth-century
London, and The Gold Diggers (Sally Potter, 1983), which she also cowrote, on the
commoditized spectacle of the female film star. She and Potter also contributed music to
Amy! (1980), Laura Mulvey's and Peter Wollen's film on the aviatrix Amy Johnson as a
modern heroine.
Specializing in the bassoon, the oboe and later the soprano saxophone, Cooper was a
rebellious student at both the Royal College of Music and Dartington College. In the 1970s
she became that rare thing – a woman in the male-dominated milieu of experimental rock.
She was a member of the legendary avant-garde band Henry Cow, becoming one of its
principal composers on albums such as Western Culture (1978). She also played with Comus,
Mike Oldfield, David Thomas, Mike Westbrook, Phil Minton and many others on the
experimental rock and jazz scenes. In 1977 she cofounded the Feminist Improvising Group
with Sally Potter, Maggie Nichols, Georgina Born and Irène Schweizer, performing with
them internationally for several years. A further important collaboration with Potter was the
1987 song cycle Oh Moscow, for which Potter contributed texts on the theme of the Cold
War to Cooper's compositions. Other feminist collaborators included the Australian singer
and director Robyn Archer, for whom she composed music for Cafe Fledermaus and Sahara
Dust in the 1990s.
For much of her adult life Cooper fought the debilitating effects of multiple sclerosis.
One of her final recordings was Pia Mater (1997), composed and performed by Cooper and
Charles Gray. Literally 'tender mother', the pia mater is the vascular membrane lining the
spine and the brain. In the early days of anatomy it was considered to be the seat of the soul.
Lindsay Cooper died of complications from MS on 18 September 2013.
Mandy Merck was editor of Screen from 1982 to 1988. She is now Professor of Media Arts
at Royal Holloway. Her last book was Further Adventures of The Dialectic of Sex: Critical
Essays on Shulamith Firestone, co-edited with Stella Sandford. Her next book is
provisionally titled The Melodrama of Celebrity: Personal Worth and Public Attention.