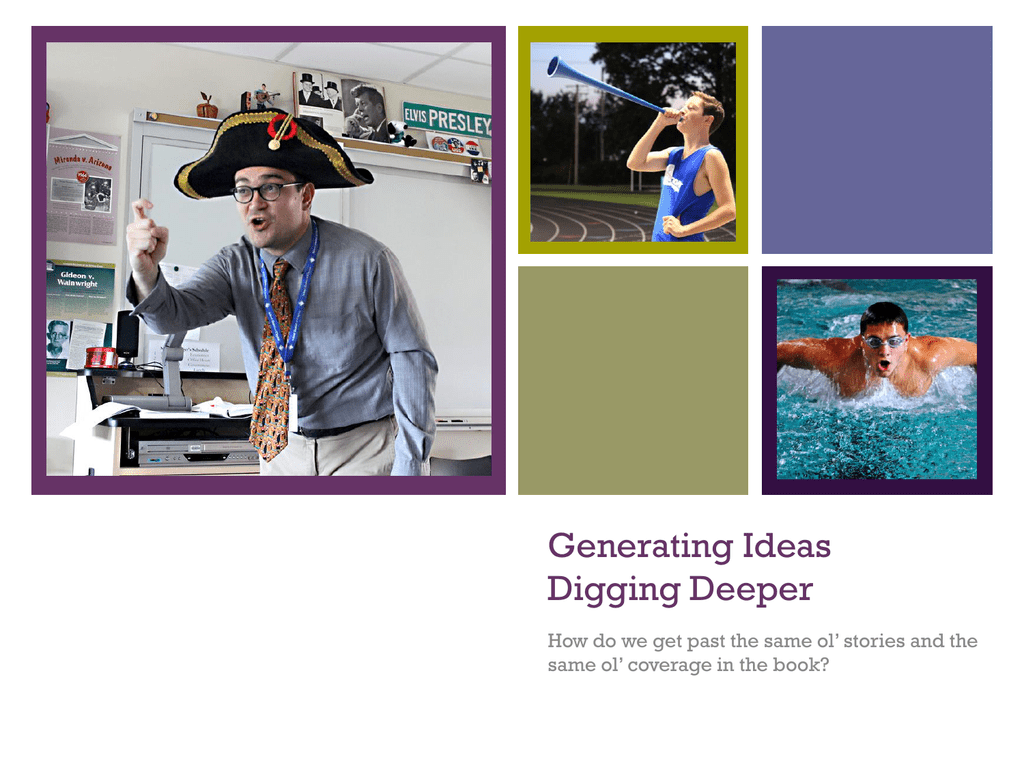 +
Generating Ideas
Digging Deeper
How do we get past the same ol' stories and the
same ol' coverage in the book?
+
Stop, Look and Listen
 Be







aware of what's around you
When you walk into a classroom, take note of what's in the
room
Walking from the parking lot, observe the cars
In the hallways, read the bulleting boards
In a store, observe the layout, the products and the
customers
While riding in a car, look at the billboards, the other
drivers, the makes of cars, the bumper stickers
Look at any object and think about what it means to you or
a family member. What kinds of emotion does it provoke?
LISTEN! What do you hear that brings about a visual? What
sounds do you hear and how do you relate to them?
+
Let's go on a scavenger hunt!

You have 10 minutes

Take a note book or paper and a writing utensil

Take a walk. Do not talk to anyone. Observe your
surroundings. Walk into classrooms. Read the bulletin boards.
Look at the posters and visuals in the hallway. Look up. Look
down.

Write down 10 specific ideas that we could cover in the
yearbook. Could be a quick read/module. Could turn into a
larger feature story.

Return to the classroom and prepare to share out your ideas.