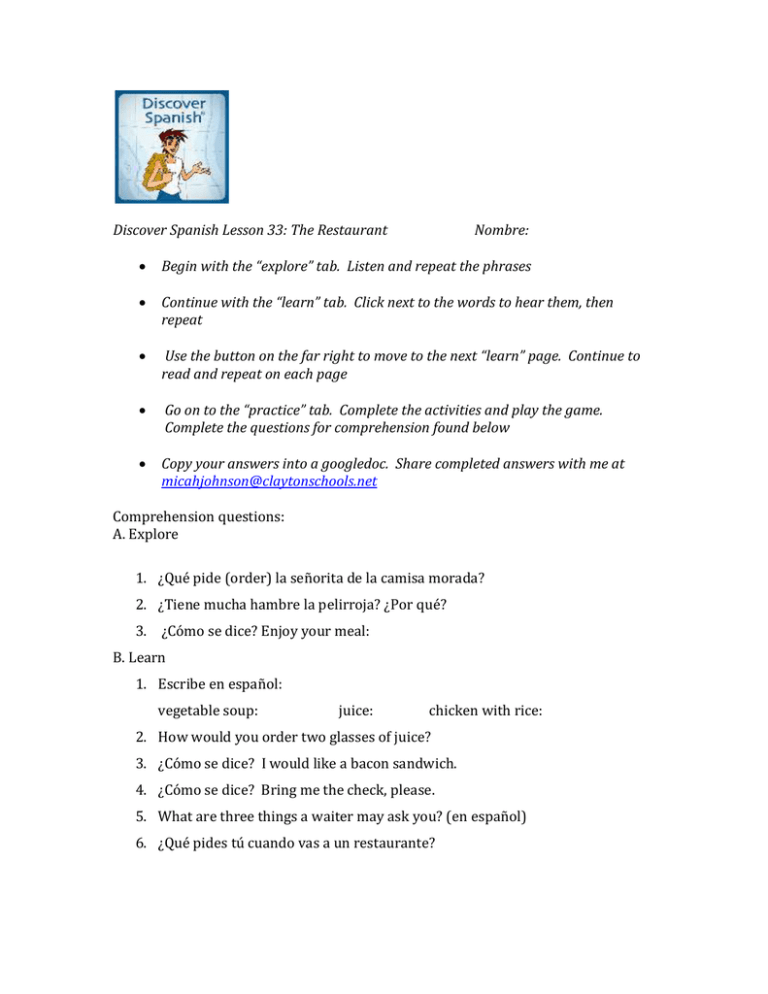 Discover Spanish Lesson 33: The Restaurant
Nombre:

Begin with the "explore" tab. Listen and repeat the phrases

Continue with the "learn" tab. Click next to the words to hear them, then
repeat

Use the button on the far right to move to the next "learn" page. Continue to
read and repeat on each page

Go on to the "practice" tab. Complete the activities and play the game.
Complete the questions for comprehension found below

Copy your answers into a googledoc. Share completed answers with me at
micahjohnson@claytonschools.net
Comprehension questions:
A. Explore
1. ¿Qué pide (order) la señorita de la camisa morada?
2. ¿Tiene mucha hambre la pelirroja? ¿Por qué?
3. ¿Cómo se dice? Enjoy your meal:
B. Learn
1. Escribe en español:
vegetable soup:
juice:
chicken with rice:
2. How would you order two glasses of juice?
3. ¿Cómo se dice? I would like a bacon sandwich.
4. ¿Cómo se dice? Bring me the check, please.
5. What are three things a waiter may ask you? (en español)
6. ¿Qué pides tú cuando vas a un restaurante?