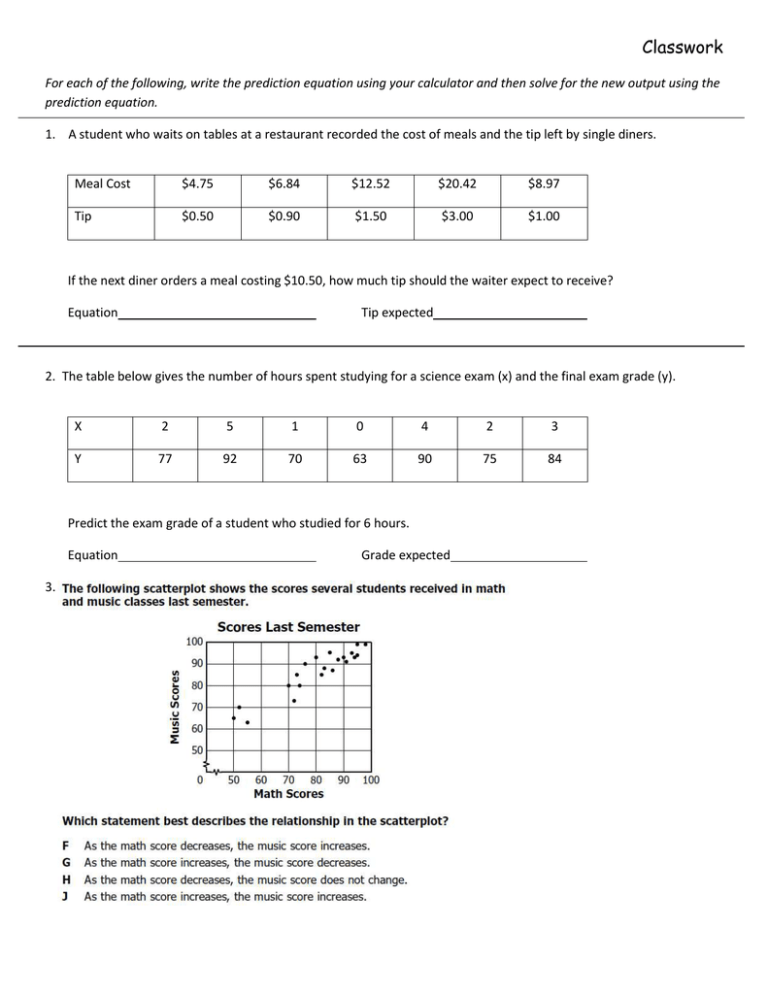 Classwork
For each of the following, write the prediction equation using your calculator and then solve for the new output using the
prediction equation.
1. A student who waits on tables at a restaurant recorded the cost of meals and the tip left by single diners.
Meal Cost
$4.75
$6.84
$12.52
$20.42
$8.97
Tip
$0.50
$0.90
$1.50
$3.00
$1.00
If the next diner orders a meal costing $10.50, how much tip should the waiter expect to receive?
Equation
Tip expected
2. The table below gives the number of hours spent studying for a science exam (x) and the final exam grade (y).
X
2
5
1
0
4
2
3
Y
77
92
70
63
90
75
84
Predict the exam grade of a student who studied for 6 hours.
Equation
3.
Grade expected
Curves of Best Fit:
4. A shot-putter throws a ball at an inclination of 45° to the horizontal. The following table represents
approximate heights for a ball thrown by a shot-putter as it travels a distance of x meters horizontally.
A)What is the equation of the quadratic curve of best
fit?_______________________
B)What would the height of the shot-put be when it
was a distance of 52 meters from the thrower? _____
5.
6.