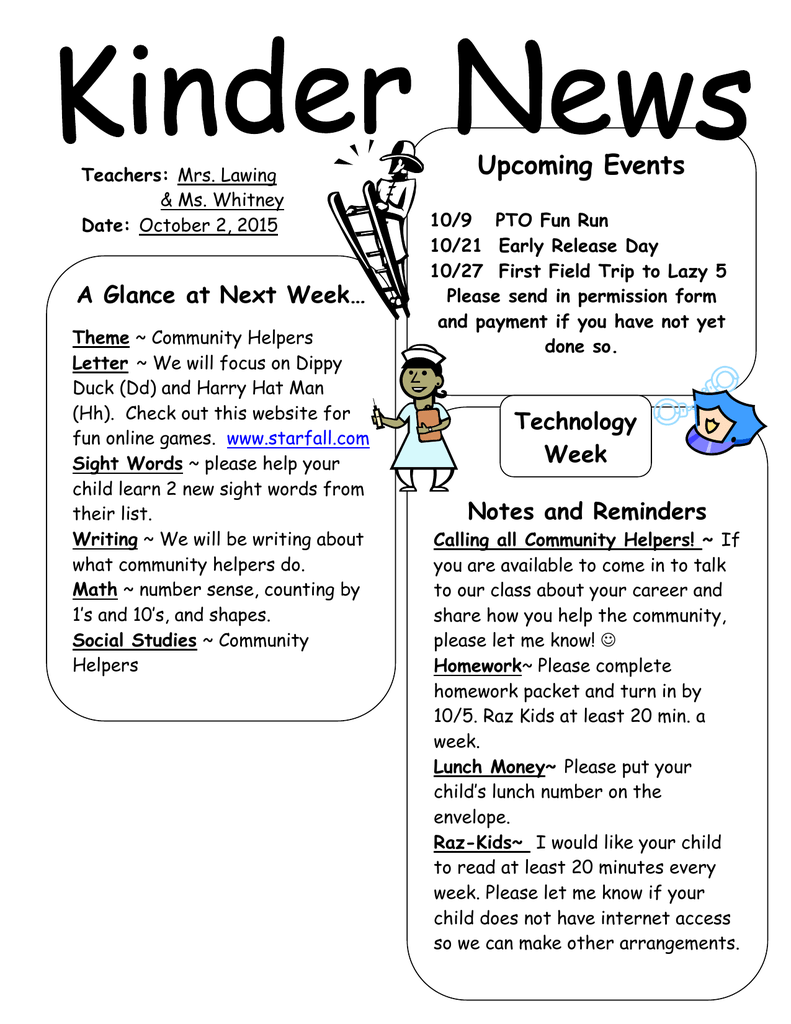 Teachers: Mrs. Lawing
& Ms. Whitney
Date: October 2, 2015
A Glance at Next Week…
Theme ~ Community Helpers
Letter ~ We will focus on Dippy
Duck (Dd) and Harry Hat Man
(Hh). Check out this website for
fun online games. www.starfall.com
Sight Words ~ please help your
child learn 2 new sight words from
their list.
Writing ~ We will be writing about
what community helpers do.
Math ~ number sense, counting by
1's and 10's, and shapes.
Social Studies ~ Community
Helpers
Upcoming Events
10/9 PTO Fun Run
10/21 Early Release Day
10/27 First Field Trip to Lazy 5
Please send in permission form
and payment if you have not yet
done so.
Technology
Week
Notes and Reminders
Calling all Community Helpers! ~ If
you are available to come in to talk
to our class about your career and
share how you help the community,
please let me know! 
Homework~ Please complete
homework packet and turn in by
10/5. Raz Kids at least 20 min. a
week.
Lunch Money~ Please put your
child's lunch number on the
envelope.
Raz-Kids~ I would like your child
to read at least 20 minutes every
week. Please let me know if your
child does not have internet access
so we can make other arrangements.