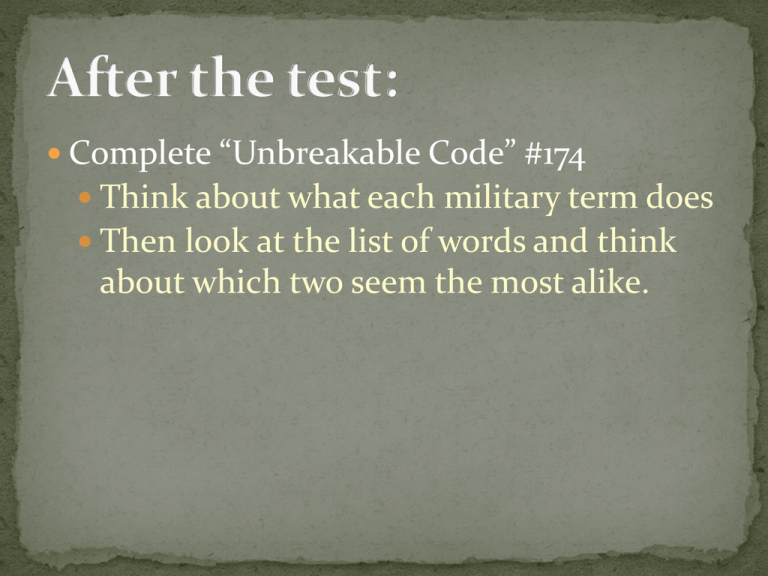  Complete "Unbreakable Code" #174
 Think about what each military term does
 Then look at the list of words and think
about which two seem the most alike.
 Content: Compare the Navajo code
words with the military terms and
determine which go together.
 Learning: List the features of Nazi
beliefs
 Although students attending school were
taught Nazi propaganda, all children
starting at the age of 10 begin to receive
an education specifically about Nazi
beliefs.
 Young Folk (ages 10-14)
 Hitler Youth and League
of German Girls (14-18)
 Preparation for entry
into the armed forces,
SS, or future leaders of
the Nazi party.
Stressed physical
fitness, militarism and
racism.
 Goal of this education was to produce
race-conscious, obedient, selfsacrificing Germans who would be
willing to die for Hitler and Germany
Supporting the Troops
Americans at
home supported
the war effort 3
ways:
1. Conserving
and rationing
resources
 Content: Compare two Disney
propaganda films about the American
Homefront.
 Learning: Explain how good
citizenship can help solve problems
today.
2.Buying
war
bonds
3. Planting
victory
gardens
Improved Economy
 American involvement in World War II
brought an end to the Great
Depression.
 Factories and workers were needed to
produce goods to win the war.
Breaking Barriers - Jobs
 Thousands of American
women took jobs in
defense plants during
the war
 The "Rosie the Riveter"
image was used to
empower women to
work in traditionally
male jobs
http://viewpure.com/N9huIU68_ns?start=0&end=0
 The need for workers
temporarily broke down
some racial barriers (in
defense plants for example)
 Unfortunately
discrimination against
African Americans
continued
Breaking Barriers - Military
 WASPS - Women's Airforce Service
Pilots
 Trained pilots and simulated battles
 Moved and tested planes
 Backup pilots for first drones
 No combat
 http://youtu.be/GBfaoaAkB7c
Breaking Barriers - Military
 Tuskegee Airmen
 Were the first African American
aviators in the United States
 They were officially the 332nd Army
Air Corp fighter division based in
Tuskegee, Alabama
 http://viewpure.com/BpA6TC0T_Lw
 They were given the nickname "The Red
Tails" after they painted the tails of their
aircraft red in 1944.