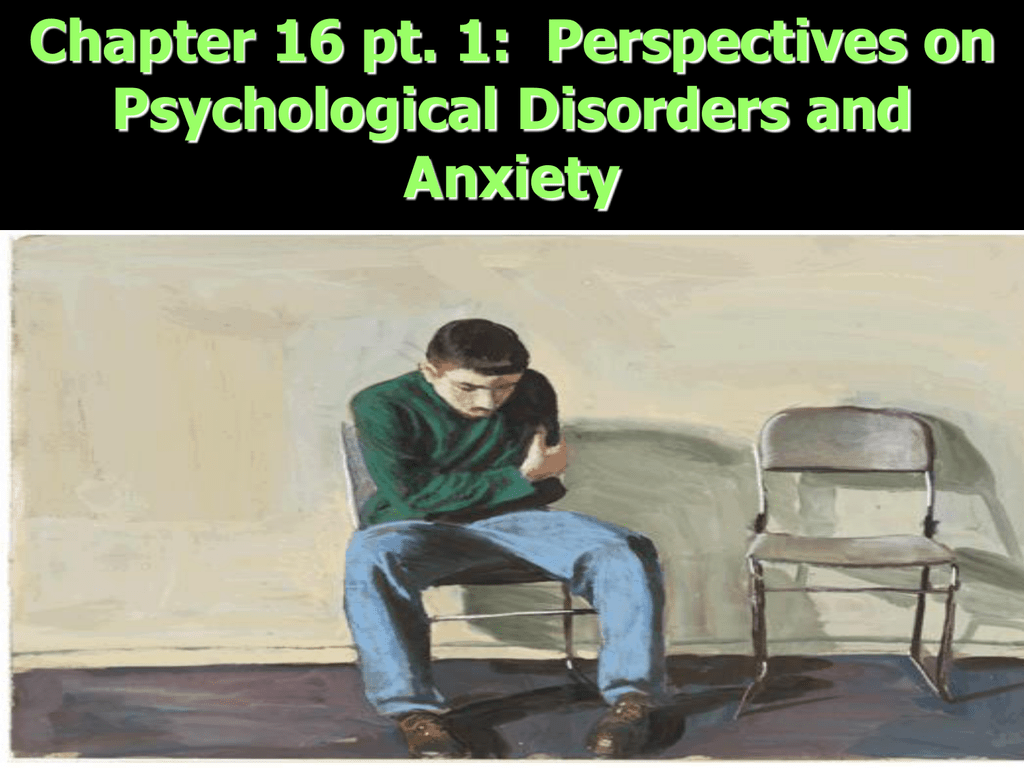 Chapter 16 pt. 1: Perspectives on
Psychological Disorders and
Anxiety
Agenda
1. Intro Page and Information (5)
 2. Notes: Psychological Disorders (20)
 3. Dissociative disorder article and
questions (10)
 4. Child of Rage Clip and Discussion (15)
 5. Discuss Personality Papers (15)

Defining Psychological Disorder
A
Psychological Disorder is:
 a "harmful dysfunction" in which
behavior is judged to be:
1. atypical- not enough in itself
2. disturbing- varies with time &
culture
3. maladaptive- harmful; causes
suffering
4. unjustifiable- hard to find logic
behind a person's actions, feelings or
thoughts.
History of Understanding
Psychological Disorders
 In
Ancient times, disorders were thought
to have been caused by movements of
the sun and moon (lunacy is full moon)
or by evil spirits.
 Treatments for people with mental illness
were very inhumane even up until the
mid 1900's. Patients were often chained
like animals, beaten, burned, castrated,
etc.
Conditions for Psychologically
Disabled

Ancient Greek Traphines
European Traphines
"released evil spirits."
Conditions for Psychologically
Disabled
Conditions for Psychologically
Disabled
Conditions for Psychologically
Disabled
Medical Model Improves
Conditions

Eventually the medical model came to
dominate understandings of mental illness.
 Late
1800s
The medical model assumes that diseases have
physical causes that can be diagnosed based
on their symptoms and be treated and in most
cases cured.
 Assumption of medical model drastically
improves conditions in mental hospitals.

Most Mental Health Professionals
Assume Disorders Have
Interlocking Causes

Bio-Psycho-Social
Perspective:
assume biological,
psychological, and
socio-cultural
factors interact to
produce disorders.
Biological
(Evolution,
individual
genes, brain
structures
and chemistry)
Sociocultural
(Roles, expectations,
definition of normality
and disorder)
Psychological
(Stress, trauma,
learned helplessnes
mood-related perceptio
and memories)
Classifying Psychological
Disorders
 DSM-IV:
the most widely
used manual for classifying
psychological disorders.

The DSM-IV currently lists 410
mental disorders up from 145
in the DSM-II (1968) and 60 in
DSM-I (1951).
More Criticisms
 Pros?
Reliable
Need a DSM diagnosis for insurance
 Cons?
Almost any behavior can be labeled
Distorts how we perceive others
Prejudice
Self fulfilling prophecy
 Does
not explain causes
Classifying Neurotic vs. Psychotic
Disorders
Neurotic disorder
 usually distressing but that allows one to
think rationally and function socially
 Freud saw the neurotic disorders as ways of
dealing with anxiety
 Psychotic disorder
 person loses contact with reality
 experiences irrational ideas and distorted
perceptions

Anxiety Disorders
Anxiety Disorders in general refer to
disorders that involve persistent and
distressing nervousness and apprehension
OR maladaptive behaviors which reduce
anxiety (defenses against anxiety).
 General Characteristics of Anxiety:
 Constant worrying, fear, or uncertainty
 Feels inadequate
 Oversensitive
 Difficulty concentrating
 May suffer insomnia

Anxiety Disorders
 Generalized
Anxiety Disorder:
person is tense, apprehensive, and in a
state of autonomic nervous system
arousal.
Anxiety Disorders
 Panic
Disorder:
disorder marked by
moments of intense
dread in which a person
experiences terror and
accompanying chest
pain or other
frightening sensations.
"Panic Attacks."
1 in 75 ppl
Anxiety Disorders
 Obsessive
Compulsive
Disorder (OCD):
disorder
characterized by
unwanted
repetitive
thoughts
(obsessions) and/or
actions
(compulsions).
Anxiety Disorders
 Phobia:
disorder marked by persistent,
irrational fear and avoidance of specific
object or situation.
Common Phobias
 Claustrophobic
– fear of tight
spaces
 Agoraphobic –fear of leaving
your home
 Acrophobic – Fear of heights
 Xenophobic – Fear of other races
other than your own
Phobias
 Triskaidekaphobia
Phobias
 Santa
Claustrophobia
Phobia
 Trichophobia
Anxiety Disorders
 Post-Traumatic
Stress Disorder:
disorder brought on by
traumatic experiences,
memories.
Characterized by
haunting memories
and nightmares,
social withdrawal, or
anxiety.
Causes of Anxiety Disorders from
Learning Perspective (Behavioral)
 1.
Fear Conditioning : ex: rape victim may
develop fear of being alone in apartment.
 2. Stimulus Generalization: ex: fear of
heights leads to fear of flying even without
flying.
 3. Reinforcement (ENCOURAGES
behavior): avoiding places you have phobia
about rewards you by lessening your anxiety.
 4. Observational Learning/Modeling: learn
from what you see
Causes of Anxiety Disorders from
Biological Perspective
1. Evolution: certain fears
help us survive.
 2. Genes: correlations with
identical twins and phobias.
 3. Physiology: brain
chemistry. Often see
increased brain activities in
brain areas involving impulse
control.


Ex: picture overactive frontal
lobe activity involved in
directing attention.