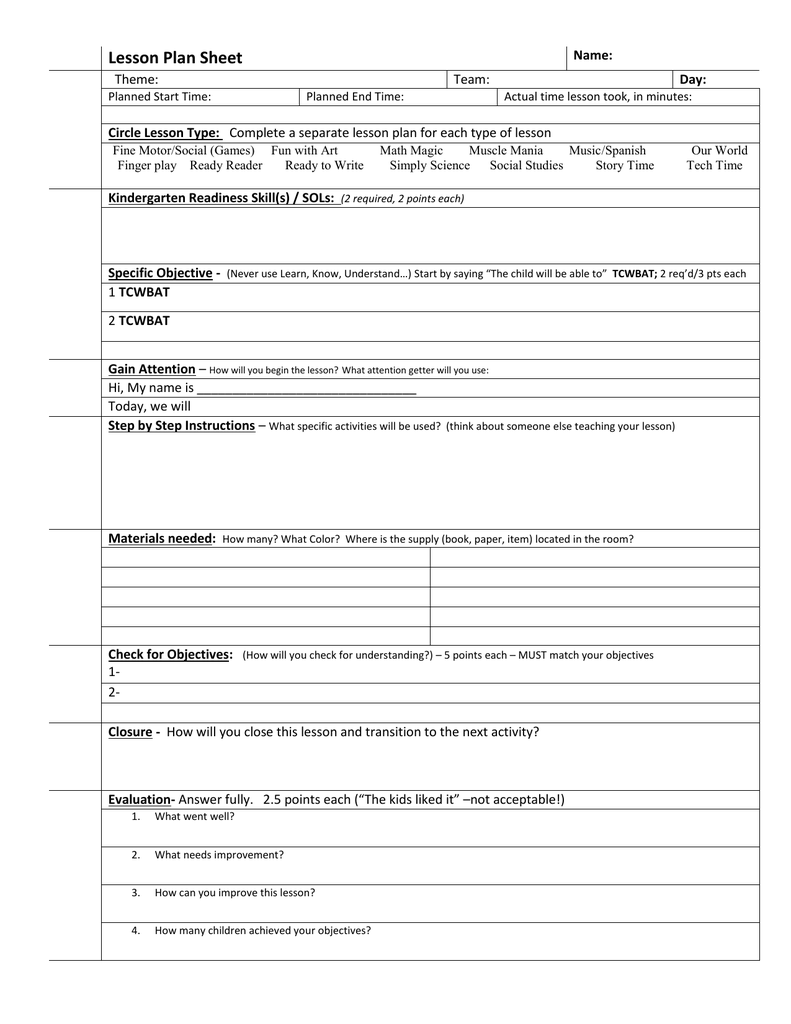 Name:
Lesson Plan Sheet
Theme:
Planned Start Time:
Team:
Planned End Time:
Day:
Actual time lesson took, in minutes:
Circle Lesson Type: Complete a separate lesson plan for each type of lesson
Fine Motor/Social (Games) Fun with Art
Finger play Ready Reader
Ready to Write
Math Magic
Muscle Mania
Music/Spanish
Simply Science
Social Studies
Story Time
Our World
Tech Time
Kindergarten Readiness Skill(s) / SOLs: (2 required, 2 points each)
Specific Objective - (Never use Learn, Know, Understand…) Start by saying "The child will be able to" TCWBAT; 2 req'd/3 pts each
1 TCWBAT
2 TCWBAT
Gain Attention – How will you begin the lesson? What attention getter will you use:
Hi, My name is _______________________________
Today, we will
Step by Step Instructions – What specific activities will be used? (think about someone else teaching your lesson)
Materials needed: How many? What Color? Where is the supply (book, paper, item) located in the room?
Check for Objectives: (How will you check for understanding?) – 5 points each – MUST match your objectives
12Closure - How will you close this lesson and transition to the next activity?
Evaluation- Answer fully. 2.5 points each ("The kids liked it" –not acceptable!)
1.
What went well?
2.
What needs improvement?
3.
How can you improve this lesson?
4.
How many children achieved your objectives?