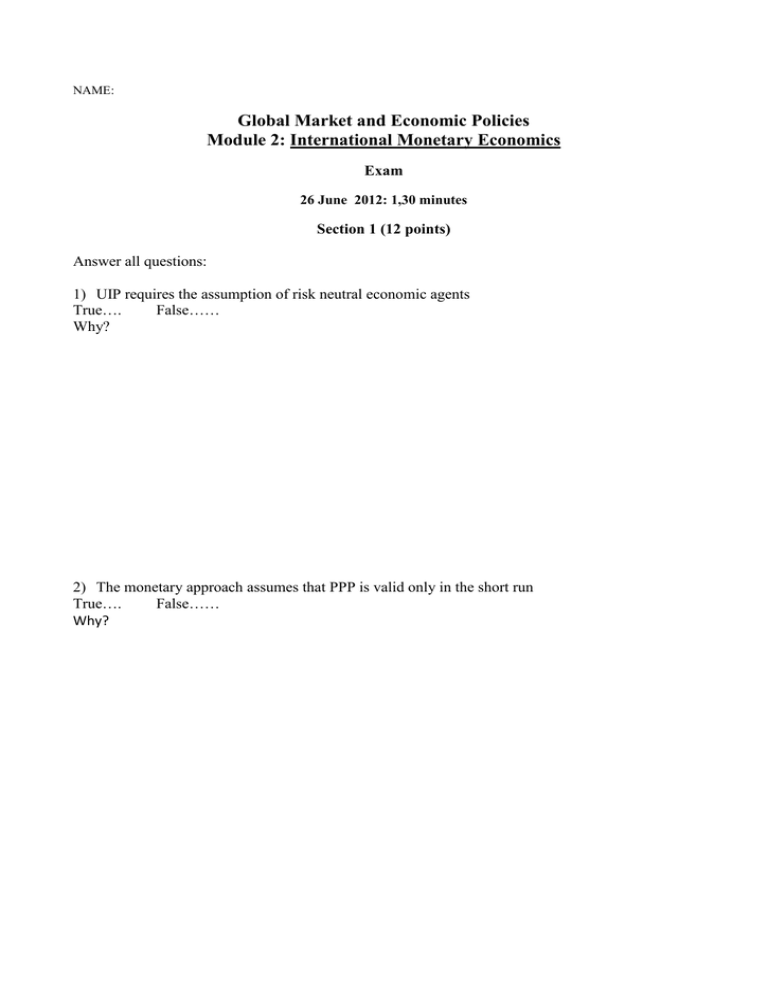 NAME:
Global Market and Economic Policies
Module 2: International Monetary Economics
Exam
26 June 2012: 1,30 minutes
Section 1 (12 points)
Answer all questions:
1) UIP requires the assumption of risk neutral economic agents
True….
False……
Why?
2) The monetary approach assumes that PPP is valid only in the short run
True….
False……
Why?
3) I am a bond manager who owns floating rate bonds only. The central bank is very likely to raise
interest rates, hence my best strategy is not to change the composition of my portfolio.
True….
Why?
False……
4) In a two large country model with perfect capital mobility a monetary expansion of one country
may result in a decline of the GDP in the second country
True….
False……
Why?
Section 2a (6 points)
Answer one of the following questions
5)
Discuss the effects of a fiscal expansion with flexible exchange rate in the Mundell-Fleming
model.
6)
Describe the law of one price and the various versions of PPP: Are they empirically valid?
Section 2b (6 points)
Answer one of the following questions:
7) The following is the well-known "leveraging equation" for a typical hedge fund:
requity = rassets + L(rassets - rdebt)
where requity is the rate of return on equity capital, rassets is the rate of return on overall capital,
rdebt is the interest rate on debt and L, the leverage ratio, is the ratio of debt capital to equity
capital. Using that formula as reference, explain why Long-Term Capital Management went
bust.
8) What bond features do you have to take into consideration to set your price for a given
bond?
Section 2c (6 points)
Answer one of the following questions:
9. Countries facing a financial/currency crisis often ask for the support of International Financial
Institutions.
- Briefly explain what support the IMF may provide to these countries and how the IMF has
responded to the recent financial crisis
- Briefly explain the main determinants of a currency crisis according to the so-called first and
second currency-crisis generation models.
10. In deciding on the exchange rate regime a country should consider advantages and
disadvantages of the different options
a. What are the main advantages of a flexible exchange rate regime?
b. According to the Dornbush's model what are the effects on the exchange rate and prices of a
permanent decrease in the stock of money supply?