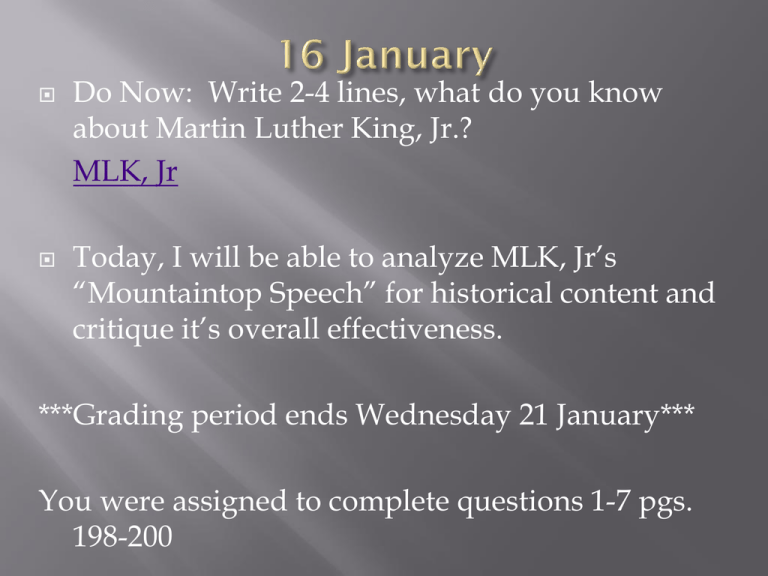 

Do Now: Write 2-4 lines, what do you know
about Martin Luther King, Jr.?
MLK, Jr
Today, I will be able to analyze MLK, Jr's
"Mountaintop Speech" for historical content and
critique it's overall effectiveness.
***Grading period ends Wednesday 21 January***
You were assigned to complete questions 1-7 pgs.
198-200

Writing our laws and rights down


Mayflower Compact, Constitutions, Bill of Rights
Federalism: Division of power between states and the federal government
(prevents tyranny)

Limited Government: Restricts the power of the government.

Representative Government: Republic style of government



Virginia House of Burgesses
Separation of Powers: 3 branches of government, each has their own
specific role
Checks and Balances: Each branch of government has authority over
another branch in order to make sure one doesn't become too powerful




British
European philosophers
Greeks
Romans


Magna Carta (Grand Charter 1215), restricts the
authority of the British monarch, stated that
nobles had specific rights.
English Bill of Rights: 1689, part of the
Glorious Revolution



Trial by jury (6th)
Protection for Cruel and Unusual Punishment (8th)
Right to bear arms (2nd)


Hobbes known discussing the state of nature
(what's life like without government? "Short,
Nasty, and Brutish…")
Locke: Social Contract, government is to
protect natural rights of the citizens

Separation of Powers: Divide government into
3 branches, drastically reduces the chances of
tyranny…WHY

Reserved: Powers that belong to the federal
government

Delegated: Powers that belong to the state

Concurrent: Shared powers

Each branch keeps the other in "check", by holding
authority over the others

Congress can pass bills, but the President can veto

Congress can override a veto

H.O.R. can impeach the President or federal judges


Judicial appoints made by the President must be approved
by the Senate
The Courts will have the authority to deem laws and actions
"unconstitutional" after the Marbury vs. Madison ruling.