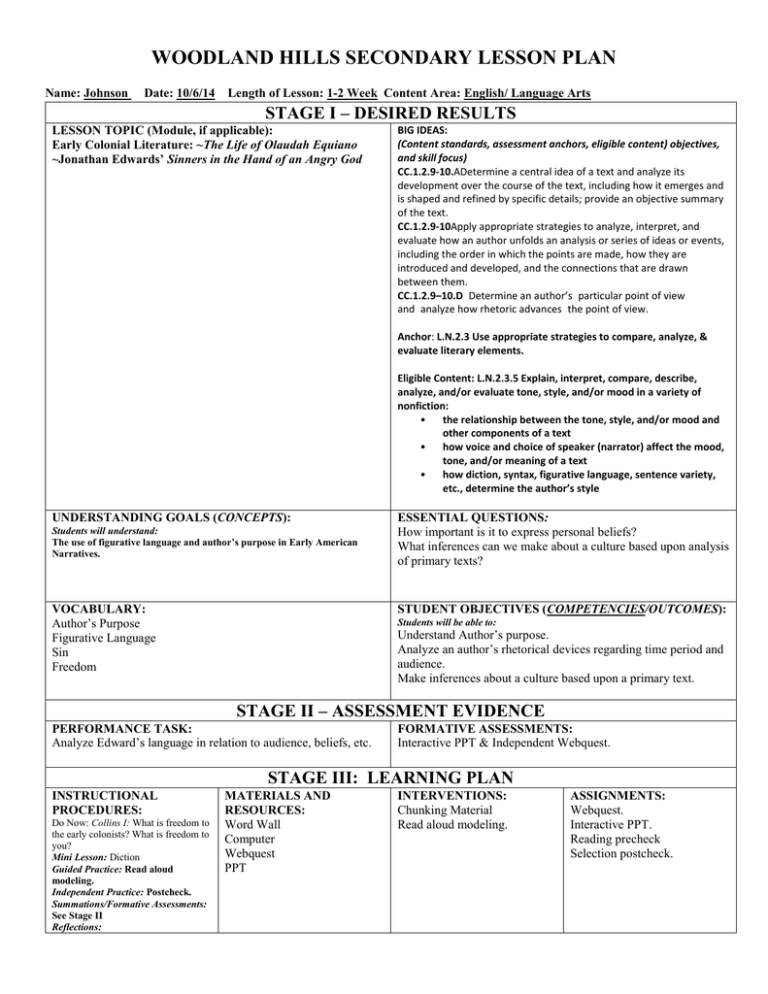 WOODLAND HILLS SECONDARY LESSON PLAN
Name: Johnson
Date: 10/6/14
Length of Lesson: 1-2 Week Content Area: English/ Language Arts
STAGE I – DESIRED RESULTS
LESSON TOPIC (Module, if applicable):
Early Colonial Literature: ~The Life of Olaudah Equiano
~Jonathan Edwards' Sinners in the Hand of an Angry God
BIG IDEAS:
(Content standards, assessment anchors, eligible content) objectives,
and skill focus)
CC.1.2.9-10.ADetermine a central idea of a text and analyze its
development over the course of the text, including how it emerges and
is shaped and refined by specific details; provide an objective summary
of the text.
CC.1.2.9-10Apply appropriate strategies to analyze, interpret, and
evaluate how an author unfolds an analysis or series of ideas or events,
including the order in which the points are made, how they are
introduced and developed, and the connections that are drawn
between them.
CC.1.2.9–10.D
Determine an author's
particular point of view
and
analyze how rhetoric advances
the point of view.
Anchor: L.N.2.3 Use appropriate strategies to compare, analyze, &
evaluate literary elements.
Eligible Content: L.N.2.3.5 Explain, interpret, compare, describe,
analyze, and/or evaluate tone, style, and/or mood in a variety of
nonfiction:
•
the relationship between the tone, style, and/or mood and
other components of a text
•
how voice and choice of speaker (narrator) affect the mood,
tone, and/or meaning of a text
•
how diction, syntax, figurative language, sentence variety,
etc., determine the author's style
UNDERSTANDING GOALS (CONCEPTS):
Students will understand:
The use of figurative language and author's purpose in Early American
Narratives.
VOCABULARY:
Author's Purpose
Figurative Language
Sin
Freedom
ESSENTIAL QUESTIONS:
How important is it to express personal beliefs?
What inferences can we make about a culture based upon analysis
of primary texts?
STUDENT OBJECTIVES (COMPETENCIES/OUTCOMES):
Students will be able to:
Understand Author's purpose.
Analyze an author's rhetorical devices regarding time period and
audience.
Make inferences about a culture based upon a primary text.
STAGE II – ASSESSMENT EVIDENCE
PERFORMANCE TASK:
Analyze Edward's language in relation to audience, beliefs, etc.
FORMATIVE ASSESSMENTS:
Interactive PPT & Independent Webquest.
STAGE III: LEARNING PLAN
INSTRUCTIONAL
PROCEDURES:
Do Now: Collins I: What is freedom to
the early colonists? What is freedom to
you?
Mini Lesson: Diction
Guided Practice: Read aloud
modeling.
Independent Practice: Postcheck.
Summations/Formative Assessments:
See Stage II
Reflections:
MATERIALS AND
RESOURCES:
Word Wall
Computer
Webquest
PPT
INTERVENTIONS:
Chunking Material
Read aloud modeling.
ASSIGNMENTS:
Webquest.
Interactive PPT.
Reading precheck
Selection postcheck.