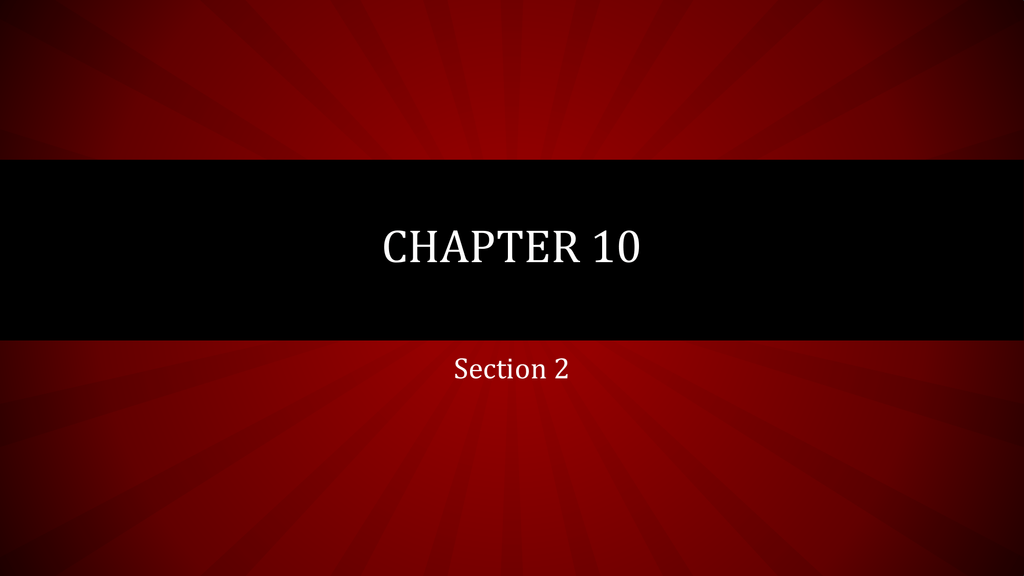 CHAPTER 10
Section 2
PROTEIN SYNTHESIS IN PROKARYOTES
• Both prokaryotic and
eukaryotic cells are able to
regulate which genes are
expressed and which are
not, depending on the
cell's needs.
PROTEIN SYNTHESIS IN PROKARYOTES
• The piece of DNA that overlaps the
promoter site and serves as the on-off
switch is called an operator.
• In bacteria, a group of genes that code for
enzymes involved in the same function,
their promoter site, and the operator that
controls them all function together as an
operon.
OPERON
• The operon that controls the
metabolism of lactose is called the
lac operon.
• When there is no lactose in the
bacterial cell, a repressor turns the
operon off.
• A repressor is a protein that binds
to an operator and physically blocks
RNA polymerase from binding to a
promoter site.
PROTEIN SYNTHESIS IN EUKARYOTES
• Eukaryotic cells contain much more DNA than prokaryotic cells
do.
• Eukaryotic cells must continually turn certain genes on and off in
response to signals from their environment; however, eukaryotes
lack operons.
CONTROLLING THE ONSET OF TRANSCRIPTION
• Most gene regulation in eukaryotes controls the onset of
transcription—when RNA polymerase binds to a gene.
• Transcription factors (regulatory proteins in eukaryotes) help
arrange RNA polymerases in the correct position on the
promoter.
• A gene can be influenced by many different transcription factors.
CONTROLLING THE ONSET OF TRANSCRIPTION
• An enhancer is a sequence of DNA
that can be bound by a
transcription factor.
• Enhancers typically are located
thousands of nucleotide bases away
from the promoter.
• A loop in the DNA may bring the
enhancer and its attached
transcription factor (called an
activator) into contact with
promoter site – which then
activates transcription.
ENHANCERS FOR CONTROL OF GENE EXPRESSION
• In eukaryotes, many genes are
interrupted by introns—long
segments of nucleotides that
have no coding information.
• Exons are the portions of a
gene that are translated
(expressed) into proteins.
ENHANCERS FOR CONTROL OF GENE EXPRESSION
• After a eukaryotic gene is
transcribed, the introns in the
resulting mRNA are cut out by
complex assemblies of RNA and
protein called spliceosomes.