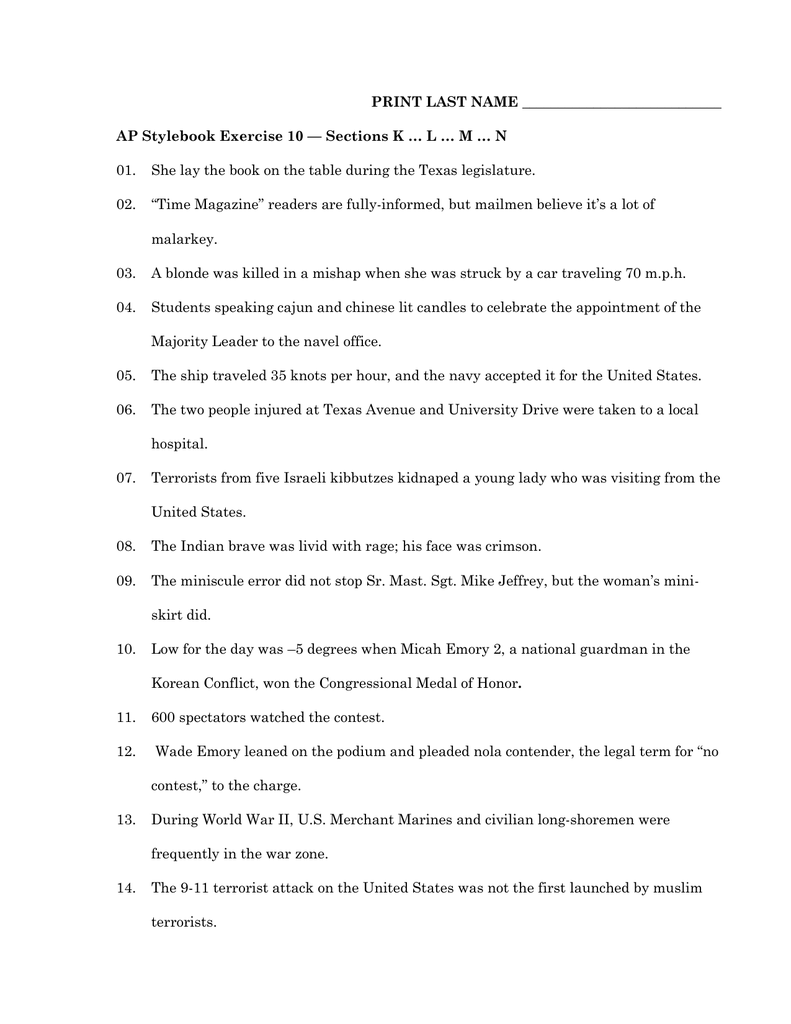 PRINT LAST NAME ____________________________
AP Stylebook Exercise 10 — Sections K … L … M … N
01.
She lay the book on the table during the Texas legislature.
02.
"Time Magazine" readers are fully-informed, but mailmen believe it's a lot of
malarkey.
03.
A blonde was killed in a mishap when she was struck by a car traveling 70 m.p.h.
04.
Students speaking cajun and chinese lit candles to celebrate the appointment of the
Majority Leader to the navel office.
05.
The ship traveled 35 knots per hour, and the navy accepted it for the United States.
06.
The two people injured at Texas Avenue and University Drive were taken to a local
hospital.
07.
Terrorists from five Israeli kibbutzes kidnaped a young lady who was visiting from the
United States.
08.
The Indian brave was livid with rage; his face was crimson.
09.
The miniscule error did not stop Sr. Mast. Sgt. Mike Jeffrey, but the woman's miniskirt did.
10.
Low for the day was –5 degrees when Micah Emory 2, a national guardman in the
Korean Conflict, won the Congressional Medal of Honor.
11.
600 spectators watched the contest.
12.
Wade Emory leaned on the podium and pleaded nola contender, the legal term for "no
contest," to the charge.
13.
During World War II, U.S. Merchant Marines and civilian long-shoremen were
frequently in the war zone.
14.
The 9-11 terrorist attack on the United States was not the first launched by muslim
terrorists.