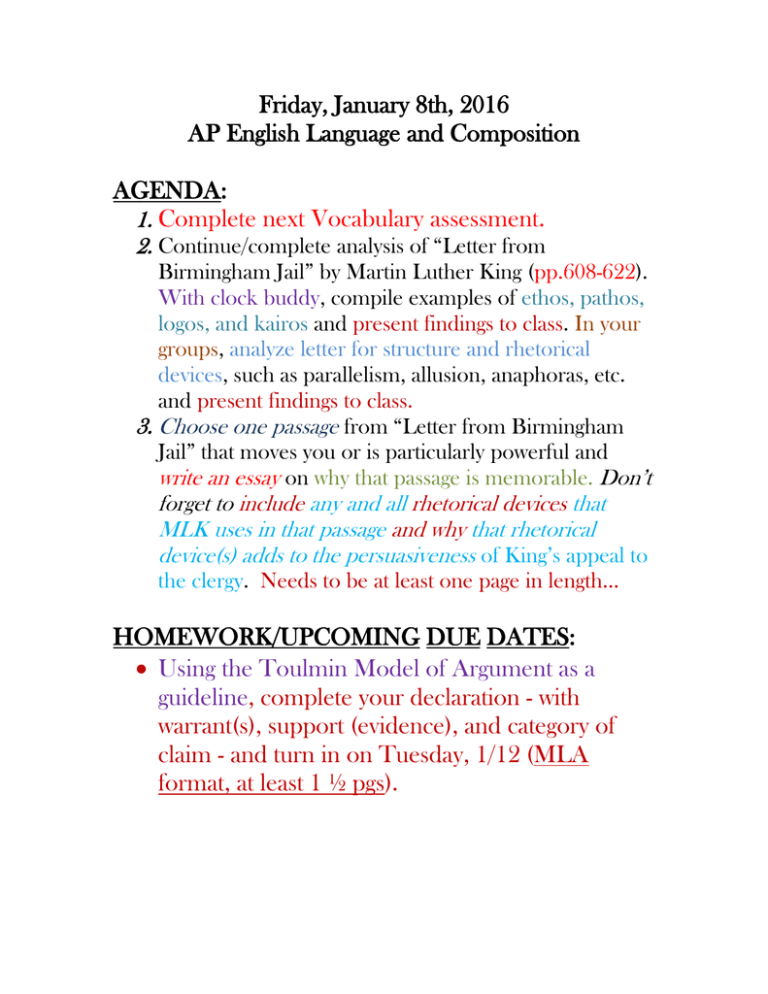 Friday, January 8th, 2016
AP English Language and Composition
AGENDA:
1. Complete next Vocabulary assessment.
2. Continue/complete analysis of "Letter from
Birmingham Jail" by Martin Luther King (pp.608-622).
With clock buddy, compile examples of ethos, pathos,
logos, and kairos and present findings to class. In your
groups, analyze letter for structure and rhetorical
devices, such as parallelism, allusion, anaphoras, etc.
and present findings to class.
3. Choose one passage from "Letter from Birmingham
Jail" that moves you or is particularly powerful and
write an essay on why that passage is memorable. Don't
forget to include any and all rhetorical devices that
MLK uses in that passage and why that rhetorical
device(s) adds to the persuasiveness of King's appeal to
the clergy. Needs to be at least one page in length…
HOMEWORK/UPCOMING DUE DATES:
 Using the Toulmin Model of Argument as a
guideline, complete your declaration - with
warrant(s), support (evidence), and category of
claim - and turn in on Tuesday, 1/12 (MLA
format, at least 1 ½ pgs).