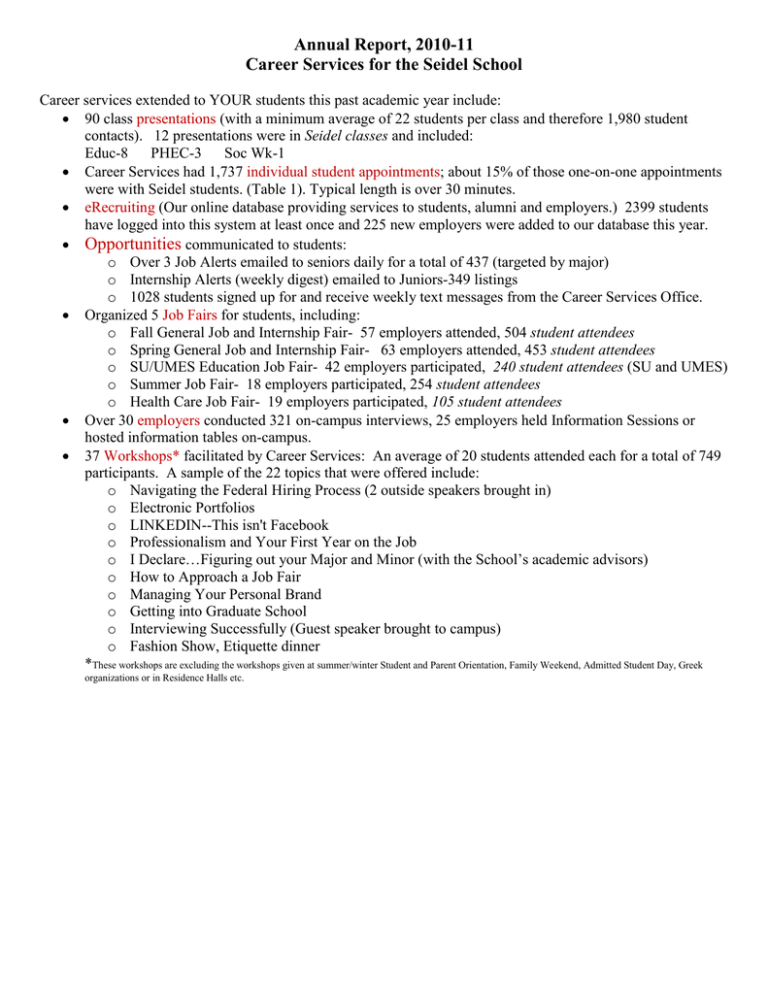 Annual Report, 2010-11
Career Services for the Seidel School
Career services extended to YOUR students this past academic year include:
 90 class presentations (with a minimum average of 22 students per class and therefore 1,980 student
contacts). 12 presentations were in Seidel classes and included:
Educ-8 PHEC-3
Soc Wk-1
 Career Services had 1,737 individual student appointments; about 15% of those one-on-one appointments
were with Seidel students. (Table 1). Typical length is over 30 minutes.
 eRecruiting (Our online database providing services to students, alumni and employers.) 2399 students
have logged into this system at least once and 225 new employers were added to our database this year.
 Opportunities communicated to students:
o Over 3 Job Alerts emailed to seniors daily for a total of 437 (targeted by major)
o Internship Alerts (weekly digest) emailed to Juniors-349 listings
o 1028 students signed up for and receive weekly text messages from the Career Services Office.
 Organized 5 Job Fairs for students, including:
o Fall General Job and Internship Fair- 57 employers attended, 504 student attendees
o Spring General Job and Internship Fair- 63 employers attended, 453 student attendees
o SU/UMES Education Job Fair- 42 employers participated, 240 student attendees (SU and UMES)
o Summer Job Fair- 18 employers participated, 254 student attendees
o Health Care Job Fair- 19 employers participated, 105 student attendees
 Over 30 employers conducted 321 on-campus interviews, 25 employers held Information Sessions or
hosted information tables on-campus.
 37 Workshops* facilitated by Career Services: An average of 20 students attended each for a total of 749
participants. A sample of the 22 topics that were offered include:
o Navigating the Federal Hiring Process (2 outside speakers brought in)
o Electronic Portfolios
o LINKEDIN--This isn't Facebook
o Professionalism and Your First Year on the Job
o I Declare…Figuring out your Major and Minor (with the School's academic advisors)
o How to Approach a Job Fair
o Managing Your Personal Brand
o Getting into Graduate School
o Interviewing Successfully (Guest speaker brought to campus)
o Fashion Show, Etiquette dinner
*These workshops are excluding the workshops given at summer/winter Student and Parent Orientation, Family Weekend, Admitted Student Day, Greek
organizations or in Residence Halls etc.
Table 1: Individual Student Appointments
Fulton Henson
Career Exploration &
106
30
Career Assessment
(Focus testing)
Graduate School
36
11
Assistance/Essay
Interview Assistance,
59
13
Mock interviews, & oncampus interview
critiques
Job Search &
102
34
eRecruiting Assistance
Internship Exploration
38
7
Perdue
41
Seidel
21
Total
198
5
4
56
22
10
104
36
18
190
22
5
72
Cover Letter Critique
22
22
12
10
66
Resume Assistance
288
191
373
199
1051
Total
651
(37%)
308
(17%)
511
(29%)
267
(15%)
1737
First Destination Survey: Every year as students pick up their caps and gowns we ask the graduates to complete
an online survey that lets us know where they are going after graduation…their "first destination". Below are
some of the highlights of the data. You can look at all the survey data, at the following link.
http://www.salisbury.edu/careerservices/Facstaff/Survey.html This year 1,030 students completed the survey.
In response to: What best describes your post-graduation status as of right now?
 Employed Full Time in a Career-Related Job after Graduation. 11.77%
o 81% of these students report going to work in Maryland (4.1% in NJ and 3.3% in DC). This
figure jumps to 95.4% for Seidel students reporting that they will work in MD.
 Enrolled in School for Further Study. 14.1%
 Employed Part-Time/Seasonally. 18.9%
 Not Employed and Still Seeking Employment. 52.1%
 Not Employed, Not Enrolled in School, Not Seeking Employment. 3.0%
First Destination specifics by Major
Athletic Training majors report going to graduate school and work at:
2- Masters at University of Maryland Baltimore County and George Washington University
EMPLOYER: University of Maryland Sports Medicine
Applied Health Physiology majors report going to graduate school and work at:
Doctorate in PT at the University of Maryland Eastern Shore
EMPLOYER: United States Navy
Early Childhood majors report going to graduate school and work at:
EMPLOYERS: Alec Yeo, Wicomico County Board of Education
Elementary Education majors report going to graduate school and work at:
6- Masters at Salisbury University (4), University of Maryland, College Park and Ball State University
Exercise Science majors report going to graduate school and work at:
2nd Bachelors at Harford Community College
4- Doctorates at Univ. of Bridgeport College of Chiro., Temple, Undecided, University of Maryland at Baltimore
9- Masters at Salisbury University (3), Ball State University (2), St. Louis University (not definite), Towson
University, University of Maryland Eastern Shore
2- Non-degree at Salisbury University and Wor-Wic Community college
2- Certificate Program at Baltimore City Community College and Anne Arundel Community College
EMPLOYERS: Big Vanilla, Cloverland Dairy, Maryland Sportscare and Rehab of Salisbury, Ocean Meridian
Medical Center, Paramus Medical Sports and Rehabilitation Center
Health Education majors report going to graduate school and work at:
2nd Bachelors at Salisbury University
Masters, Undecided where
Other at Goucher College
Physical Education majors report going to graduate school and work at:
2nd Bachelors at Chesapeake College
2- Masters at Salisbury University
Social Work majors report going to graduate school and work at:
2- JD at University of Baltimore and University of Maryland @ Baltimore
34- Masters at Bowie State University, Marywood University, Salisbury University (20), Rutgers University,
University of Baltimore (2), University of Maryland Baltimore (7), University of Maryland Eastern Shore
Other degree at Wor-Wic/Towson
EMPLOYERs: Holly Center, PAS, Inc, SHORE UP! Inc.
Social Work MASTERS report going to:
EMPLOYERS: Behavioral Health Services Meritus Medical Center, State of Maryland (2), The Children's
Choice, Turning Point of Washington County, Wraparound Maryland, Inc.