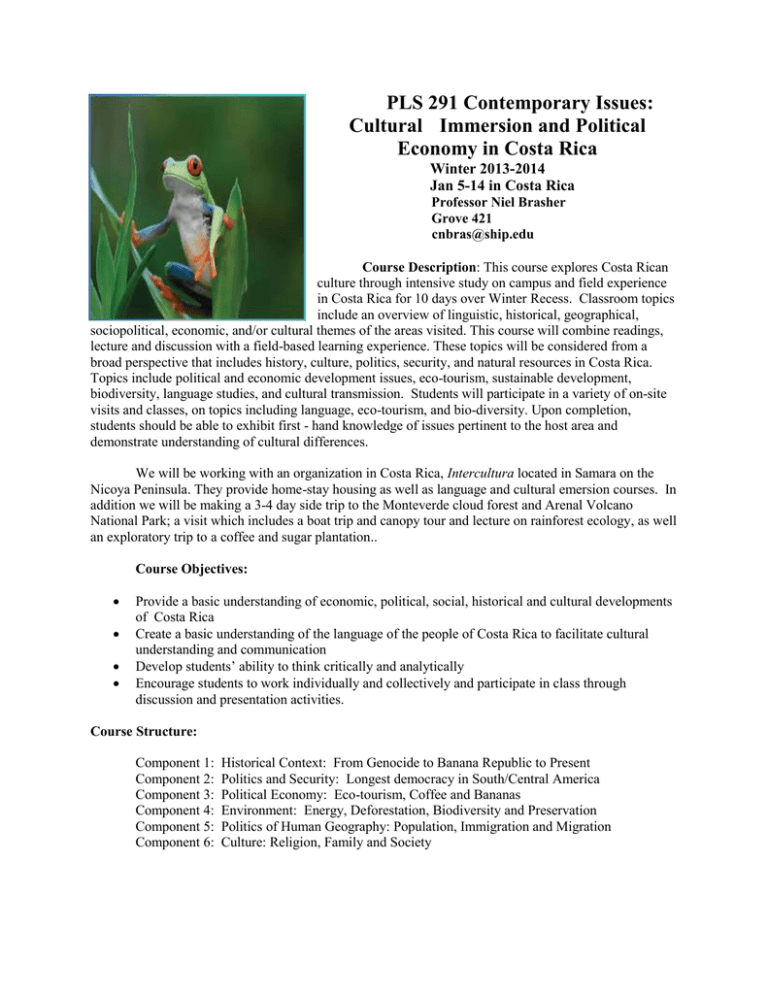 PLS 291 Contemporary Issues:
Cultural Immersion and Political
Economy in Costa Rica
Winter 2013-2014
Jan 5-14 in Costa Rica
Professor Niel Brasher
Grove 421
cnbras@ship.edu
Course Description: This course explores Costa Rican
culture through intensive study on campus and field experience
in Costa Rica for 10 days over Winter Recess. Classroom topics
include an overview of linguistic, historical, geographical,
sociopolitical, economic, and/or cultural themes of the areas visited. This course will combine readings,
lecture and discussion with a field-based learning experience. These topics will be considered from a
broad perspective that includes history, culture, politics, security, and natural resources in Costa Rica.
Topics include political and economic development issues, eco-tourism, sustainable development,
biodiversity, language studies, and cultural transmission. Students will participate in a variety of on-site
visits and classes, on topics including language, eco-tourism, and bio-diversity. Upon completion,
students should be able to exhibit first - hand knowledge of issues pertinent to the host area and
demonstrate understanding of cultural differences.
We will be working with an organization in Costa Rica, Intercultura located in Samara on the
Nicoya Peninsula. They provide home-stay housing as well as language and cultural emersion courses. In
addition we will be making a 3-4 day side trip to the Monteverde cloud forest and Arenal Volcano
National Park; a visit which includes a boat trip and canopy tour and lecture on rainforest ecology, as well
an exploratory trip to a coffee and sugar plantation..
Course Objectives:




Provide a basic understanding of economic, political, social, historical and cultural developments
of Costa Rica
Create a basic understanding of the language of the people of Costa Rica to facilitate cultural
understanding and communication
Develop students' ability to think critically and analytically
Encourage students to work individually and collectively and participate in class through
discussion and presentation activities.
Course Structure:
Component 1:
Component 2:
Component 3:
Component 4:
Component 5:
Component 6:
Historical Context: From Genocide to Banana Republic to Present
Politics and Security: Longest democracy in South/Central America
Political Economy: Eco-tourism, Coffee and Bananas
Environment: Energy, Deforestation, Biodiversity and Preservation
Politics of Human Geography: Population, Immigration and Migration
Culture: Religion, Family and Society
Readings:
No book purchase is necessary. There will be 3-5 readings/articles for each of the components. These
will be provided for you.
Assessments:




Journal
Online work
Participation
Final
25%
25%
25%
25%
100%
Journal: You will be expected to keep a journal throughout the course. Prior to departure you should
record questions that you might have while in Costa Rica, ideas, topics of interest, etc. Once in Costa Rica
you should maintain the journal daily with your observations, answers to your questions, greater
information on your chosen topic of interest.
Online Work: Prior to departure students will complete 6 quizzes/papers, one from each component.
Participation: Class attendance and participation is mandatory. As this is a seminar course as well as a
study abroad course, attendance and participation will be worth a major part of your grade. Beyond that,
you will have a much better experience if you participate.
Final: Upon returning from the trip portion of the course, students will be required to complete a take
home examination.
Rules: As this is an experiential course, participation will include both in class and on site assessment.
The expectation for participation on site is that, in addition to the in-class work there, you will be
respectful to your host families, each other, your professor, and the people you encounter. You will obey
all conduct rules and stipulations of this university as well as the rules of the Samara Institute. Failure to
do so will result in a failing grade for the course.