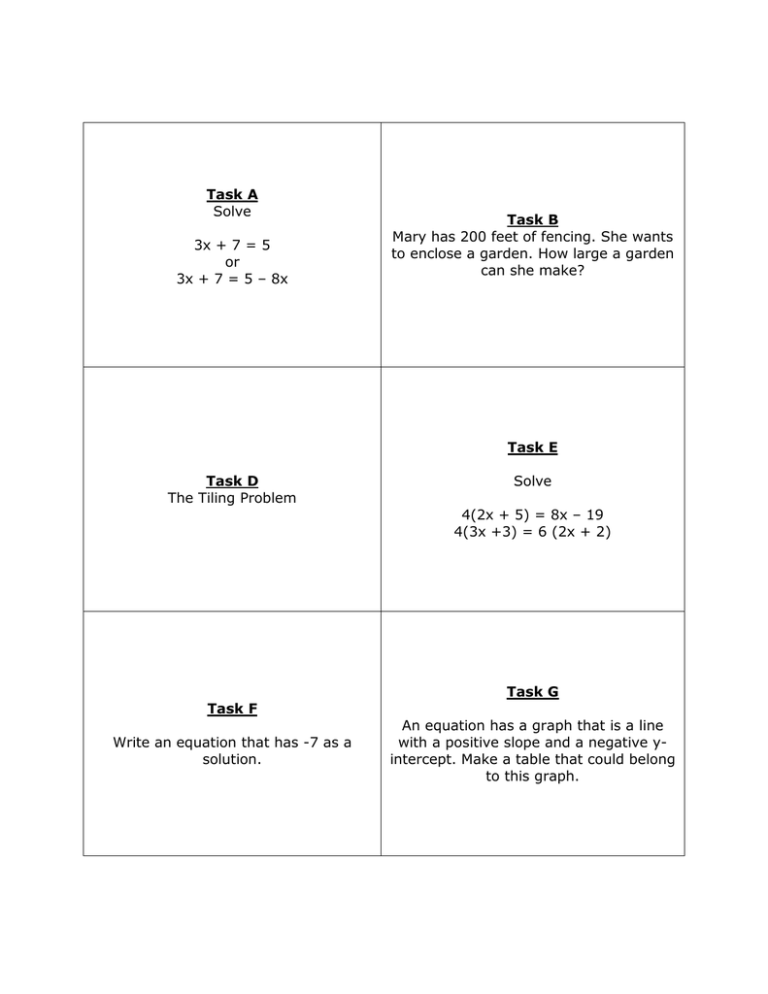 Task A
Solve
3x + 7 = 5
or
3x + 7 = 5 – 8x
Task B
Mary has 200 feet of fencing. She wants
to enclose a garden. How large a garden
can she make?
Task E
Task D
The Tiling Problem
Solve
4(2x + 5) = 8x – 19
4(3x +3) = 6 (2x + 2)
Task G
Task F
Write an equation that has -7 as a
solution.
An equation has a graph that is a line
with a positive slope and a negative yintercept. Make a table that could belong
to this graph.
Task I
Task H
Find three consecutive even integers
such that four times the third one is
twelve more than twice the sum of the
first two.
The Water Tank Problem
Task J
d = rt
Find d when r = 50 mph and t = 35
min.
Find r when d = 30 m and t = 5 seconds
Task K
Three consecutive even integers are
such that the sum of the smallest and 3
times the second is 38 more than twice
the third. Find the integers
Tony is choosing between two used cars.
Car
Cost
Miles
Immediate
Per
Repairs
Gallon
Blue $3200
18
$700
Car
Red $4700
24
$300
Car
Tony estimates he will drive at least 200
miles per month.
The average cost of gasoline per gallon is
$3.70 in his area.
Tony plans to own the car for 4 years.
Calculate and explain which car Tony
should buy.