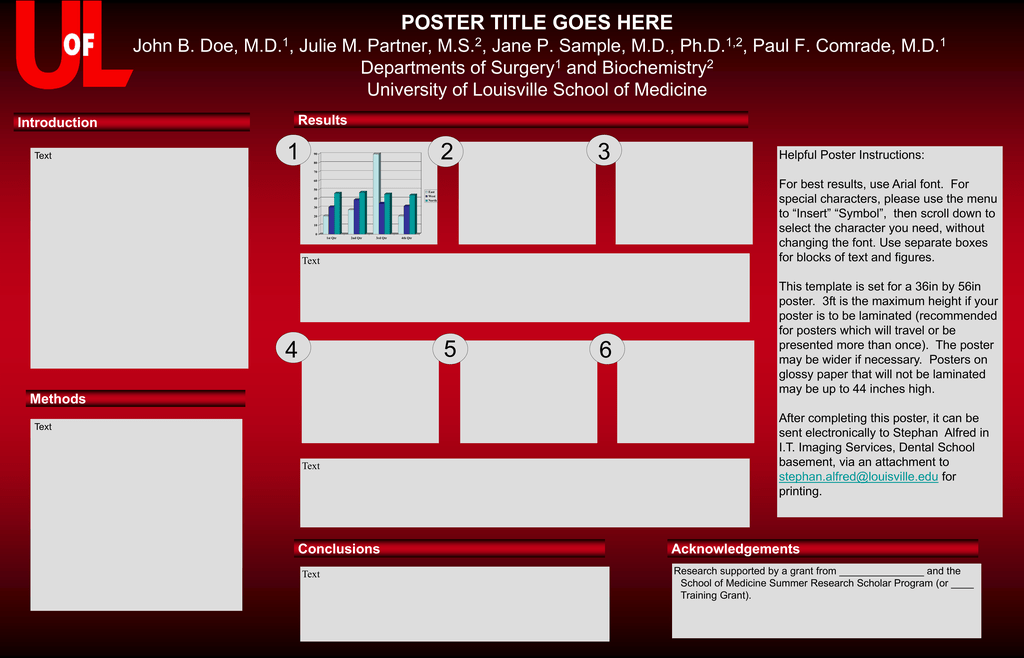 POSTER TITLE GOES HERE
John B. Doe,
Introduction
Text
1
M.D. ,
2
M.S. ,
1,2
Ph.D. ,
Julie M. Partner,
Jane P. Sample, M.D.,
1
2
Departments of Surgery and Biochemistry
University of Louisville School of Medicine
Paul F. Comrade,
1
M.D.
Results
1
2
90
80
3
Helpful Poster Instructions:
70
For best results, use Arial font. For
special characters, please use the menu
to "Insert" "Symbol", then scroll down to
select the character you need, without
changing the font. Use separate boxes
for blocks of text and figures.
60
50
East
West
North
40
30
20
10
0
1st Qtr
2nd Qtr
3rd Qtr
4th Qtr
Text
5
4
Methods
Text
Text
Conclusions
Text
6
This template is set for a 36in by 56in
poster. 3ft is the maximum height if your
poster is to be laminated (recommended
for posters which will travel or be
presented more than once). The poster
may be wider if necessary. Posters on
glossy paper that will not be laminated
may be up to 44 inches high.
After completing this poster, it can be
sent electronically to Stephan Alfred in
I.T. Imaging Services, Dental School
basement, via an attachment to
[email protected] for
printing.
Acknowledgements
Research supported by a grant from _______________ and the
School of Medicine Summer Research Scholar Program (or ____
Training Grant).