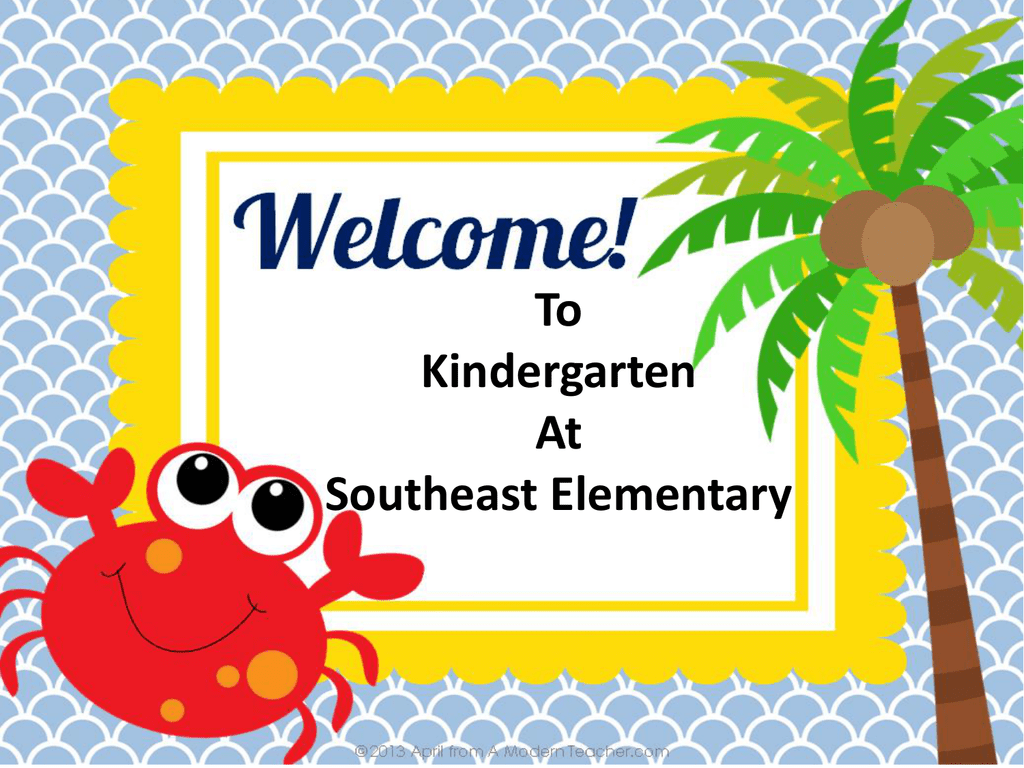 To
Kindergarten
At
Southeast Elementary
Classroom Teacher- Amanda Mitchell
Early Childhood Assistant- Jana Painter
Site Principal-Lindy Risenhoover
Building Principal-Lynette Talkington
• Grew up in Sapulpa, Ok
• Attended NSU – Early Childhood
Ed
• Taught pre-k for two years at
Eugene Field Elementary - TPS
*Community
*All About Me
*Thanksgiving
*Self help skills
*My/School/My Classroom
*My Body
*Seasons: Winter
*Five Senses/Healthy
Habits: Nutrition, exercise, *Careers
*Transportation
and Cleanliness
*Machines & Inventions
*Family Traditions
*Places
*Communication
*Valentine's Day
*Friendship
*Natural World
*Earth Materials
*My Backyard
*Pets
*Seasons: Spring
*Seasons: Fall
*Seasons: Summer
Language Arts
Write Source
*Process of Writing
*Forms of Writing
Additional resources and
Experiences:
*Poetry
*Journal Writing
*Story Writing
*Writer's Workshop
Reading
The Comprehension Toolkit
*Focuses on "Reading as Thinking"
*Builds key thinking strategies for increased comprehension
*Supports time for shared reading, guided reading groups, small
groups, independent reading, and collaborative discussions.
*Students read a variety of genres.
*Matches students with "just right" reading texts.
Fountas & Pinnell Word Study
*Builds word knowledge through instruction in phonics, spelling
patterns, high frequency word knowledge, vocabulary
development, and word-solving actions.
Science and Health
*Science and Technology for Children:
*Students make their own discoveries
*Knowledge is actively constructed by the learner
*Hand-on
*Scientific reasoning skills
*Units of Study
-Comparing and Measuring
-Organisms
Health Focus
*Safety
*Healthy-Habits
*Decision-Making Skills
*Interpersonal Skills
Social Studies
TCI
Me and My World
The Pre-K- Twelfth grade social studies
curriculum is to develop responsible,
action-oriented citizens with a personal,
global, and historical understanding of
cultural diversity and community.
Mathematics
Everyday Mathematics
*Emphasizes conceptual understanding while
building a mastery of basic skills.
*Relates math to real life situations.
*Hands-on activities
*Practice through Games
*Cooperative learning through partner and smallgroup activities
*Home and School partnership
Mathematics
Everyday Mathematics
Units of Study
*Counting and Cardinality
*Operations and Algebraic Thinking
*Number and Operations in Base 10
*Measurement ad Data
*Geometry
www.everymathonline.com
Character Education
*Compassion
*Honesty/Integrity
*Respect
*Self-Discipline
*Courage
*Perseverance
*Responsibility/Accountability
*Team Work
Tribes
*Attentive Listening
*Appreciation/No Put Downs
*Right to Pass
*Mutual Respect
*Safety
Technology
Integrated into the daily routine of the classroom
through:
*Student productivity
*Communication and collaboration
*Delivery of lessons
*Classroom management
*Smart Board
*Audio Enhancers
*Document Camera
World Language
*Emphasis on the Spanish Language
*Integrated into the curriculum
*Develops awareness
*Appreciation of other cultures
*Cultural comparisons-similarities
and differences
Student Goals
*Love of Learning
*Independent
*Responsible
*Compassionate
*Resourceful
*Flexible
*Knowledgeable
Teacher Goals
*Support and Nurture
*Develop Talents
*Meet Individual Needs
*Integrate Learning Styles
*Connect Curriculum to
the Real-World
*Challenge and Grow
*Partner with Parents
We will be using a Behavior Clip
Chart. Child is responsible for
coloring in their "clip color" on
their calendar to notify parents
of daily behavior.
We will take home our orange
H.E.R.O folders everyday.
Please bring back with anything
you need to send to
school.
Two Way Communication
Emails
Notes
Phone Calls
Conferences
It is a partnership in your child's
learning
Classroom Information
• Class T-shirt - $8.00 – pay this evening – we wear
the shirts on Fridays and field trips
• Kindergarten takes one
field trip per year.
• PTA pays.
• Wear class t-shirt
•
•
•
•
•
•
Make play dough
Sensory table
ApplePalooza
50's Day
Thursday Readers
Help in classroom
School Phone Number: 299-4415 ext. 5800
Classroom Phone Number: 299-4415 ext. 5866
E-mail Address: [email protected]
Website: www.jenksps.org –southeast
elementary—staff webpages
THANK YOU FOR
BEING HERE
TONIGHT!!!
TOGETHER WE CAN!!!