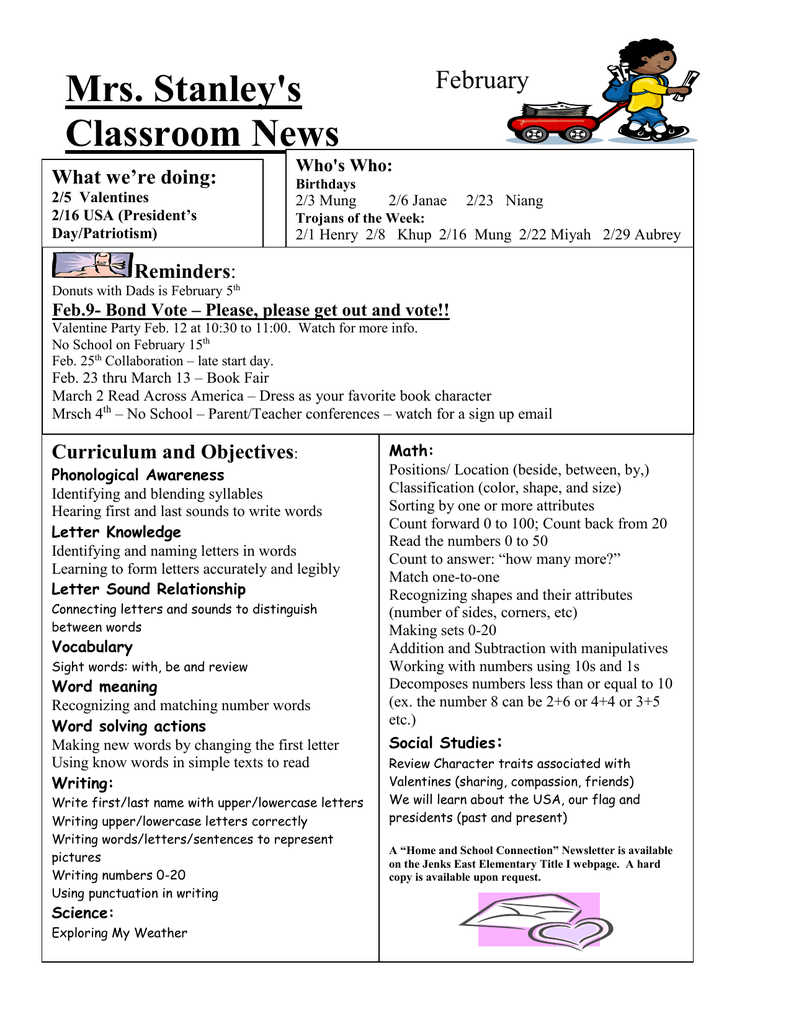 February
Mrs. Stanley's
Classroom News
What we're doing:
Who's Who:
2/5 Valentines
2/16 USA (President's
Day/Patriotism)
2/3 Mung
Birthdays
2/6 Janae
2/23 Niang
Trojans of the Week:
2/1 Henry 2/8 Khup 2/16 Mung 2/22 Miyah 2/29 Aubrey
Reminders:
Donuts with Dads is February 5th
Feb.9- Bond Vote – Please, please get out and vote!!
Valentine Party Feb. 12 at 10:30 to 11:00. Watch for more info.
No School on February 15th
Feb. 25th Collaboration – late start day.
Feb. 23 thru March 13 – Book Fair
March 2 Read Across America – Dress as your favorite book character
Mrsch 4th – No School – Parent/Teacher conferences – watch for a sign up email
Curriculum and Objectives:
Phonological Awareness
Identifying and blending syllables
Hearing first and last sounds to write words
Letter Knowledge
Identifying and naming letters in words
Learning to form letters accurately and legibly
Letter Sound Relationship
Connecting letters and sounds to distinguish
between words
Vocabulary
Sight words: with, be and review
Word meaning
Recognizing and matching number words
Word solving actions
Making new words by changing the first letter
Using know words in simple texts to read
Writing:
Write first/last name with upper/lowercase letters
Writing upper/lowercase letters correctly
Writing words/letters/sentences to represent
pictures
Writing numbers 0-20
Using punctuation in writing
Science:
Exploring My Weather
Math:
Positions/ Location (beside, between, by,)
Classification (color, shape, and size)
Sorting by one or more attributes
Count forward 0 to 100; Count back from 20
Read the numbers 0 to 50
Count to answer: "how many more?"
Match one-to-one
Recognizing shapes and their attributes
(number of sides, corners, etc)
Making sets 0-20
Addition and Subtraction with manipulatives
Working with numbers using 10s and 1s
Decomposes numbers less than or equal to 10
(ex. the number 8 can be 2+6 or 4+4 or 3+5
etc.)
Social Studies:
Review Character traits associated with
Valentines (sharing, compassion, friends)
We will learn about the USA, our flag and
presidents (past and present)
A "Home and School Connection" Newsletter is available
on the Jenks East Elementary Title I webpage. A hard
copy is available upon request.