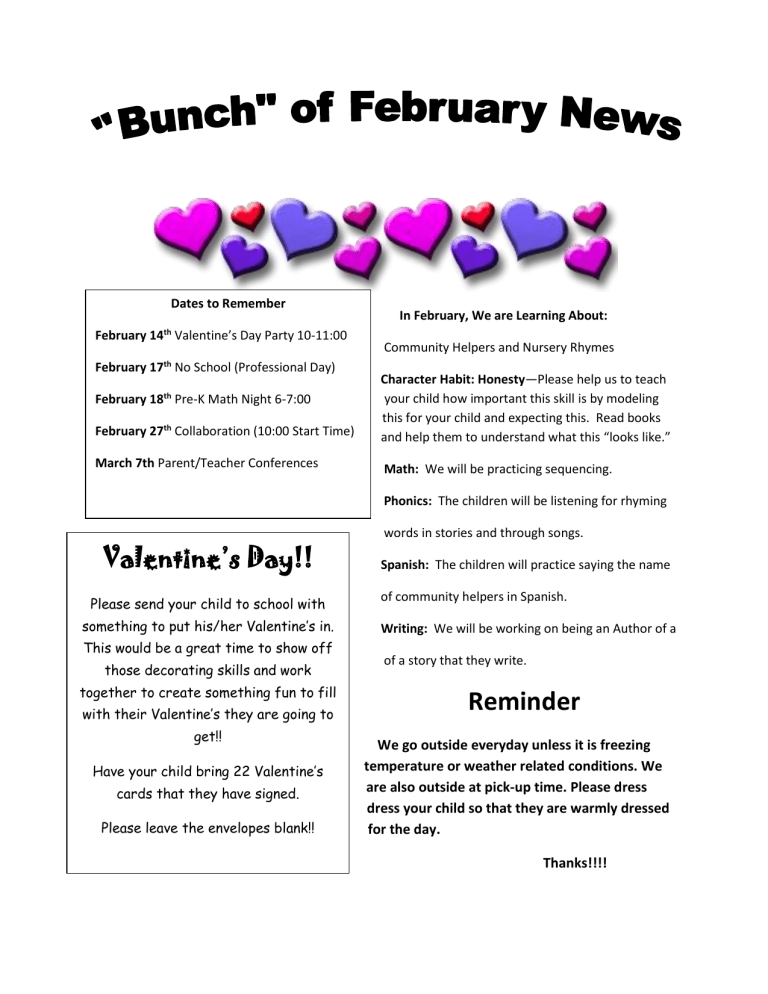 Dates to Remember
In February, We are Learning About:
th
February 14 Valentine's Day Party 10-11:00
Community Helpers and Nursery Rhymes
th
February 17 No School (Professional Day)
th
your
February 18 Pre-K Math Night 6-7:00
this
February 27th Collaboration (10:00 Start Time)
abou
March 7th Parent/Teacher Conferences
Character Habit: Honesty—Please help us to teach
your child how important this skill is by modeling
this for your child and expecting this. Read books
and help them to understand what this "looks like."
Math: We will be practicing sequencing.
Phonics: The children will be listening for rhyming
Valentine's Day!!
Please send your child to school with
something to put his/her Valentine's in.
This would be a great time to show off
those decorating skills and work
together to create something fun to fill
with their Valentine's they are going to
get!!
tem
Have your child bring 22 Valentine's
are cards that they have signed.
your
forPlease
the leave the envelopes blank!!
words in stories and through songs.
Spanish: The children will practice saying the name
of community helpers in Spanish.
Writing: We will be working on being an Author of a
of a story that they write.
Reminder
We go outside everyday unless it is freezing
temperature or weather related conditions. We
are also outside at pick-up time. Please dress
dress your child so that they are warmly dressed
for the day.
Thanks!!!!