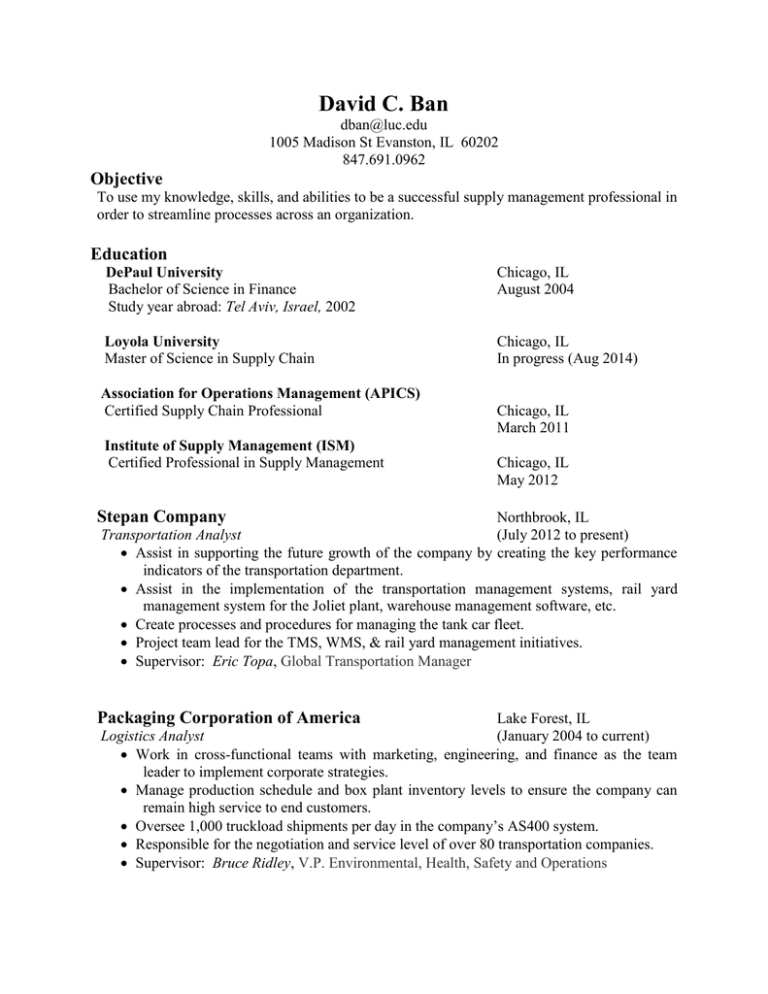 David C. Ban
dban@luc.edu
1005 Madison St Evanston, IL 60202
847.691.0962
Objective
To use my knowledge, skills, and abilities to be a successful supply management professional in
order to streamline processes across an organization.
Education
DePaul University
Bachelor of Science in Finance
Study year abroad: Tel Aviv, Israel, 2002
Chicago, IL
August 2004
Loyola University
Master of Science in Supply Chain
Chicago, IL
In progress (Aug 2014)
Association for Operations Management (APICS)
Certified Supply Chain Professional
Institute of Supply Management (ISM)
Certified Professional in Supply Management
Chicago, IL
March 2011
Chicago, IL
May 2012
Stepan Company
Northbrook, IL
Transportation Analyst
(July 2012 to present)
 Assist in supporting the future growth of the company by creating the key performance
indicators of the transportation department.
 Assist in the implementation of the transportation management systems, rail yard
management system for the Joliet plant, warehouse management software, etc.
 Create processes and procedures for managing the tank car fleet.
 Project team lead for the TMS, WMS, & rail yard management initiatives.
 Supervisor: Eric Topa, Global Transportation Manager
Packaging Corporation of America
Lake Forest, IL
Logistics Analyst
(January 2004 to current)
 Work in cross-functional teams with marketing, engineering, and finance as the team
leader to implement corporate strategies.
 Manage production schedule and box plant inventory levels to ensure the company can
remain high service to end customers.
 Oversee 1,000 truckload shipments per day in the company's AS400 system.
 Responsible for the negotiation and service level of over 80 transportation companies.
 Supervisor: Bruce Ridley, V.P. Environmental, Health, Safety and Operations
C.H. Robinson
Chicago, IL
Customer Operations
(August 2002 – Sept 2003)
 Arranged pick up, delivery, and scheduling of cross country trucking services.
 Troubleshoot client problems, and utilized network of associates to facilitate needs in the
most expedite matter.
 Supervisor: Jordan Kass, Executive Director of the TMC division
Achievements




Oversaw the implementation of various transportation / warehouse management systems.
Reduced company truck empty miles by over 10 percent.
Spearheaded "drop & hook" operations which reduced driver wait time from 2 hours to
45 minutes across a multitude of PCA locations.
Worked with transportation providers and internal departments to ensure 95% of
containerboard delivered on time.
Activities



Active member of the APICS and ISM Chicago area chapters.
Help with fundraising for the local Juvenile Diabetes Research Foundation (JDRF)
chapter.
Hobbies including spending time with my wife and daughter, traveling, outdoor biking,
and training for marathons.