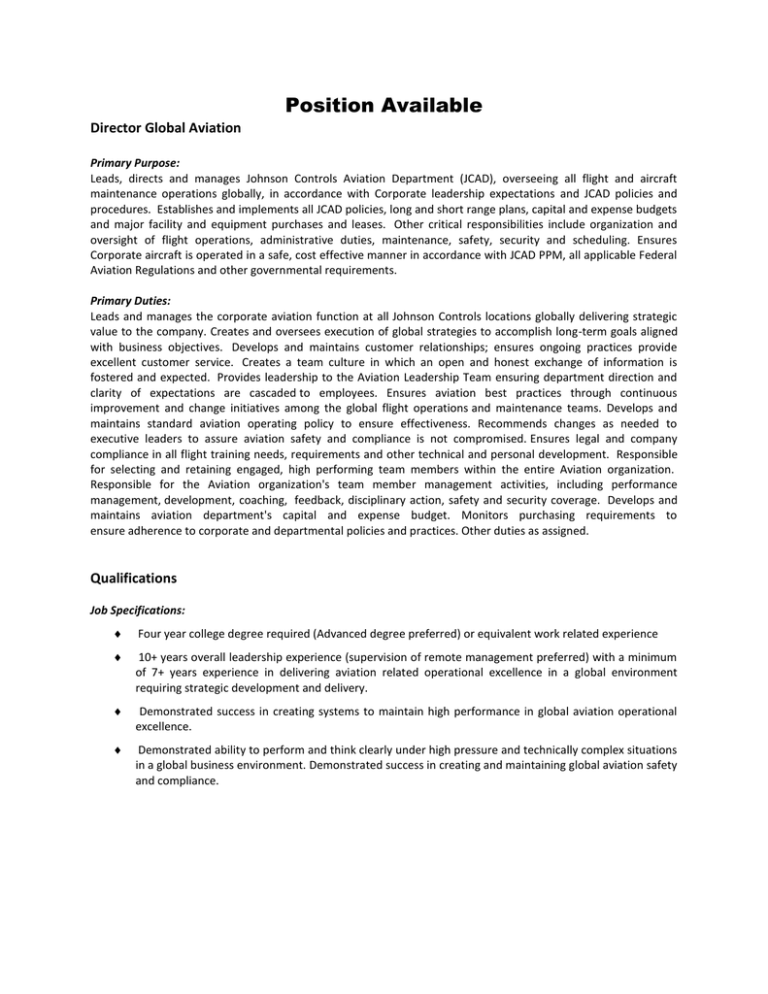 Position Available
Director Global Aviation
Primary Purpose:
Leads, directs and manages Johnson Controls Aviation Department (JCAD), overseeing all flight and aircraft
maintenance operations globally, in accordance with Corporate leadership expectations and JCAD policies and
procedures. Establishes and implements all JCAD policies, long and short range plans, capital and expense budgets
and major facility and equipment purchases and leases. Other critical responsibilities include organization and
oversight of flight operations, administrative duties, maintenance, safety, security and scheduling. Ensures
Corporate aircraft is operated in a safe, cost effective manner in accordance with JCAD PPM, all applicable Federal
Aviation Regulations and other governmental requirements.
Primary Duties:
Leads and manages the corporate aviation function at all Johnson Controls locations globally delivering strategic
value to the company. Creates and oversees execution of global strategies to accomplish long-term goals aligned
with business objectives. Develops and maintains customer relationships; ensures ongoing practices provide
excellent customer service. Creates a team culture in which an open and honest exchange of information is
fostered and expected. Provides leadership to the Aviation Leadership Team ensuring department direction and
clarity of expectations are cascaded to employees. Ensures aviation best practices through continuous
improvement and change initiatives among the global flight operations and maintenance teams. Develops and
maintains standard aviation operating policy to ensure effectiveness. Recommends changes as needed to
executive leaders to assure aviation safety and compliance is not compromised. Ensures legal and company
compliance in all flight training needs, requirements and other technical and personal development. Responsible
for selecting and retaining engaged, high performing team members within the entire Aviation organization.
Responsible for the Aviation organization's team member management activities, including performance
management, development, coaching, feedback, disciplinary action, safety and security coverage. Develops and
maintains aviation department's capital and expense budget. Monitors purchasing requirements to
ensure adherence to corporate and departmental policies and practices. Other duties as assigned.
Qualifications
Job Specifications:

Four year college degree required (Advanced degree preferred) or equivalent work related experience

10+ years overall leadership experience (supervision of remote management preferred) with a minimum
of 7+ years experience in delivering aviation related operational excellence in a global environment
requiring strategic development and delivery.

Demonstrated success in creating systems to maintain high performance in global aviation operational
excellence.

Demonstrated ability to perform and think clearly under high pressure and technically complex situations
in a global business environment. Demonstrated success in creating and maintaining global aviation safety
and compliance.