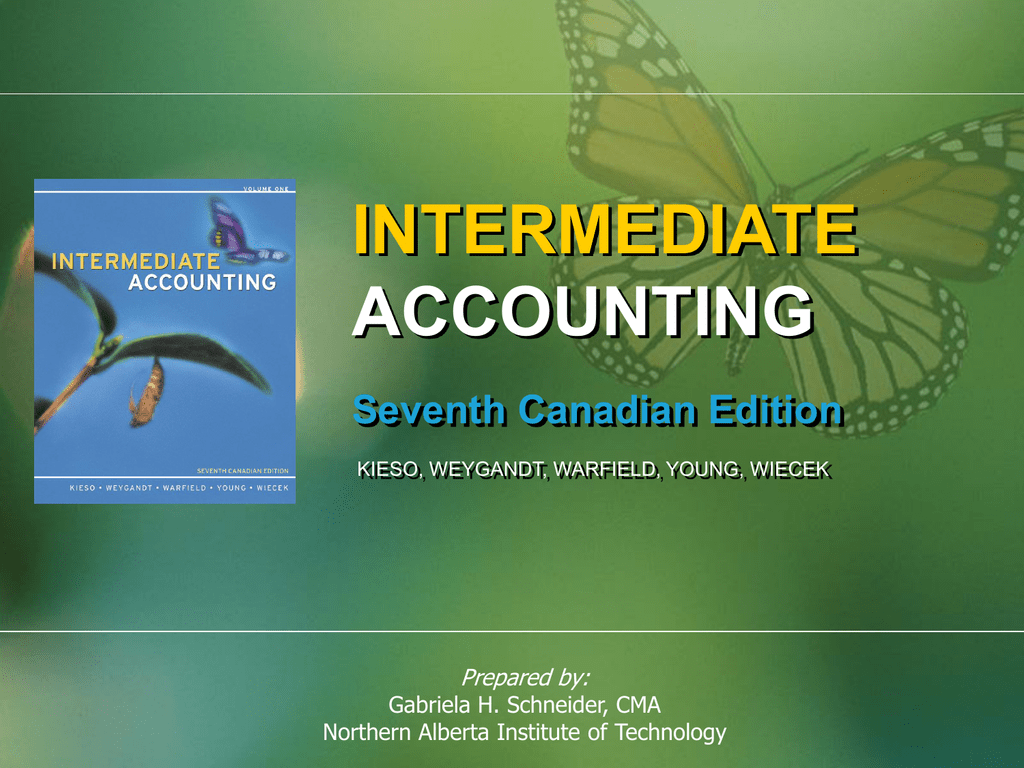 INTERMEDIATE
ACCOUNTING
Seventh Canadian Edition
KIESO, WEYGANDT, WARFIELD, YOUNG, WIECEK
Prepared by:
Gabriela H. Schneider, CMA
Northern Alberta Institute of Technology
Appendix 16B
Accounting for
Financial
Reorganization
Learning Objectives
15.
Describe the accounting for a financial
reorganization.
Financial Reorganization
• Process where a company that has
undergone financial difficulties can reorganize
its finances without having to recover a deficit
• Agreement is reached between debt and
equity holders on process details
• Referred to as fresh start accounting
Financial Reorganization
•
•
•
Some debt holders, and all equity holders,
give up their right to receive certain future
funds
Change in control of the company usually
results
Comprehensive revaluation of all assets
and liabilities
Comprehensive Revaluation
1. Retained earnings brought to zero balance
–
–
Deficit balance removed
Pre-existing write-downs and impairments recorded
before retained earnings write-off
2. Negotiated debt and equity changes recorded
–
Debt may be exchanged for equity (change in control)
3. Remaining assets and liabilities revalued
–
–
Revaluation adjustments and related costs are equity
transactions
Closed to Share Capital, Contributed Surplus, or other
equity account
Reorganization Example
New Horizons applies for financial
reorganization as at June 30, 2005
Retained Earnings
$1,000,000 deficit
Negotiated Terms
$150,000 in existing debt exchanged for 100%
of the common shares
Original shareholders give up all shares
Reorganization Example
Pre-reorganization
Assets
$1,000,000
Liabilities
$ 150,000
Common
Shares
750,000
$1,000,000
How did we
arrive at these
numbers?
Post reorganization
Assets
$ 650,000
Liabilities
$
-0Equity:
Common
Shares
450,000
Deficit (R/E)
250,000
$ 650,000
Reorganization Example
1.
2.
3.
Record asset impairments pre-reorganization
Deficit (R/E)
750,000
Inventories
225,000
Intangible Assets
525,000
Eliminate Retained Earnings
Contributed Surplus 1,750,000
Deficit (R/E)
1,750,000
Restate asset and liability values, record change
in control
Assets
400,000
Liabilities
150,000
Common Shares
550,000
Reorganization Exercise
BE16-12 Truck Corporation
Prepare the entries to record the financial
reorganization
Facts:
Plant Assets
$105,000
write-down
Deficit
$144,000
Debt
$2,300,000
Exchanged for 55% of common shares
Reorganization Exercise –
Journal Entries
1. Deficit (Retained Earnings)
105,000
Plant Assets
105,000
Record write-down of plant assets
2. Contributed Surplus
249,000
Deficit (R/E)
249,000
Eliminate deficit balance through Contributed Surplus
(144,000 + 105,000 = 249,000)
3. Liabilities
2,300,000
Common Shares
2,300,000
Record retirement of debt, and change in control
All three steps have been completed in recording this
reorganization
Reorganization Requirements
1. Shareholders approve the reorganization
before it is effected
2. Asset and liability valuation are at fair
market value
3. Retained earnings has zero balance
immediately following reorganization
Reorganization Disclosure
1.
In the period of reorganization
a. Date of reorganization
b. Description of reorganization
c. Change amount for each major asset, liability
and equity account
2. Each of the three years following reorganization
a. Date of reorganization
b. Revaluation adjustment amount, and which
account recorded to
c. Amount of deficit adjusted, and to which
account
d. Measurement basis for the revaluation of
COPYRIGHT
Copyright © 2005 John Wiley & Sons Canada, Ltd.
All rights reserved. Reproduction or translation of
this work beyond that permitted by Access Copyright
(The Canadian Copyright Licensing Agency) is
unlawful. Requests for further information should be
addressed to the Permissions Department, John
Wiley & Sons Canada, Ltd. The purchaser may make
back-up copies for his or her own use only and not
for distribution or resale. The author and the
publisher assume no responsibility for errors,
omissions, or damages caused by the use of these
programs or from the use of the information
contained herein.