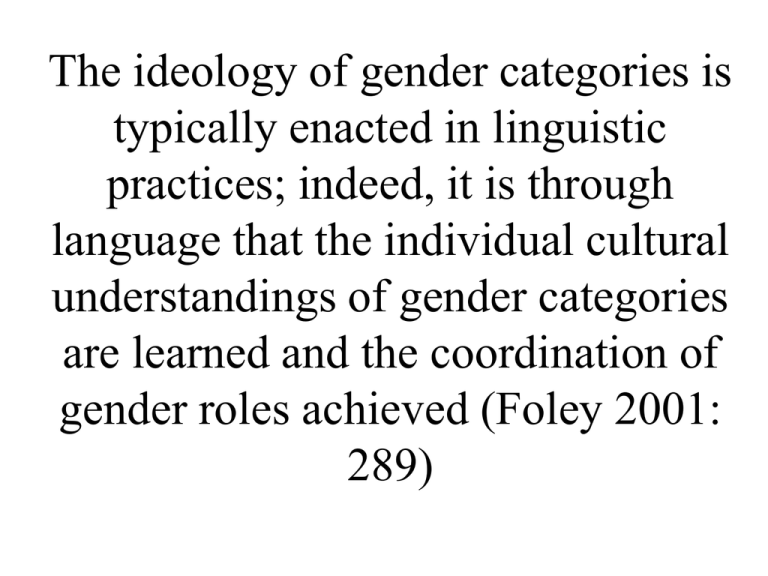 The ideology of gender categories is
typically enacted in linguistic
practices; indeed, it is through
language that the individual cultural
understandings of gender categories
are learned and the coordination of
gender roles achieved (Foley 2001:
289)
LANGUAGE AND GENDER
• Sex versus Gender
• Sexual differences: masculine and
feminine
• Gender categorization: Social construct
• Daily practices: social interaction
• Habitus
Habitus
• Concept from Pierre Bourdieu (with roots
going back to Marcel Mauss), denoting the
totality of learned, bodily skills, habits,
stile, taste etc
• Culture inscribed in the body
• Gender: habitus
Anthropology of Gender
•
•
•
•
Rosaldo, 1974
Leacock 1978
Moore 1988
Study of the asymmetry of between the
sexes: universal
• exceptions
Main Question
• Why it is widespread?
• Public realm and private realm hypothesis
• Women (work practices): private, viewed
inferior
• Men: Public, risky activities, economic and
social capital, politics
Socialization
• Perpetuation of asymmetrical patterns
between the sexes
• Learning gender categories and rules in the
childhood
The Asymmetry of the Sexes is
not Universal
• Errington and Gewertz (1987)
• Gender can be complementary: Separate
but equal
• Western versus Chambri (New Guinea)
• Western: Separation of the private and
public: Exclusion
• Chambri: person define by his/her relations
What is the connection between
Gender and Language?
• Gender as Ideology:
• Language as a tool for learning gender
categorization
• Commonly highly valued ways of speaking
association
• Example: Malagasy speech norms:
Indirectness in speech: male activities
• Kabary Speech
Gender Styles: English
• Alternatives: pronunciation, word
selection, grammatical construction.
• Reflection of gender differences
• "You're driving rather fast, aren't you?
• "Well, I guess it's approximately four feet
high."
Why?
•
•
•
•
Socialization
Cultural values
Gender roles and cultural values
Social norms: construct and reinforce
gender attitudes
Gender Roles Reflected in
Language Styles
• Pronunciation: tone, intonation, volume
• Grammatical forms
• Choices of vocabulary
Sociolinguists look at:
• Conversational interactions
• Tendencies in language use
• Phonological variations
Example: New England study:
"-ing"; the progressive suffix on verbs
- Intonation
Fischer's study(1958)
–prefer –ing
– Boys
– Girls
5
10
prefer –in
7
2
Intonation
• Rhythm. Volume, pitch
• Different intonation
• Women: Wide range of pitches, rapid shift
in volume and velocity (more emotional)
• Men: Atonal (control, restrain)
• Cultural interpretation: cultural valued
behavior
Summary
•
•
•
•
Differences: sex and gender
Biological given: contested
Culturally constructed category
Language reflects the way we internalize
the construction of gender categories
Discussion Questions
• In what ways are the relationship
between language and gender similar or
different to the relationship between
language and race?
Are intonational and
phonological variants an
indication of sex or gender
differences? Explain.