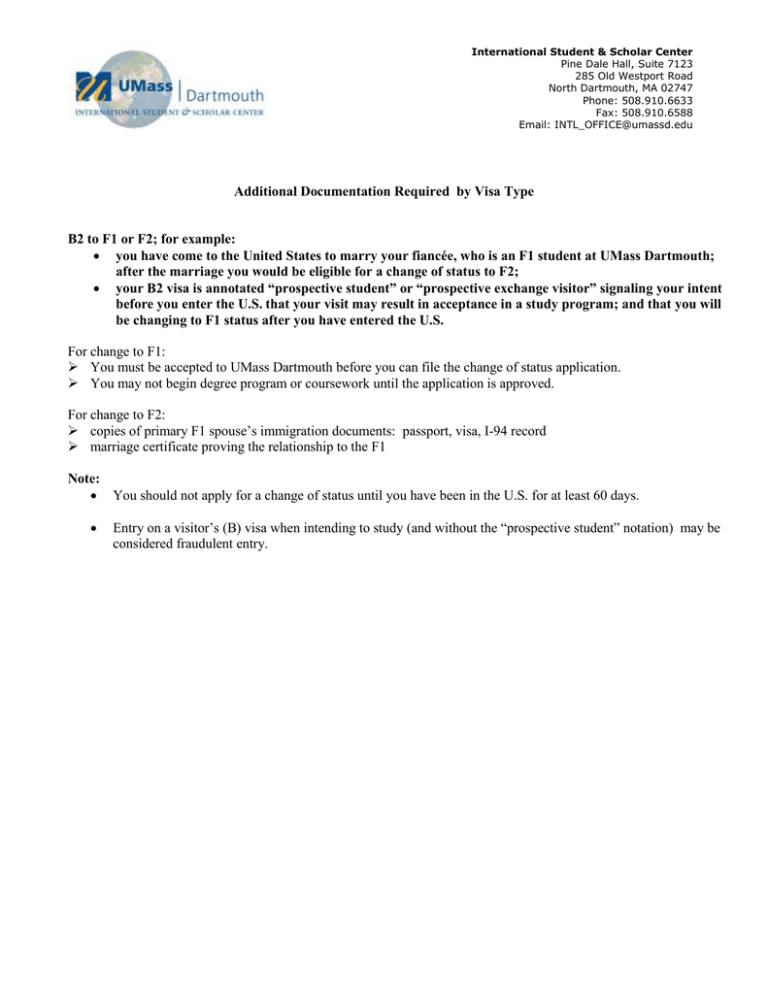 International Student & Scholar Center
Pine Dale Hall, Suite 7123
285 Old Westport Road
North Dartmouth, MA 02747
Phone: 508.910.6633
Fax: 508.910.6588
Email: INTL_OFFICE@umassd.edu
Additional Documentation Required by Visa Type
B2 to F1 or F2; for example:
 you have come to the United States to marry your fiancée, who is an F1 student at UMass Dartmouth;
after the marriage you would be eligible for a change of status to F2;
 your B2 visa is annotated "prospective student" or "prospective exchange visitor" signaling your intent
before you enter the U.S. that your visit may result in acceptance in a study program; and that you will
be changing to F1 status after you have entered the U.S.
For change to F1:
 You must be accepted to UMass Dartmouth before you can file the change of status application.
 You may not begin degree program or coursework until the application is approved.
For change to F2:
 copies of primary F1 spouse's immigration documents: passport, visa, I-94 record
 marriage certificate proving the relationship to the F1
Note:
 You should not apply for a change of status until you have been in the U.S. for at least 60 days.

Entry on a visitor's (B) visa when intending to study (and without the "prospective student" notation) may be
considered fraudulent entry.