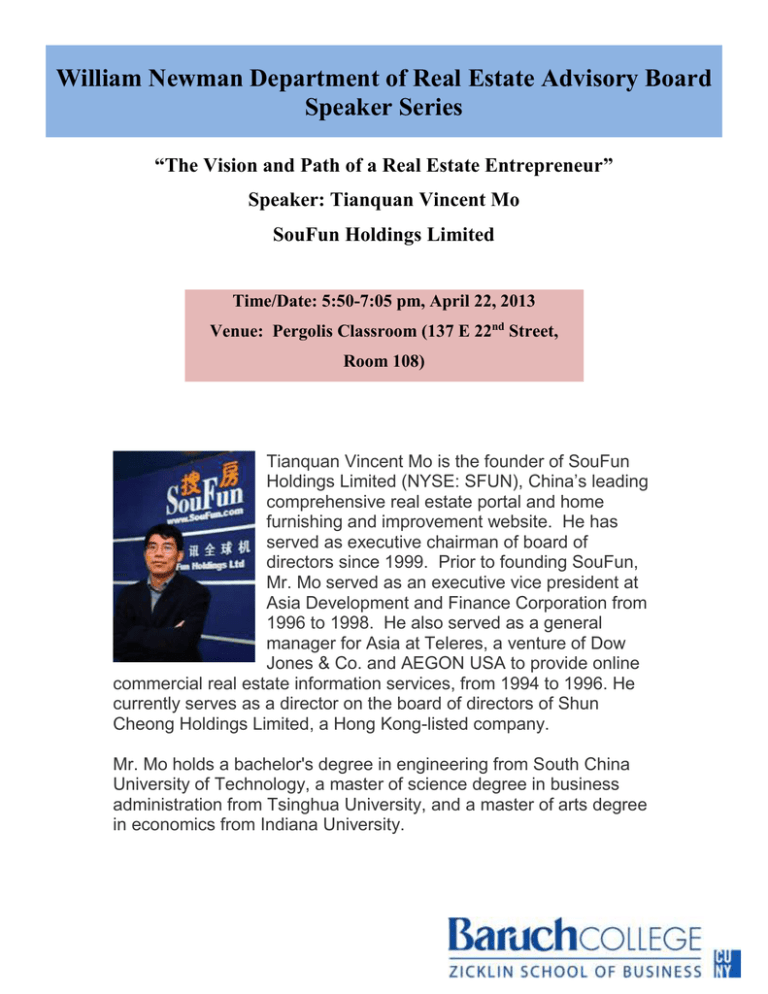 William Newman Department of Real Estate Advisory Board
Speaker Series
"The Vision and Path of a Real Estate Entrepreneur"
Speaker: Tianquan Vincent Mo
SouFun Holdings Limited
Time/Date: 5:50-7:05 pm, April 22, 2013
Venue: Pergolis Classroom (137 E 22nd Street,
Room 108)
Tianquan Vincent Mo is the founder of SouFun
Holdings Limited (NYSE: SFUN), China's leading
comprehensive real estate portal and home
furnishing and improvement website. He has
served as executive chairman of board of
directors since 1999. Prior to founding SouFun,
Mr. Mo served as an executive vice president at
Asia Development and Finance Corporation from
1996 to 1998. He also served as a general
manager for Asia at Teleres, a venture of Dow
Jones & Co. and AEGON USA to provide online
commercial real estate information services, from 1994 to 1996. He
currently serves as a director on the board of directors of Shun
Cheong Holdings Limited, a Hong Kong-listed company.
Mr. Mo holds a bachelor's degree in engineering from South China
University of Technology, a master of science degree in business
administration from Tsinghua University, and a master of arts degree
in economics from Indiana University.