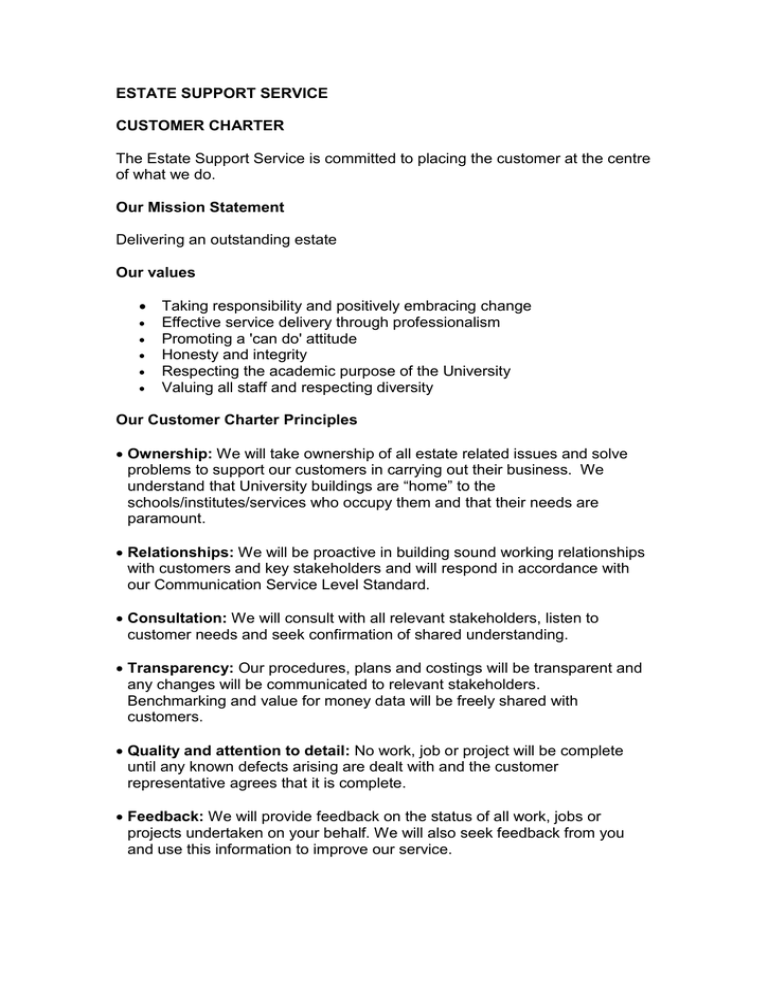 ESTATE SUPPORT SERVICE
CUSTOMER CHARTER
The Estate Support Service is committed to placing the customer at the centre
of what we do.
Our Mission Statement
Delivering an outstanding estate
Our values






Taking responsibility and positively embracing change
Effective service delivery through professionalism
Promoting a 'can do' attitude
Honesty and integrity
Respecting the academic purpose of the University
Valuing all staff and respecting diversity
Our Customer Charter Principles
 Ownership: We will take ownership of all estate related issues and solve
problems to support our customers in carrying out their business. We
understand that University buildings are "home" to the
schools/institutes/services who occupy them and that their needs are
paramount.
 Relationships: We will be proactive in building sound working relationships
with customers and key stakeholders and will respond in accordance with
our Communication Service Level Standard.
 Consultation: We will consult with all relevant stakeholders, listen to
customer needs and seek confirmation of shared understanding.
 Transparency: Our procedures, plans and costings will be transparent and
any changes will be communicated to relevant stakeholders.
Benchmarking and value for money data will be freely shared with
customers.
 Quality and attention to detail: No work, job or project will be complete
until any known defects arising are dealt with and the customer
representative agrees that it is complete.
 Feedback: We will provide feedback on the status of all work, jobs or
projects undertaken on your behalf. We will also seek feedback from you
and use this information to improve our service.