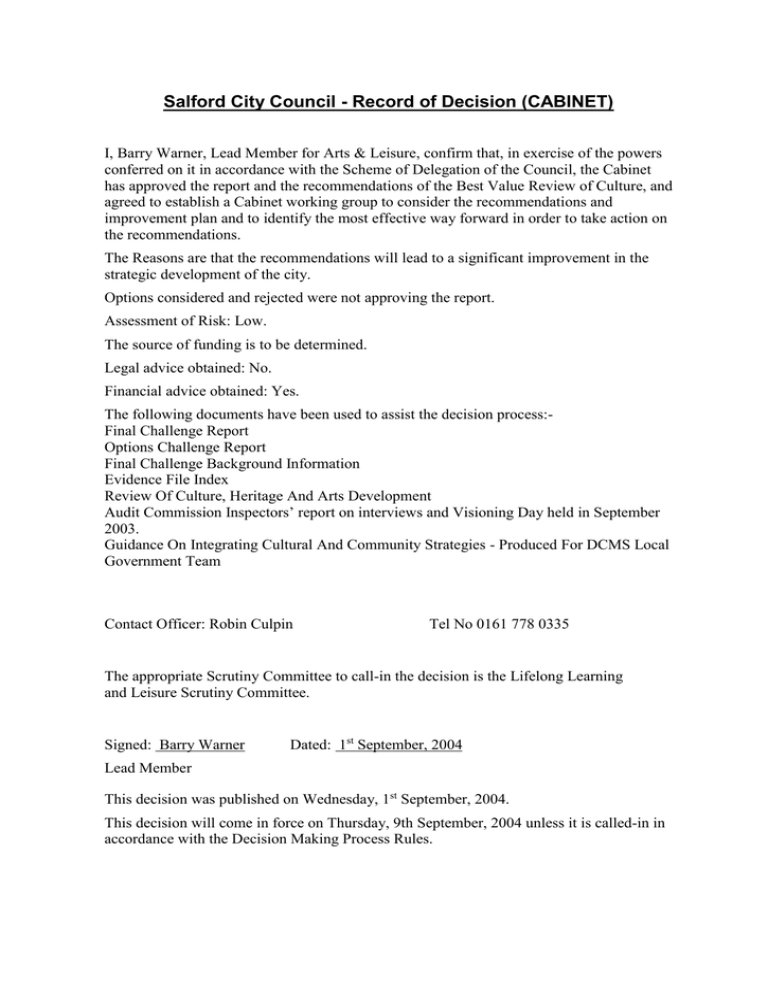 Salford City Council - Record of Decision (CABINET)
I, Barry Warner, Lead Member for Arts & Leisure, confirm that, in exercise of the powers
conferred on it in accordance with the Scheme of Delegation of the Council, the Cabinet
has approved the report and the recommendations of the Best Value Review of Culture, and
agreed to establish a Cabinet working group to consider the recommendations and
improvement plan and to identify the most effective way forward in order to take action on
the recommendations.
The Reasons are that the recommendations will lead to a significant improvement in the
strategic development of the city.
Options considered and rejected were not approving the report.
Assessment of Risk: Low.
The source of funding is to be determined.
Legal advice obtained: No.
Financial advice obtained: Yes.
The following documents have been used to assist the decision process:Final Challenge Report
Options Challenge Report
Final Challenge Background Information
Evidence File Index
Review Of Culture, Heritage And Arts Development
Audit Commission Inspectors' report on interviews and Visioning Day held in September
2003.
Guidance On Integrating Cultural And Community Strategies - Produced For DCMS Local
Government Team
Contact Officer: Robin Culpin
Tel No 0161 778 0335
The appropriate Scrutiny Committee to call-in the decision is the Lifelong Learning
and Leisure Scrutiny Committee.
Signed: Barry Warner
Dated: 1st September, 2004
Lead Member
This decision was published on Wednesday, 1st September, 2004.
This decision will come in force on Thursday, 9th September, 2004 unless it is called-in in
accordance with the Decision Making Process Rules.