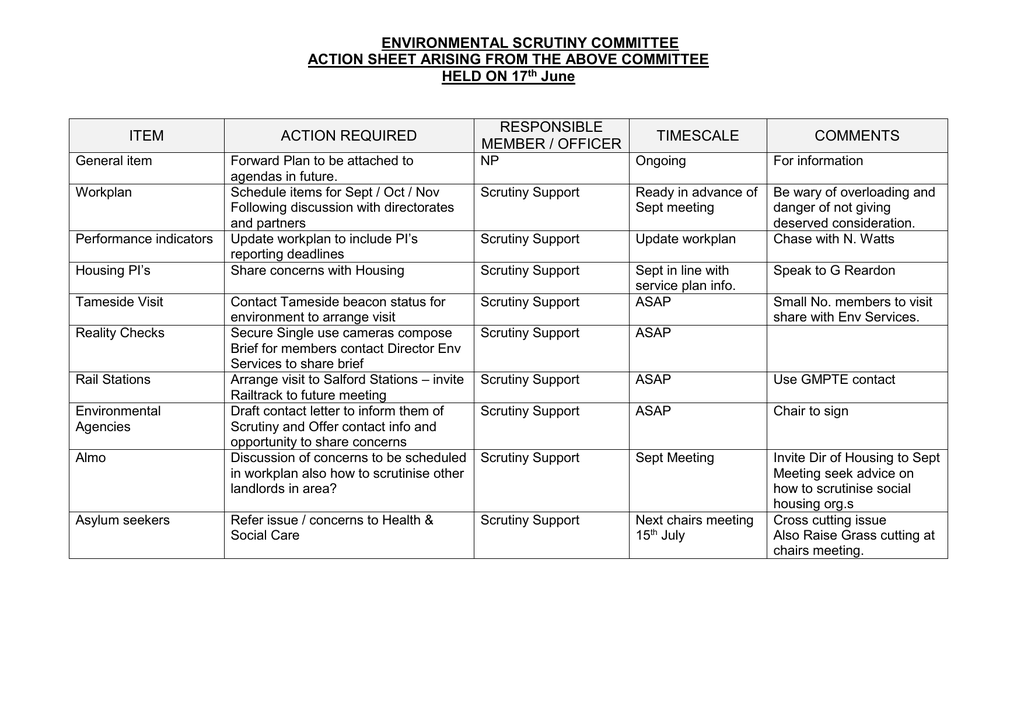 ENVIRONMENTAL SCRUTINY COMMITTEE
ACTION SHEET ARISING FROM THE ABOVE COMMITTEE
HELD ON 17th June
ITEM
General item
Workplan
Performance indicators
Housing PI's
Tameside Visit
Reality Checks
Rail Stations
Environmental
Agencies
Almo
Asylum seekers
ACTION REQUIRED
RESPONSIBLE
MEMBER / OFFICER
TIMESCALE
COMMENTS
Forward Plan to be attached to
agendas in future.
Schedule items for Sept / Oct / Nov
Following discussion with directorates
and partners
Update workplan to include PI's
reporting deadlines
Share concerns with Housing
NP
Ongoing
For information
Scrutiny Support
Ready in advance of
Sept meeting
Scrutiny Support
Update workplan
Be wary of overloading and
danger of not giving
deserved consideration.
Chase with N. Watts
Scrutiny Support
Contact Tameside beacon status for
environment to arrange visit
Secure Single use cameras compose
Brief for members contact Director Env
Services to share brief
Arrange visit to Salford Stations – invite
Railtrack to future meeting
Draft contact letter to inform them of
Scrutiny and Offer contact info and
opportunity to share concerns
Discussion of concerns to be scheduled
in workplan also how to scrutinise other
landlords in area?
Scrutiny Support
Sept in line with
service plan info.
ASAP
Scrutiny Support
ASAP
Scrutiny Support
ASAP
Use GMPTE contact
Scrutiny Support
ASAP
Chair to sign
Scrutiny Support
Sept Meeting
Refer issue / concerns to Health &
Social Care
Scrutiny Support
Next chairs meeting
15th July
Invite Dir of Housing to Sept
Meeting seek advice on
how to scrutinise social
housing org.s
Cross cutting issue
Also Raise Grass cutting at
chairs meeting.
Speak to G Reardon
Small No. members to visit
share with Env Services.