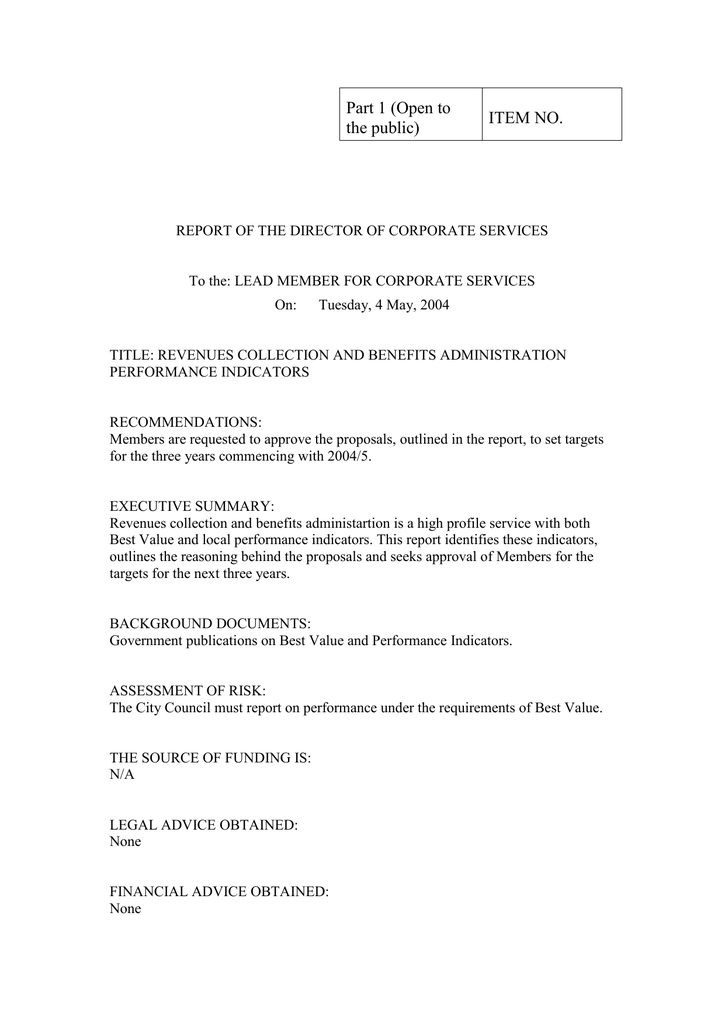 Part 1 (Open to
the public)
ITEM NO.
REPORT OF THE DIRECTOR OF CORPORATE SERVICES
To the: LEAD MEMBER FOR CORPORATE SERVICES
On:
Tuesday, 4 May, 2004
TITLE: REVENUES COLLECTION AND BENEFITS ADMINISTRATION
PERFORMANCE INDICATORS
RECOMMENDATIONS:
Members are requested to approve the proposals, outlined in the report, to set targets
for the three years commencing with 2004/5.
EXECUTIVE SUMMARY:
Revenues collection and benefits administartion is a high profile service with both
Best Value and local performance indicators. This report identifies these indicators,
outlines the reasoning behind the proposals and seeks approval of Members for the
targets for the next three years.
BACKGROUND DOCUMENTS:
Government publications on Best Value and Performance Indicators.
ASSESSMENT OF RISK:
The City Council must report on performance under the requirements of Best Value.
THE SOURCE OF FUNDING IS:
N/A
LEGAL ADVICE OBTAINED:
None
FINANCIAL ADVICE OBTAINED:
None
CONTACT OFFICER:
Stephen Fryer
WARD(S) TO WHICH REPORT RELATES:
ALL WARDS
KEY COUNCIL POLICIES:
Best Value; Performance Management;
DETAILS:
These performance indicators apply to all areas of the service and as such reflect the
situation across all Wards in the City.